Address Labels for Teachers
What customers have to say about our Address Labels for Teachers
January 21, 2019
My family looks forward to this every year!
"Each year I make a calendar for my very large family and include the 75+ birthdays and anniversaries with pictures to enjoy. It's always a holiday favorite!"
January 19, 2019
I would order more labels if needed
"To mail out letters or cards to family & friends. Like the color & font"
January 16, 2019
Address Labels
"I love these address labels, they are so pretty. Everything was correct on the order and it came really quickly!"
January 15, 2019
Outstanding Holiday Cards
"Announcing our new address, retirment to Family & Friends - Wishing All a Happy New Year! Loved the full page text box for announcing big changes in our life and summary of year 2018."
January 6, 2019
I would buy this product again.
"I get a million "free" address labels along with requests for donations and although I may or may not make the donations, I don't always like the size or readability of the address labels. The ones I buy through Shutterfly are always clearly readable with designs I choose!"
Personalized Address Labels for Teachers
There are so many reasons to thank teachers. They've dedicated their lives to educating children and helping their minds grow. There comes a time to say goodbye to those educators who have helped their students along the way. Looking for a personalized gift idea to show your appreciation for those special teachers in your life? Let your favorite ones know you would like to stay in touch by giving them personalized address labels for teachers. Show them how much you appreciate all of their hard work and dedication with this heartfelt memento from Shutterfly.
The Gift that Keeps On Giving
Apples perish and gift cards take little thought. The perfect way to say thank you to that beloved teacher is with a set of personalized teacher address labels. Help your favorite educator send their mail in style with a variety of address label designs, from the charming and whimsical to the chic and stylish. A little appreciation goes a long way and personalized address labels will let your teachers know you want to stay in touch long after you say goodbye.
Endless Possibilities
Shutterfly offers so much more than customized address labels for that special teacher in your life. There are myriad options for useful gifts they'll actually use and not add to the pile of trinkets in the gift drawer of their desk. Create a personalized self-inking rubber stamp that your teacher can use for years to come – another way to ensure they remember you.
Teachers give their all – and personalized gifts from their students can mean so much. Turn a favorite photo into the perfect card or stationery with Shutterfly custom cards. One of the best gifts you can give a teacher is your sincere thanks. Let them know you appreciate their hard work and dedication with personalized thank you cards. Send one to that favorite teacher, or create a customized set for them to use. Teachers love to send notes and show their appreciation to the people in their lives. Giving them a gift of thank you cards is something they will cherish, and you never know—one of those cards may just end up in your mailbox.
Related Products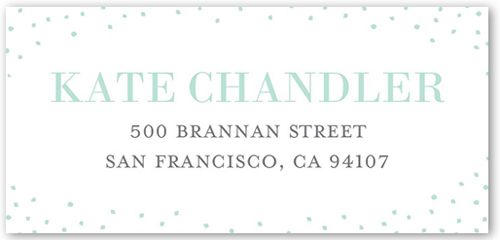 Dreamy Wedding Address Label. Address your envelopes with stylish address labels. Corresponding invitations, gift tags and thank you cards are also available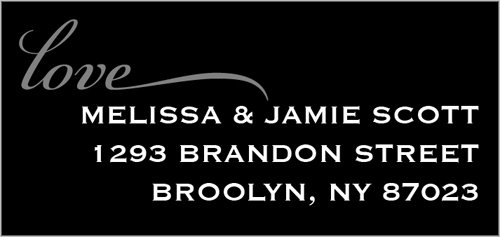 In Script Wedding Address Label. Address your envelopes with stylish address labels. Corresponding invitations, gift tags and thank you cards are also available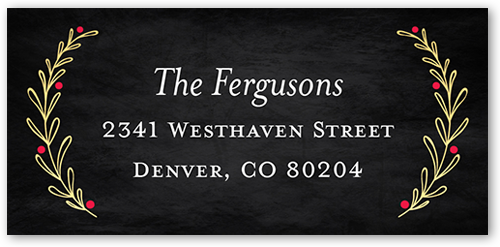 Merrily Ever After Wedding Address Label. Address your envelopes with stylish address labels. Corresponding invitations, gift tags and thank you cards are also available