What customers have to say about our Address Labels
"VERY CUTE"
January 26, 2019
Delightful!
"I love the delicate design and lavender color."
"Pretty lables"
"Can't wait to use these cute adress lables!"
January 23, 2019
Love these labels!
"Cute labels, easy to read, fun to make. I have bought several different types now and love them all! Great gifts for grads, new babies, newlyweds, housewarming presents...you name it!!"
Grey Address Labels
When you're trying to figure out all the perfect elements for the ideal mailer, don't forget to consider personalized address labels as part of the package. Our wide selection gives you hundreds of choices, but you should really think about what you're trying to portray before you settle on one. Grey address labels come in many different designs and offer a certain feel when you use them. This includes:
Sophistication – The color grey is often associated with sophistication and formality. This would be the perfect color of label if you are sending formal mail, such as a wedding invitations, a ceremonial letter or a thank you card. It's also conservative, so no matter the theme of what's inside the envelope, you shouldn't have a problem using grey on the outside.
Calmness – Because grey isn't a bold color, it gives a sense of coolness or calmness. Whether this is your personality, or the personality of those who will be receiving the mail, grey address labels are a great way to portray relaxation and tranquility.
Practicality – An address label that is grey is always a practical choice. Because of the previously mentioned qualities, they can be used for almost any type of mail you have to send. Whether you choose something extremely simple such as the pink address labels, or something more unique like these yellow address labels, it will be a realistic choice that you can use for bills, letters, invitations and more.
As you can see, you really can't go wrong when using a grey address label for the mail you have to send. With so many options to choose from, including many ways to personalize the labels, you'll be glad you chose something with sophistication, calmness and practicality. Get started today by browsing our selection and finding a label that suits your mood and coordinates well with what you have going on.
Related Products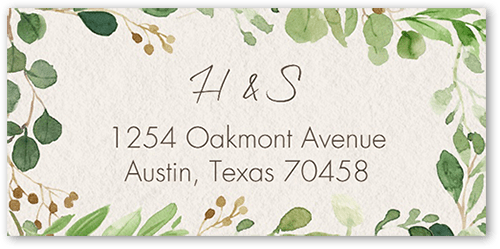 Botanical Union Wedding Address Label. Address your envelopes with stylish address labels. Corresponding invitations, gift tags and thank you cards are also available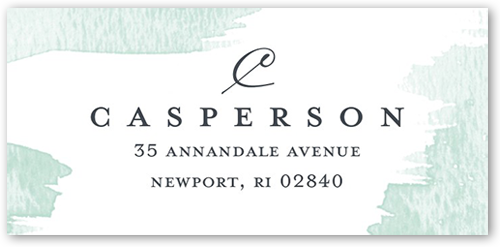 Brush Stroke Beauty Wedding Address Label. Address your envelopes with stylish address labels. Corresponding invitations, gift tags and thank you cards are also available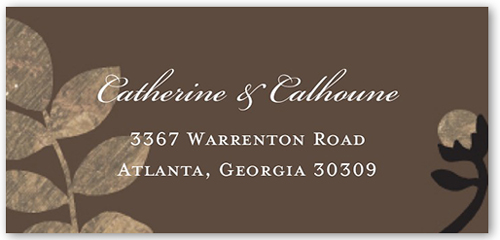 Classic Botanical Wedding Address Label. Address your envelopes with stylish holiday address labels. Corresponding invitations, gift tags and thank you cards are also available