Holiday Birth Announcements
What customers have to say about our Birth Announcements
January 25, 2019
A Hit With All the Family!
"We used this card as a birth announcement and thank you card for our baby shower attendees. It's on a nice heavy cardstock, and the print was super clear. With my first order there was a smear on the return address on the back of the envelope, but no big deal. With the first order I also didn't receive the blank envelopes I ordered. The second order everything was perfect. I would highly recommend!"
January 24, 2019
Very nice cards
"Super classy cards"
January 24, 2019
Great buy
"Looks and feels great. Came so quickly and is such great quality!"
January 22, 2019
So sweet
"Easy to create!sweet design"
January 22, 2019
Love this product!!
"I love the simplicity of this birth announcement, it was easy to make and arrived on time!"
Welcome Your Baby in Style this Holiday Season
Of all the events that we look forward to with great excitement and anticipation, perhaps the most unrivaled are the holidays and the arrival of a baby. Imagine how much more joy might be felt if both were combined! If the doctor happens to deliver around the same time as Santa Claus this year, you get the unique privilege of including a baby announcement alongside your holiday cards.
This gives you the perfect excuse to get away from the traditional pastel pinks and baby blues traditionally featured in announcements and use holiday themes and colors to tie your little one's arrival into the inherent excitement of the season.
Creating Customized Holiday Birth Announcements
We at Shutterfly have all the tools and resources needed to create exceptional holiday birth announcements with a Happy New Years message. Simply upload a photo of your little one from any digital device (we never delete photos, so you can easily reuse yours down the road for events such as christenings or baptisms). If you're stuck on how to create your card, we have a page dedicated to offering ideas and inspiration for crafting the perfect birth announcement.
You have no shortage of options when it comes to creating your holiday birth announcements with us. You can customize your announcements for either a baby boy or girl (or with a neutral baby theme, if you're not sure yet). Take our baby gender predictor quiz with family and friends and share your results. Each of our announcements is made using a flat print at almost any size and with whatever trim you'd like. If you're concerned about their durability, don't be; you can choose to print yours on durable materials such as:
Photo paper
Signature cardstock
Pearl shimmer cardstock
Our selection of holiday birth announcements has been created by some of the most popular greeting card and memento manufacturers in the business, including:
Éclair Paper Company
Blonde Designs
Petite Lemon
Clover
Yours Truly
Stacy Claire Boyd
Save Yourself Stress
The holidays are already a hectic time, so too are the days and weeks immediately after having a baby. The tension may just be amped up even more when the two events coincide. That's why we recommend having your holiday baby announcements done well in advance of the big day.
This allows you to send them out shortly after your new little one arrives while relieving you of the stress of putting them together after returning from the hospital. We offer shipping options that ensure your cards will arrive within a couple of weeks at the latest. You can even choose to have your order mailed with your envelopes pre-addressed, or have them shipped directly to your recipients.
With the holidays forevermore being linked to the birth of your baby, you're almost guaranteed to have several memorable future seasons in store for you and your family. Let Shutterfly help make that first one all the more memorable with lovely holiday birth announcements.
Related Products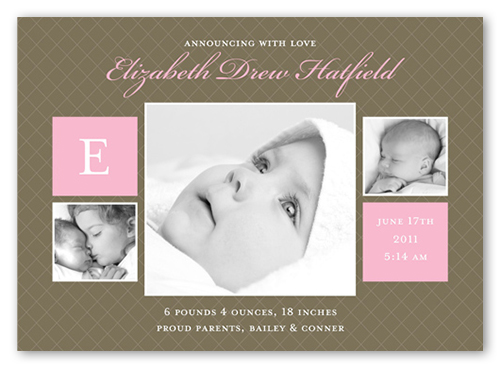 Baby Love Rose Birth Announcement 5x7 Stationery Card by Stacy Claire Boyd. My baby love. Sweet rose squares hold her initials and birth date and time. Add three favorite photos on a classic patterned background in this darling birth announcement. ...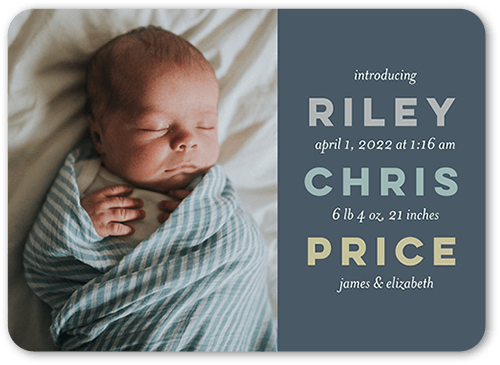 Contemporary Debut 5x7 Stationery Card by Blonde Designs. Announce your newest arrival with this stylish birth announcement. Add your baby's name, a favorite photo and the news everyone's been waiting for.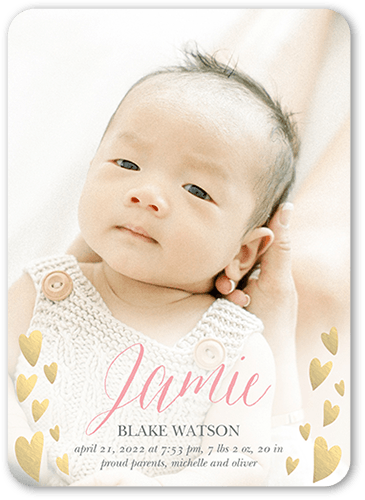 Heart Frames 5x7 Stationery Card by Blonde Designs. Announce your newest arrival with this stylish birth announcement. Add your baby's name, a favorite photo and the news everyone's been waiting for.