What customers have to say about our Christmas Cards
January 27, 2019
I highly recommend this card!!
"Absolutely love this card they came out perfect!"
January 23, 2019
good purchase
"Paper is excellent quality as is the envelope. Shipping can be high unless you are ordering a larger number of cards but I only bought one."
January 23, 2019
I will absolutely use this product again.
"The first time I have used Shutterfly for our annual greeting card. Very pleased and will use again."
January 22, 2019
Chinese New Year
"Christmas came too soon. No cards went out. New Year's came and went! Still no cards were sent out. But thanx to Shutterfly, made it for a Chinese Greeting! Beautiful cards front and back with pictures of family sent! Halleluah!!!!!"
January 22, 2019
I looved these cards and they arrived so quickly!
"Shutterfly makes last minute projects easy .. I love these holiday cards and continue to make photo books each month with their app as well as edits on desktop site. I love Shutterfly!"
Christmas Party Theme Ideas
Getting ready to kick off the holiday season with an entertaining and upbeat Christmas party? Why not add an extra element of fun and creativity by coming up with a unique party theme this year? Here are a few amusing ideas to help you get started.
Christmas Movie Marathon
Celebrate some of your favorite Christmas films with a movie marathon party theme. Invite guests to dress up as characters from their favorite Christmas movies, and be prepared to watch humorous or inspiring classics such as Christmas Vacation, Elf, or Miracle on 34th Street. Have plenty of buttered popcorn and sodas on-hand for your party guests to enjoy throughout the party.
Mystery Dinner Party
Looking for an unusual and hilarious way to serve dinner to your party guests? Try a mystery dinner party theme. Prepare a delicious Christmas meal as usual, but don't let your guests know what you will be serving. Create custom menus that give each meal item and utensil a nonsense name, then have your guests choose which five items they want from the menu.
As an example to get your creative juices flowing, chocolate cake could be termed "Devil's Advocate" on the menu and a spoon might be called "Tiny Catapult." Depending on which menu items your guests choose, they could end up with a humorous combination like spaghetti and carrot sticks that must be eaten with a spoon. Add an additional element of fun by marking each guest's spot at the table with a custom placemat. Take photos of the party to put into a custom Christmas photo book.
Nutcrackers Here, Nutcrackers There!
This fun party theme incorporates details and décor honoring one of the most beloved Christmas ballets of all time. Perfect for the crowd that is both fun-loving and refined, a Nutcracker-themed party should include plenty of nutcracker decorations as well as serving trays featuring a variety of nuts and crackers. Serve plum-colored candies and desserts in crystal dishes in honor of the Sugar Plum Fairy. As the icing on the cake, Send your guests home with themed Christmas cards and customized Christmas tree decorations that will help them forever remember the fun they had at your party.
Related Products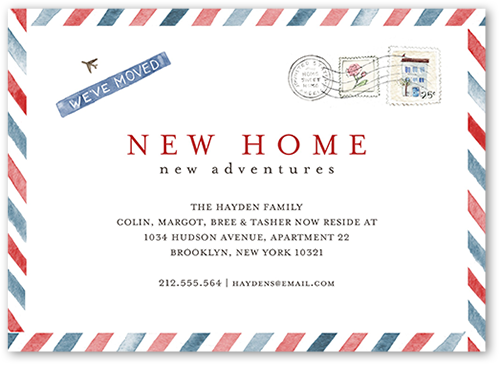 Air Mail Home 5x7 Moving Announcement Cards. Show your favorite picture in this elegant moving announcement. "Home sweet home" is superimposed on the photo along with your new address
Par Avion 5x7 Moving Announcement Cards. Show your favorite picture in this elegant moving announcement. "Home sweet home" is superimposed on the photo along with your new address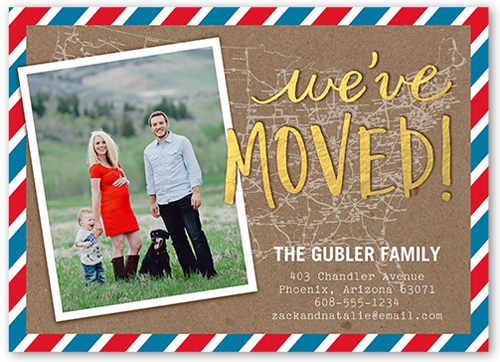 Shining Move 5x7 Moving Announcement Cards. Show your favorite picture in this elegant moving announcement. "Home sweet home" is superimposed on the photo along with your new address