Holiday Story Cards
What customers have to say about our Holiday Story Cards
January 23, 2019
good purchase
"Paper is excellent quality as is the envelope. Shipping can be high unless you are ordering a larger number of cards but I only bought one."
January 21, 2019
Turned out GREAT
"We got so many compliments on our New Year's card this year. I loved that pictures and writing were on the front and back of the card!"
January 19, 2019
Amazing card
"Very nice quality, loved the barn door. This card was perfect so I can let everyone know all that was going on in our lives without writing a boring newsketter"
January 17, 2019
Really nice quality
"The cardstock was very hefty, nice and thick. I asked for the special sheen, and maybe next time I would just get regular, as it seemed to sort of dull or muffle the photos, but it was still a nice effect. The cards folded perfectly at the perforations. Very pleased overall. Would buy again."
January 15, 2019
Beautiful Card!
"Great quality, able to really customize with words and pictures."
Tell Your Holiday Story with Personalized Cards
Whether you have an entire year's worth of memories to share or simply have a really great batch of photos, this holiday season consider sending out holiday story cards for your yearly greetings. Shutterfly makes it easier than ever to take your favorite photos and turn them into beautifully-printed stationery that will help share your light and joy with friends, family and loved ones.
Designing Your Holiday Story Cards
The holiday season is the perfect chance to share your favorite picture memories with the people you love most. Lucky for you, Shutterfly makes it super simple to upload your best photographs and turn them into beautiful cards. Whether you have a few choice memories or a whole gallery of images you want to share, there is the perfect template for you. All you need to do is choose the template that matches your unique style and follow the prompts to upload your photos and utilize the design assistant to customize a holiday message. Choose your favorite fonts, colors, accents and paper for holiday greetings that are both interesting and elegant.
Get into the Holiday Spirit
With all that is going on in your busy life these days, it's easy to feel like a Scrooge, unfortunately. Shutterfly has plenty of ways to help you inspire the holiday sprit into your own life. If your Christmas tree is lacking inspiration, consider making custom ornaments. You can showcase your dearest memories with beautiful decorations for your tree. Personalized ornaments make excellent gifts for teachers, grandparents and other loved ones. With just a little nudge and a little help from Shutterfly, visions of sugarplums are sure to dance in your head in no time.
Sharing is Caring
The holidays are a magical time because they bring out the best in everyone. Winter is a perfect season to teach your little ones about helping others. Use the momentum of the season to volunteer with food drives or donate gently used items to people that will truly appreciate them. Engaging with your community together is a great way to bond with your children while instilling values that will last a lifetime.
There is a reason they call it the most wonderful time of the year. People start acting nicer, and you remember how much you care about your loved ones. Personalized holiday story cards are a lovely way to keep in touch and share your year's experience with the ones you love most. Shutterfly is here to help you make this winter warm and bright.
Related Products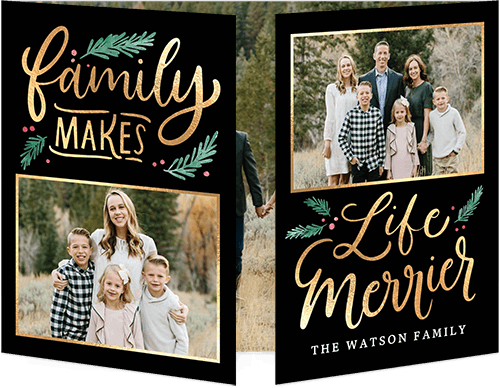 Livelier Family 5x7 Gate Fold Card by Yours Truly. Let your story unfold with this unique card that opens up from the middle to reveal your photos like a present. Enjoy more room for photos and text than a standard ...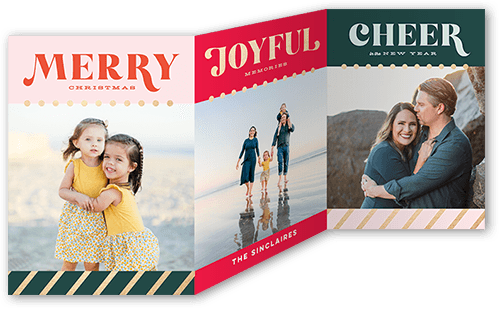 Cheerful Memories 5x7 Tri-Fold Stationery Card by pottsdesign. Send a Christmas card friends and family will love. Add your own greeting and everyone's names. There's room for more photos and wishes on the back, too.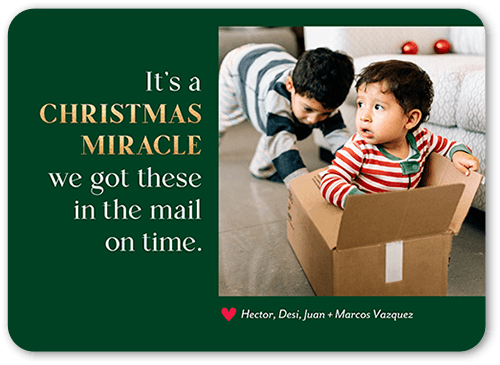 Christmas Miracle 5x7 Stationery Card by Jill Smith. Send a Christmas card friends and family will love. Add your own greeting and everyone's names. There's room for more photos and wishes on the back, too.