5x5 Graduation Party Invitations
What customers have to say about our Graduation Invitations
January 22, 2019
Perfect!
"These are just right for any invitation. Very beautiful. We loved them"
January 18, 2019
Great product and shipped quickly!
"I used this for my graduation announcements. The quality of the product was great."
January 15, 2019
Perfect quality.
"We used these for my husband's graduation invitations.. they came out so perfect! We loved putting our in touch on them versus the plain ones the University would of sent out."
November 29, 2018
Definitely recommend!!
"Deloivery was fast! Everything came in a week! Got them delivered off and everyone loved them!"
November 29, 2018
Color is perfect
"They turn out just how I pictured them"
5x5 Graduation Invitations with Personal Style
Welcome friends and family members to celebrate the recent graduate's success in style with custom 5x5 graduation invitations. With a focus on quality, Shutterfly has designed a wide range of square graduation invitations calling for your personal touch. Check out all the eye-catching style choices to find the one that speaks to the grad's personality. Choosing your favorite is the hardest part of the personalization process.
Many of the designs in this collection provide you with an opportunity to show off those senior photos. No matter which design you choose, nearly every aspect of the design is customizable. It all starts by deciding which paper you want featured on your custom graduation invitations. Go classic with a luxe matte paper or show off your feminine side with a pearl shimmer option. No matter which you choose, photos and text appear crisp and vibrant. Ready to design your own? Start the personalization process, and the real fun begins.
Add Photos and Custom Text to Stylish Graduation Invitations
Shutterfly guides you through every step of customizing your design. Uploading photos, arranging them within the design, and offering all the graduation details is easy with their invitation editor. Before you know it, your custom invitations are at your door, ready to address and mail to family and friends. Does addressing all those envelopes seem daunting? Provide your recipient list to Shutterfly and let them take care of that part too. Square cards may require additional postage.
Say Thanks in Style
Make it easy for the recent graduation to show appreciation for all the gifts they receive by ordering custom graduation thank you notes. These notes are easy to coordinate with your graduation invitations and provide the same, quality look and feel. Aren't sure what to write inside? Turn to the Shutterfly ideas page for message inspiration, addressing instructions, and everything you need to know about thank you card etiquette.
Find Graduation Party Planning Inspiration
Do you need some help planning the ultimate graduation party? The Shutterfly ideas page is an incredible source for graduation party planning tips, decorating ideas, and inspiration on heartfelt gifts to purchase for the recent graduate. With this blog information a click away, it's easy to find the answers to all your graduation questions. Make it your go-to source for everything graduation related.
Related Products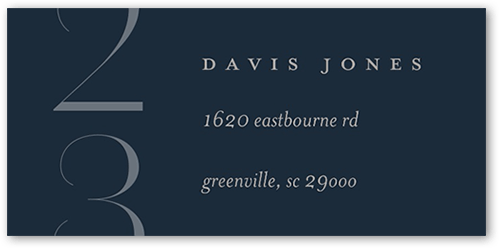 Art Deco Grad Address Label by Kelli Hall. Address your envelopes with stylish address labels. Corresponding invitations, gift tags and thank you cards are also available.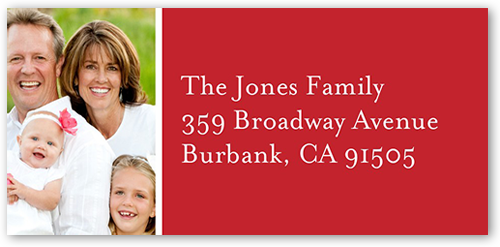 Say goodbye to handwriting your address on every single envelope. Whether you send a lot of correspondence throughout the year or you're getting ready to send invitations or cards for a special occasion, address labels make the process quick, fun ...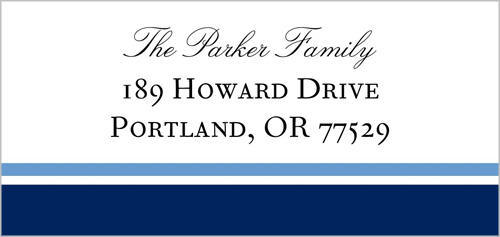 Prepster Midnight Address Labels for Him. Add elegance to all your mailing envelopes with simple light and midnight blue stripes