Affordable BBQ Invitations
What customers have to say about our BBQ Invitations
June 26, 2018
Just what I needed
"I like to send out photo cards thought the year not just at Christmas. The upload your own design option allows me to send cards at times when there isn't a premade template and gives me option to add many photos since I have a large family. Especially for Halloween, Easter or the 4th of July. I always get so many compliments on the cards I send out and my family loves getting the more frequent cards with pictures of my kids since we don't get to see everyone as often as we would like."
June 1, 2018
Turned out beautifully!
"These turned out better than expected! The quality is very nice, it was very easy to work with the formatting and they arrived in a timely manner."
May 28, 2018
Beautiful invitation
"We ordered this invitation with the "ticket" style (corners notched out) - and it's absolutely beautiful. Easy to read, nice layout and heavy card-stock."
August 22, 2017
Shutterfly is a great site.
"There are so many photo package options. I really like all of the backgrounds, stickers, borders, and so much more. Great deals."
August 19, 2017
Great job. Quick turnaround! Love it
"Party invitations. Great job"
Tips for Your Next BBQ Party
Planning an inexpensive BBQ requires affordable BBQ invitations, for starters. Once you have designed those and sent them out, you may need a few more cost-saving tips. When it comes to providing the food and decorating your outdoor space, the various costs can add up. Here are some ideas to consider as you plan your cookout.
Hosting a BYOM
It can be expensive to buy all the meat yourself, so a "BYOM," which stands for "Bring Your Own Meat," can help you save money. This is also a great way to avoid dietary issues, as a vegetarian could bring some fresh zucchini to place on the grill. A bit of research on cook times and cooking methods can go a long way in case someone brings anything outrageous.
Saving Money on Meat
If you do decide to buy your own BBQ meat, then it's time for your local butcher to become your best friend. One way to do this is to learn your butcher's birthday and make a custom birthday card as a nice surprise. Forging a good relationship with your butcher can yield better cuts of meat and more discounts.
Reusing Other Decorations
Instead of buying all-new decorations for your BBQ, why not look through your existing items and see what you can reuse? For example, you can place an artificial Christmas tree outside and decorate it with gingham streamers and paper cut-outs of forks, spoons, and knives to give your tree a picnic makeover. Here are some other BBQ party ideas to get your creative juices flowing.
Planning an inexpensive BBQ party is easy when you make smart decisions about your food and decorations. An affordable BBQ invitation design can also add character to your event while keeping up the savings. Did you know? If you are sending out bulk invitations, you can do it directly through our site by choosing the direct mail shipping option at checkout.
Related Products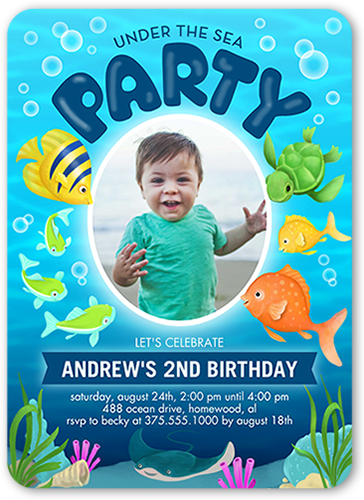 Oceanic Party 5x7 Stationery Boy Birthday Invitations. Invite all the guests with this stylish birthday invitation. Just add your favorite photos and all the event details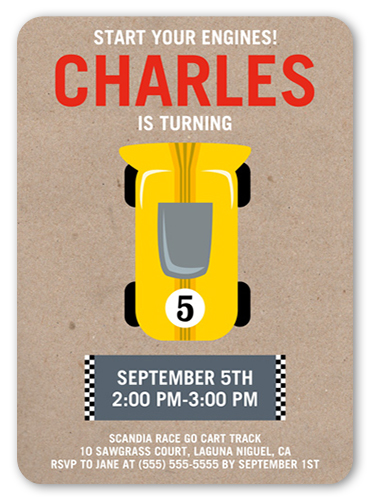 Race Car Party 5x7 Boy Birthday Invitations. Invite all the guests with this stylish birthday invitation. Just add your favorite photos and all the event details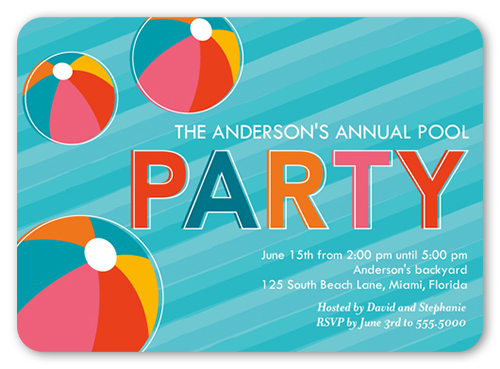 Bright Beach Balls Surprise Party Invitations. Celebrate summer with this stylish summer invitation. Make a splash with your photos and all the event details