What customers have to say about our Baptism Invitations
January 23, 2019
Adorable!
"Exactly what we were looking for in an invitation for our son's baptism. The paper and print quality was fantastic!"
January 5, 2019
Beautiful quality cards
"I love these cards and have ordered many over the years. The paper is very nice and heavy for both the cards and envelopes."
December 27, 2018
Yippee Skippee!
"Just PERFECT as to what I wanted... Brilliantly depicted. Graciously received..."
December 23, 2018
This website for placing a simple card order is the worst.
"Impossible. All the other reviews that express frustration with using the Shutterfly website are correct. It is worse than frustrating."
December 18, 2018
Turned out great!
"These invites turned out great. I would definitely recommend!"
Help Others Commemorate Your Son's Special Event
The momentous events in the lives of your family members are as much for your loved ones as they are for you. While you will no doubt do quite a bit to help your children as they grow, they will also rely heavily on the influences of the other important people in their lives.
Given the emotional and spiritual significance of your child's baptism, this is no doubt an event that you'll want to include those special people in. Shutterfly has the resources you need to create custom baptism invitations that are sure to succeed in drawing in the crowd you're anticipating.
Create a Custom Baptism Invitation
Just as it is with birthdays and other important occasions, your child's baptism will have its own distinct feel and theme depending his or her gender. We offer several styles of invitations tailored for boys, using colors like blue, green, brown and black. All our boy baptism invitations are printed on cardstock, either with our signature or pearl shimmer variations. You can choose from any of the designs we have available, or you can easily create your own print using a photo. Here's how:
Upload a photo from any source, be it a computer, smartphone or even Facebook or Instagram (we archive and keep all your photos so they can be used in future).
Follow the prompts on our site to help customize your invitation and choose its style.
Select whether to have your invitations sent to you directly or have them sent to your recipients (either through standard mail or email).
Your order is protected by our 100% Happiness Guarantee, which states that if you have any issues with your product or our service, just let us know.
Let Us Help Make Your Baptism Celebration Special
You'll likely also plan some form of party or celebration to accompany your boy's baptism. If so, you'll want to include some basic information with your baptism invitations, such as where and when the party will be and the date for when guests should RSVP. If you want to really add a special flair to the celebration, consider including some custom party gifts and favors. We offer a wide range of such items, including:
We also have a page dedicated to offering ideas on how to organize special events, including baptisms.
Depending on his age, your boy's baptism may be an event of which he remembers little. He'll rely on the memories you and others share with him to determine the significance of it. Help ensure those memories are the absolute best they can be by creating your boy's baptism invitations through Shutterfly.
Related Products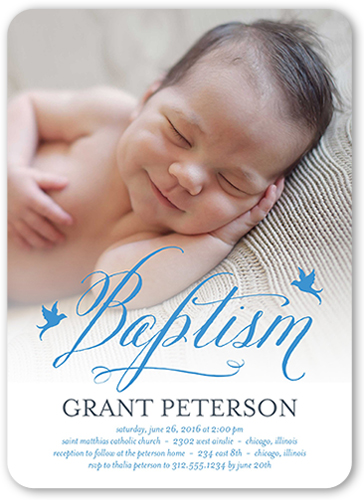 Delicate Celebration Boy 5x7 Christening Invitations. Invite everyone to this memorable and blessed occasion. Personalize this baptism invitation with all the event details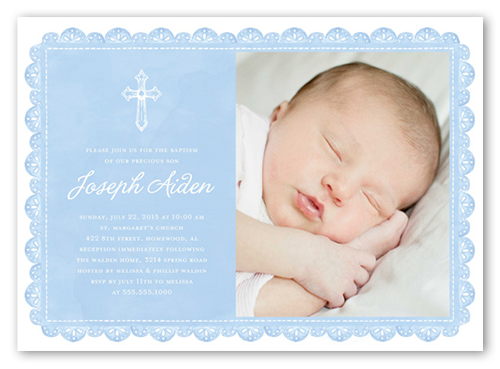 Delicate Lace Boy 5x7 Christening Invitations. Invite everyone to this memorable and blessed occasion. Personalize this baptism invitation with all the event details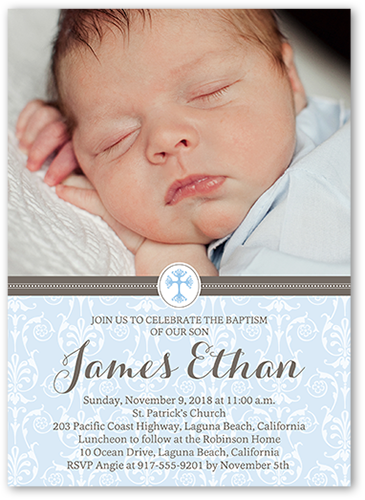 Elegant Cross Boy 5x7 Christening Invitations. Invite everyone to this memorable and blessed occasion. Personalize this baptism invitation with all the event details