Classic Baptism Invitations
What customers have to say about our Baptism Invitations
January 23, 2019
Adorable!
"Exactly what we were looking for in an invitation for our son's baptism. The paper and print quality was fantastic!"
January 5, 2019
Beautiful quality cards
"I love these cards and have ordered many over the years. The paper is very nice and heavy for both the cards and envelopes."
December 27, 2018
Yippee Skippee!
"Just PERFECT as to what I wanted... Brilliantly depicted. Graciously received..."
December 23, 2018
This website for placing a simple card order is the worst.
"Impossible. All the other reviews that express frustration with using the Shutterfly website are correct. It is worse than frustrating."
December 18, 2018
Turned out great!
"These invites turned out great. I would definitely recommend!"
Tips for Celebrating a Baptism
For many families, baptisms take place shortly after the birth of a new baby. For this reason, baptisms can be a monumental part of your life. Even if an older child or adult is baptized, this is still an important spiritual event. Here at Shutterfly, we want to help you celebrate big moments like this. That's why we offer classic baptism invitations.
Invite Friends and Family
One of the big steps you'll have to take prior to celebrating a christening is sending out the invitations. As you look through our classic baptism invitations, you may find a variety of design elements, including:
Layout: Do you want to include a single picture or multiple? Search through cards based on the number of pictures you want to add to make it easy to find the one you need.
Size: If you have a lot of information to share, you may want a bigger invitation. You may be able to find stationery as big as 6 inches by 8 inches or as small as 4 inches by 5 inches.
Paper: You can get your invitation printed on a variety of high-quality paper. Choose from photo paper, pearl shimmer cardstock and signature cardstock.
Designers: If you find a stationery designer you love, you can look through the baptism invitations from that creator. We carry many designers, including Blonde Designs, Yours Truly and pottsdesign.
With so many options, you'll love creating a one-of-a-kind baptism invitation right here on Shutterfly.
Find Inspiration
You can search through our wide selection of stationery to find the exact invitation, announcement or greeting card that fits your needs for any big event that may be coming up. We strive to make your shopping experience easy, which is why we offer professionally designed cards that can be customized with special wording, pictures and layouts. Do you need a special quote or passage from scripture for your classic baptism invitations? Get some inspiration by looking through these baptism quote ideas.
Don't Be Afraid to Ask for Help
As you plan your baptism celebration, things may not go as planned. Maybe you can't make 50 cupcakes while also decorating the venue. Or perhaps you are having a hard time designing your invitations. Either way, you should not be afraid to ask for help. While we can't help you with your food dilemmas, we can help with decorations and card design. Use our home décor, like glass prints, art prints and canvas prints, to decorate your venue space. Call, email or instant message our support team any time for help with card designs.
Are you ready to celebrate a christening? Start creating classic baptism invitations today.
Related Products
Picture In Landscape Twin Birthday Invites. Announce your newest arrival with this stylish birth announcement. Add your baby's name and favorite photos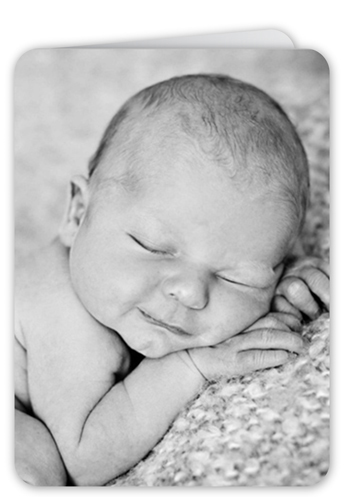 Picture In Portrait Twin Birthday Invitations. Shower her with love and a stylish baby boy birth announcement. Add your baby's name and a favourite photo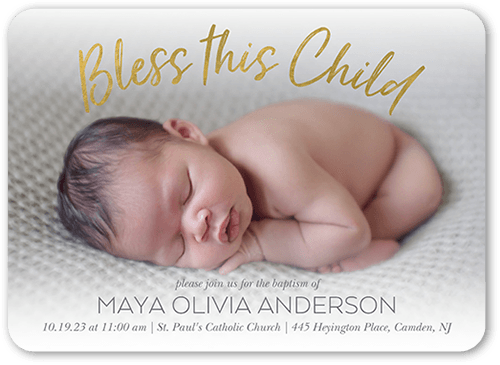 Bless This Child 5x7 Stationery Card by Petite Lemon. Invite everyone to this memorable and blessed occasion. Personalize this baptism invitation with all the event details.