Contemporary Bridal Shower Invitations
What customers have to say about our Bridal Shower Invitations
January 22, 2019
Personalized Card Bliss
"Great quality card made from personal photo and personalized captions. Sometimes a store bought card doesn't capture the sentiment you're trying to portray. This is a fantastic option to create your own!"
January 22, 2019
Beautiful!!
"Easy to design. Great communication. Super fast printing and delivery. Invitations were shipped next day."
January 21, 2019
Love them!
"They are great quality and look perfect."
January 20, 2019
Great quality!
"The invites for my cousins bridal shower were perfect. Great quality and fast shipping."
January 18, 2019
I was very pleased with the invitations!
"I needed invitations for a bridal shower and someone recommended Shutterfly. They were easy to order and came in a timely manner."
Secure Your Spot in the Maid-of-Honor Hall of Fame
As the maid-of-honor, you no doubt want to throw your bride-to-be a shower that sets a new standard While that may seem like a monumental challenge, you feel up to the task. All you need to pull it off is access to the right tools and resources.
We offer an extensive selection of designs and patterns to help you create outstanding contemporary bridal shower invitations. You can choose to incorporate any of our prefabricated designs into your invite, or you can create your own using our extensive color palette. If you're looking to impress invitees, try downloading a picture of your bride and including it in your design. Whichever pattern you choose, you can display it in a number of different formats and sizes. You can also have your invitation printed on photo paper, signature cardstock or even our famous pearl shimmer cardstock. We also offer added features such as glitter imprinting and foil stamping.
Should Your Shower Match the Wedding Theme?
One question that many in your position have is whether you need to match the theme of your bridal shower to your bride's wedding. In the end, the decision is up to you. You can use the bridal shower as a way to help prepare those in attendance for what the theme of the wedding will be. Or, if you prefer, you can give your bride a break from being neck-deep in her theme by coming up with a different one all your own. For example, if hers is to be a traditional wedding, it might be fun throw a contemporary-themed shower to help your bride enjoy the best of both worlds. Know you can customize our contemporary bridal shower invitation designs to fit any individual theme.
Being the maid-of-honor is a big responsibility, but one that you are not without assistance in fulfilling. With everything we have to offer, you'll be able to complete your duties with flying colors. It all starts by creating the right contemporary bridal shower invitation to pique the interest of those you hope to participate in preparing your bride for her big day. After seeing what you come up with, guests will be lining up to have you serve as the maid-of-honor for their weddings.
Related Products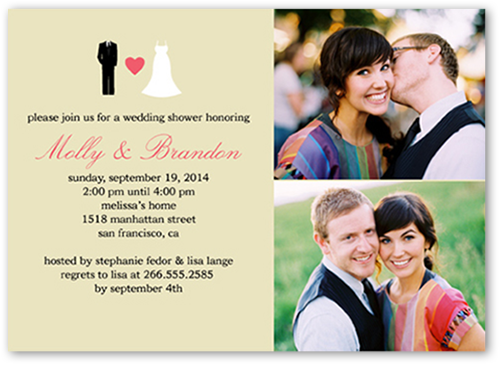 Cake Toppers 5x7 Bridal Shower Invitations. This sweet bridal shower invitations takes the cake. Whimsical cake toppers and a sweet heart top off the names of the bride and groom and all the invitation details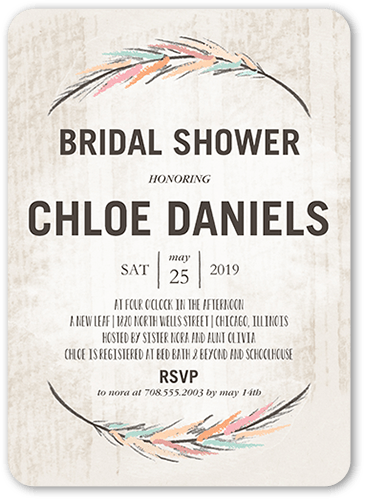 Classic Fringe 5x7 Stationery Card by Float Paperie. Celebrate the bride-to-be with this bridal shower invitation. Add the celebration details and a favorite photo.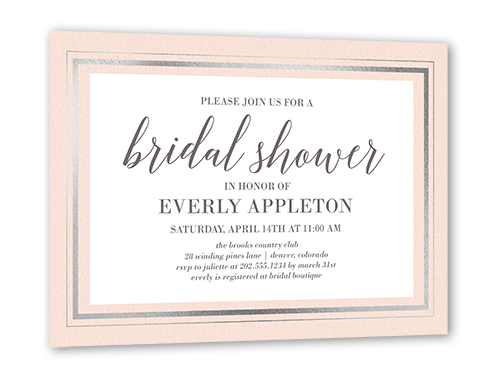 Gracefully Simple 5x7 Stationery Card by Jenny Romanski. Celebrate the bride-to-be with this bridal shower invitation. Add the celebration details and a favorite photo.