Flat Graduation Party Invitations
What customers have to say about our Graduation Invitations
January 22, 2019
Perfect!
"These are just right for any invitation. Very beautiful. We loved them"
January 18, 2019
Great product and shipped quickly!
"I used this for my graduation announcements. The quality of the product was great."
January 15, 2019
Perfect quality.
"We used these for my husband's graduation invitations.. they came out so perfect! We loved putting our in touch on them versus the plain ones the University would of sent out."
November 29, 2018
Definitely recommend!!
"Deloivery was fast! Everything came in a week! Got them delivered off and everyone loved them!"
November 29, 2018
Color is perfect
"They turn out just how I pictured them"
Celebrate With Flat Graduation Invitations
Design custom flat graduation invitations with Shutterfly. After many years of studying hard, you've made it, and now you're graduating! Make your special moment amazing with customized announcements and invitations from Shutterfly. We have a huge selection of striking layouts and designs. With our stunning flat graduation invitations, you can showcase your achievements with ease. As soon as you send your graduation invitation, the recipients will love it. See how many wonderful ways you can make your moment unique to make it a day you will treasure.
Design Unique Graduation Party Invitations
With Shutterfly, it's easy to customize your grad party invites to match your unique style. Consider how you want your customized graduation party invitations to look. Whether it's a classic layout with a single photo or a montage featuring several of your favorite shots, you can make your graduation invitations shine with your own unique spin. This day is a big one, so it's important that your graduation invitation looks perfect and suits your style. Add whatever text you like, and read here for some excellent graduation quotes and sayings if you need a little inspiration.
Creating Your Custom Grad Invitation
Shutterfly offers a fun selection of templates, enhancements, and trim to make your graduation party invitations as special and unique as you are. Try one of these options or several to get a custom look for your custom graduation cards:
Go for the glitter: Whether it's silver or gold, try our glitter graduation card selection. Choose your color and make your moment sparkle and shine. Our special glitter won't rub off or flake.
Make it metallic: If you love the shimmer look, try a religious graduation announcement with our foil stamped option to make it sparkle. We create them with real foil for a gorgeous statement.
Be edgy: Try a trim with a classic look using the square or rounded edges. Want to go above and beyond? Use a bolder trim like scallop, ticket, or bracket style.
Showcase Your Personality WIth Flat Graduation Invitations
Graduating is a milestone that you earn through hard work and perseverance. This day should be one to celebrate, so make sure your invitation showcases the things that make you, you. This is your chance to show the ones you love how far you've come, and who you are. Make it special with help from Shutterfly. Select the number of invitations you need, and we'll get them quickly to your door. Don't forget to say "thanks" with graduation thank you cards, home décor, and other wonderful gifts you can make personal here. Along with your graduation party invitations, you can also design personalized graduation announcements to share the big news with loved ones. To decorate for the big graduation party, design graduation yard signs so your friends, family members, and neighbors can celebrate your achievements with you.
Related Products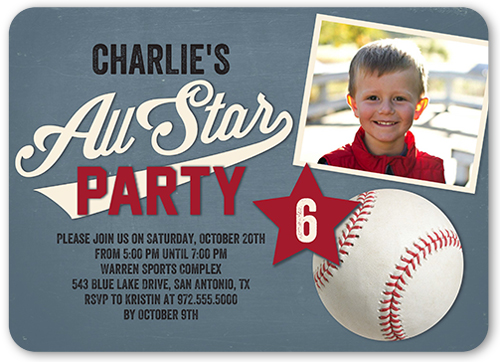 All Star Fun 5x7 Boys Birthday Party Invitations. Invite all the guests with this stylish birthday invitation. Just add your favorite photos and all the event details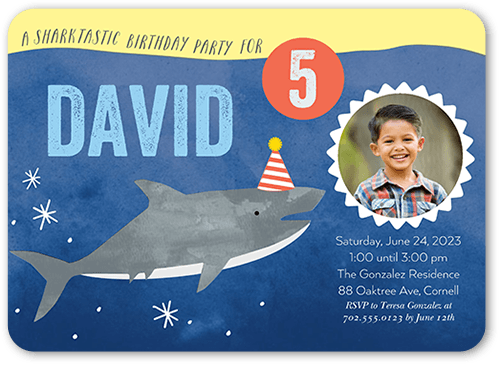 Sharktastic Party 5x7 Stationery Card by Blonde Designs. Another year older. Another year of fun. Invite all the guests with this stylish birthday invitation. Just add your favorite photos and all the event details.
Balloon Celebration Girl 5x7 Girls Birthday Party Invitations. Invite all the guests with this stylish birthday invitation. Just add your favorite photos and all the event details