Folded Baptism Invitations
What customers have to say about our Baptism Invitations
January 23, 2019
Adorable!
"Exactly what we were looking for in an invitation for our son's baptism. The paper and print quality was fantastic!"
January 5, 2019
Beautiful quality cards
"I love these cards and have ordered many over the years. The paper is very nice and heavy for both the cards and envelopes."
December 27, 2018
Yippee Skippee!
"Just PERFECT as to what I wanted... Brilliantly depicted. Graciously received..."
December 23, 2018
This website for placing a simple card order is the worst.
"Impossible. All the other reviews that express frustration with using the Shutterfly website are correct. It is worse than frustrating."
December 18, 2018
Turned out great!
"These invites turned out great. I would definitely recommend!"
Find the Right Way to Invite Friends and Family to a Baptism
Some events in life are worth celebrating with your friends and family. We offer announcements and invitations for some of the biggest happenings, like graduations, anniversaries, birthdays, promotions, moves and baptisms. Here at Shutterfly, we know that the right stationery can take even the smallest moment and make it special.
Many families choose to have their children baptized as babies, but for some, this event doesn't take place until later in life. Whether you are planning a baptism party for a baby, older child or adult, you can find folded baptism invitations right here. Use these tips to invite your friends and family in the best way possible.
Create Great-Looking Invitations
An invitation should be something that stands out. It should be memorable and good looking. Thanks to the design elements we offer, you can easily create a one-of-a-kind, stunning invitation that both you and your guests are sure to love. When you use personalized photos, you can turn your invitations into a keepsake. Consider these elements as you try to make your own stationery:
Do you need a folded or flat invitations? If you have a lot to say, folded baptism invitations may be the right choice.
Do you have a paper type preference? Choose from pearl shimmer cardstock, photo paper and signature cardstock.
Do you want to add style with a special trim? Consider ticket, scallop, rounded, square or bracket edges on your stationery.
Does your baptism party have a theme? Make matching invitations with patterned or floral
Are you trying to achieve a certain style with your baptism celebration? Choose from stationery that is whimsical, contemporary and classic.
How many photos do you want to use? You may be able to find cards that can hold anywhere from zero to four or more
Do you want to make a statement from the start? Don't forget to customize your envelope, custom postage stamps and address labels to really wow your invitees.
When you have limited options, you may have a hard time creating a card that really fits your needs. However, thanks to the choices Shutterfly has, you can have fun making a stunning invitation.
Select Your Words Wisely
If you really want to send the right message to your friends and family, you need to choose what you say with care. Try to include important information about the venue location, event start time and guest of honor. You can really make your card special by including a special Bible verse or quote.
Are you ready to celebrate a christening? Start creating your own standout folded baptism invitations today.
Related Products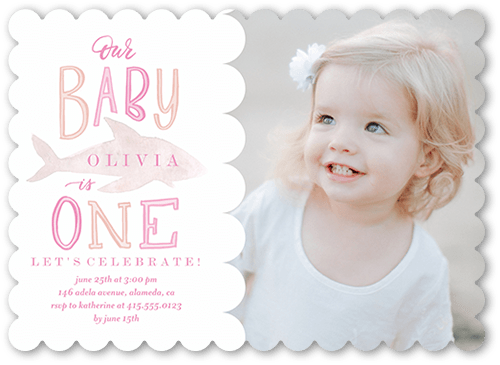 Baby Shark Girl 5x7 Stationery Card by pottsdesign. Another year older. Another year of fun. Invite all the guests with this stylish birthday invitation. Just add your favorite photos and all the event details.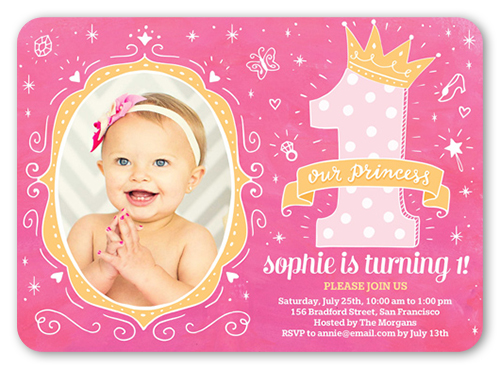 Princess Doodles Baby Girl 1st Birthday Invitation. Invite all the guests with this stylish birthday invitation. Add your favorite photos and all the event details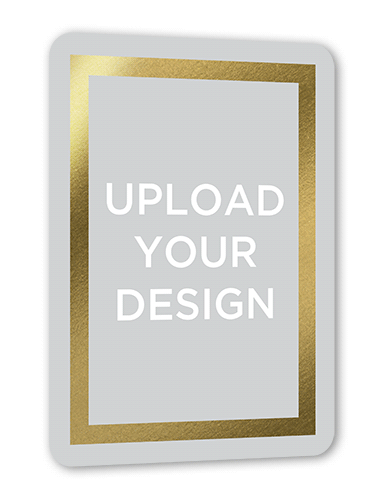 Upload Your Own Foil Design Twin Birthday Invitation. Invite all the guests with this stylish birthday invitation. Just add your favourite photos and all the event details