Purple Baptism Invitations
What customers have to say about our Baptism Invitations
January 23, 2019
Adorable!
"Exactly what we were looking for in an invitation for our son's baptism. The paper and print quality was fantastic!"
January 5, 2019
Beautiful quality cards
"I love these cards and have ordered many over the years. The paper is very nice and heavy for both the cards and envelopes."
December 27, 2018
Yippee Skippee!
"Just PERFECT as to what I wanted... Brilliantly depicted. Graciously received..."
December 23, 2018
This website for placing a simple card order is the worst.
"Impossible. All the other reviews that express frustration with using the Shutterfly website are correct. It is worse than frustrating."
December 18, 2018
Turned out great!
"These invites turned out great. I would definitely recommend!"
Show Off Your Unique Style with Purple Baptism Invitations
Don't sacrifice your signature point of view with a boring or basic baptism invitation. Whether you're looking for purple baptism invitations or personalized baby announcements, Shutterfly can help you find something you can make your own. Because your baby's arrival should be special and joyous, and when it's time for that important ceremony that marks his or her welcome to your church, we want it to be exactly what you want. That's why you can count on Shutterfly to capture this incredible moment and help you share the news in a creative baptism invitation for all your loved ones.
Add More Gorgeous Embellishments
Besides customizing the color of your baby's baptism invitations, you can also work on adding fine details in the form of embellishments. Some parents choose the subtle elegance of a custom shape for their invitation, like rounded baptism invitations or something with a ticket edge corner. There are also several options for paper choices to make your design even more customized. We love the look of photo baptism invitations to help make colors pop and look more lifelike. If you appreciate the fine texture of luxe paper, impress your list of attendees with pearl shimmer cardstock.
Pick the Perfect Photo of Your Little One
Once you're done with extra frills, it's time to use the design assistant tool at our website and finalize your purple baptism invitations with the perfect photograph. We make it easy to upload, resize, rotate and tweak your photos so they perfectly match the dimensions of your invitation. You can go with more than one picture of your little one for your invitation if you can't decide between a few of your favorites. Experiment with our photo editing tools to find the perfect balance between cute and elegant, or quirky and modern if that's more your style. Be assured that our staff of professional designers can review your invitation design if you want to make sure it will look just as amazing on paper as it does on your computer screen.
Get Started on Your Design Today
Get started on creating your very own purple baptism invitations for your special little one's party. If you're worried about finishing your design on time and getting the invitations mailed out too late, choose one of our expedited shipping options to get them sooner. Then, you can begin working on the rest of your baby's baptism party details to help welcome your little one into the arms of your religion.
Related Products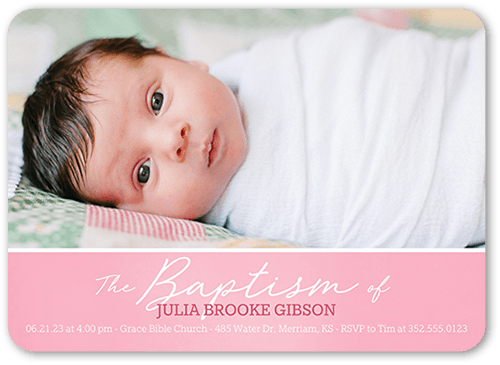 Classic Block Girl 5x7 Photo Card by Shutterfly. Invite everyone to this memorable and blessed occasion. Personalize this baptism invitation with all the event details.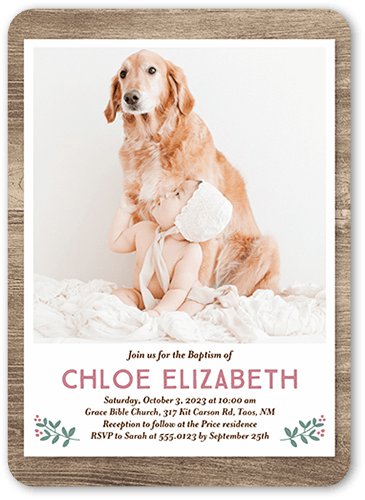 Rustic Family Girl 5x7 Photo Card by Shutterfly. Invite everyone to this memorable and blessed occasion. Personalize this baptism invitation with all the event details.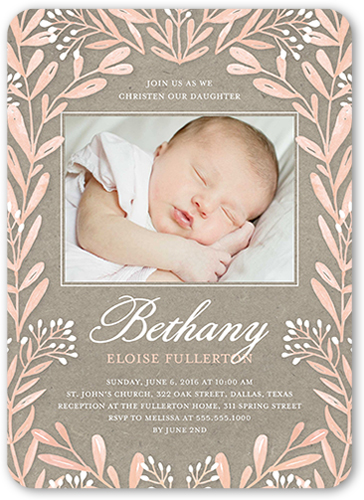 Rustic Frame Girl 5x7 Christening Invitations. Invite everyone to this memorable and blessed occasion. Personalize this baptism invitation with all the event details