Red Bridal Shower Invitations
What customers have to say about our Bridal Shower Invitations
January 22, 2019
Personalized Card Bliss
"Great quality card made from personal photo and personalized captions. Sometimes a store bought card doesn't capture the sentiment you're trying to portray. This is a fantastic option to create your own!"
January 22, 2019
Beautiful!!
"Easy to design. Great communication. Super fast printing and delivery. Invitations were shipped next day."
January 21, 2019
Love them!
"They are great quality and look perfect."
January 20, 2019
Great quality!
"The invites for my cousins bridal shower were perfect. Great quality and fast shipping."
January 18, 2019
I was very pleased with the invitations!
"I needed invitations for a bridal shower and someone recommended Shutterfly. They were easy to order and came in a timely manner."
Highlight Romance with Red Bridal Shower Invitations
Red is a color that has always been associated with romance, and red bridal shower invitations can carry on that tradition beautifully. In fact, if the bride-to-be is the kind of person who embraces life, a woman who is passionate about nearly everything, including the person she is about to marry, red is an excellent choice. We have countless designs for you to look through, making this the kind of research that is actually fun.
Red as a Theme
Perhaps the bride-to-be has already chosen red as the main color for specifics like bridesmaid dresses, flowers and reception décor. If so, red bridal shower invitations will fit right into that theme. However, you can also use this color as an individual theme for the special event you plan to host, be it a champagne brunch, a small tea party or a large luncheon. You can use it for flowers and linens and incorporate it into favors or games. It all starts with the look you choose for inviting your guests.
Special Touches
When you begin to plan your red bridal shower invitations, we can help. Start with our high-quality cardstock, then choose the size and trim options. Style will also be important, such as contemporary or whimsical bridal shower invitations. Red might stand out as an accent color in the design, in the font you choose or as a border.
There are so many options. When you have a few particulars in mind, your search for the perfect invitation will be made easier. You might also consider adding attractive address labels to your envelopes—something in red, of course. Make sure you are aware of what to write in your bridal shower cards.
Using Photos
At Shutterfly, adding photos to create unique greeting cards and invitations is a task we love and a major part of our business. You may think that photos are used mostly for birthday or holiday greetings, but there is a whole world of photo-related cards and gifts to consider. Photos can be very effective when used on shower invitations.
Consider personalizing yours with a photo of the bride-to-be. We have many lovely examples to get you started down this path, and the process is simple. It begins when you upload a photo from a device like your desktop, tablet, camera or mobile phone, or from an online source like Facebook or Instagram. Yes, you can still go with your idea of red bridal shower invitations, and we will help you combine that theme with the photo you select to great success!
Get Yours in Time
We have several shipping options for delivering your finished cards. We can ship them to you with the envelopes pre-addressed, for example, or send them directly to recipients. We want you to love your red bridal shower invitations and the way they came to be.
Related Products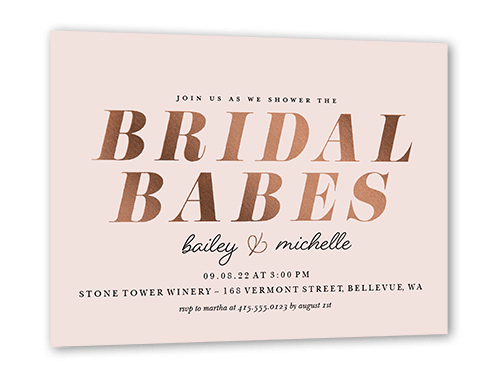 Bridal Babes 5x7 Stationery Card by Elk Design. Celebrate the bride-to-be with this bridal shower invitation. Add the celebration details and a favorite photo.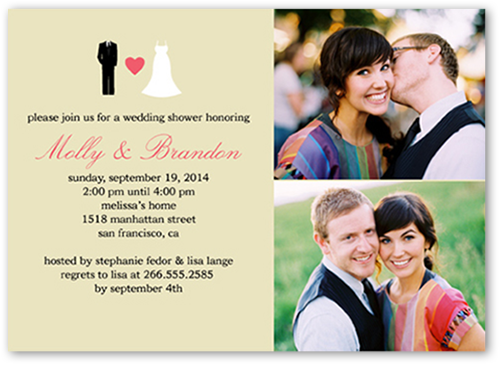 Cake Toppers 5x7 Bridal Shower Invitations. This sweet bridal shower invitations takes the cake. Whimsical cake toppers and a sweet heart top off the names of the bride and groom and all the invitation details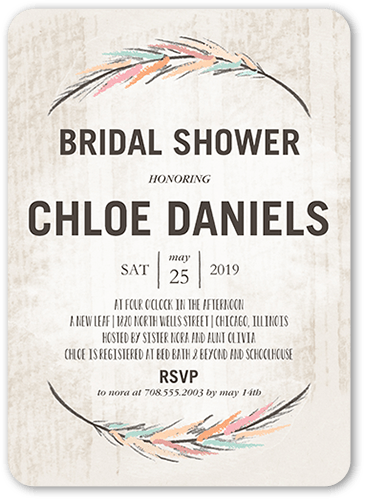 Classic Fringe 5x7 Stationery Card by Float Paperie. Celebrate the bride-to-be with this bridal shower invitation. Add the celebration details and a favorite photo.