Red Graduation Party Invitations
What customers have to say about our Graduation Invitations
January 22, 2019
Perfect!
"These are just right for any invitation. Very beautiful. We loved them"
January 18, 2019
Great product and shipped quickly!
"I used this for my graduation announcements. The quality of the product was great."
January 15, 2019
Perfect quality.
"We used these for my husband's graduation invitations.. they came out so perfect! We loved putting our in touch on them versus the plain ones the University would of sent out."
November 29, 2018
Definitely recommend!!
"Deloivery was fast! Everything came in a week! Got them delivered off and everyone loved them!"
November 29, 2018
Color is perfect
"They turn out just how I pictured them"
Show Off School Colors with Red Graduation Invitations
Let all your friends and family know you are about to graduate by sending out bright, vibrant red graduation invitations. Each of the eye-catching designs in this collection allows you to show your school pride with your team colors. Shimmering foil and glitter accents make some of the designs in this collection stand out. Check them all out to find the starting point for your custom creation.
Personalizing Your Red Graduation Invitations
With so many to choose from, it can be hard to narrow it down. Look at the field on the left to narrow your selection with decisions like what size you want, what type of corners you like, and which format you prefer. You can even select between two luxe paper options: signature cardstock and pearl shimmer cardstock.
The real magic happens when you push that orange "Personalize" button. Shutterfly takes you through a series of guided steps which help you upload photos, insert graduation details, and arrange text within your design. A preview at the end ensures the result is what you're looking for.
Create Coordinating Thank You Cards
Every graduate receives tons of thoughtful gifts such as a small canvas print. Make it easy to show your appreciation by ordering custom thank you cards which coordinate with your graduation invitations. These thank you cards are fun to personalize and make a great addition to any stationery collection. If you aren't sure what to write in your thank you cards, head to the Shutterfly ideas page. Their collection of graduation blogs includes everything from graduation gift etiquette to inspiration for thank you note wording.
Finish with Personalized Return Address Labels
Addressing all the envelopes is a big task. Make it a little easier with personalized return address labels matching your red graduation invitations. These little stickers add a bit of elegant glamor to your envelope and save you from the monotony of writing your address on every envelope.
Stash away remaining return address labels as part of your stationery collection. If you aren't interested in addressing your invitations at all, provide your recipient list to Shutterfly and they will stamp and mail your invitations for you. It doesn't get easier than that. With so many graduation gifts to personalize, which designs will you start with?
Related Products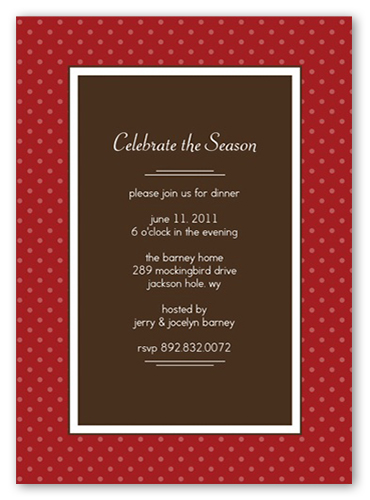 Berry Dots Party Photograph Invitations. An understated, yet elegant invitation for any seasonal celebration. This dark-chocolate colored card is surrounded by a field of cranberry-red polka dots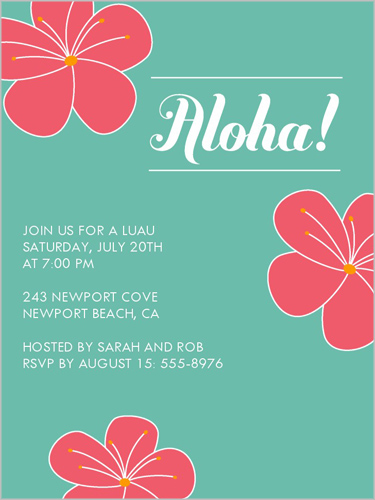 Aloha Flowers Luau Surprise Party Invitations. Tropical flowers bloom in poppy pink, giving this summer invitation a Hawaiian appeal. The celebration details appear against a powder
It's The Fourth Surprise Party Invitations. What's in a number? Playful dots and a candy-striped number 4 gets everyone in the mood for the holiday. This Fourth of July summer invitation offers room for event details against a blue background ...