Graduation Invitations with Textures and Patterns
What customers have to say about our Graduation Invitations
January 22, 2019
Perfect!
"These are just right for any invitation. Very beautiful. We loved them"
January 18, 2019
Great product and shipped quickly!
"I used this for my graduation announcements. The quality of the product was great."
January 15, 2019
Perfect quality.
"We used these for my husband's graduation invitations.. they came out so perfect! We loved putting our in touch on them versus the plain ones the University would of sent out."
November 29, 2018
Definitely recommend!!
"Deloivery was fast! Everything came in a week! Got them delivered off and everyone loved them!"
November 29, 2018
Color is perfect
"They turn out just how I pictured them"
Graduation Invitations with Textures and Patterns
Graduation, whether from preschool, kindergarten, high school, college or grad school, is a milestone event - and an important accomplishment that deserves to be celebrated! If you or someone you love will be graduating soon, be sure to announce this special occasion with custom graduation invitations from Shutterfly. Whether you're inviting friends and family to a graduation party or both the ceremony and party that follows, Shutterfly's stylish personalized graduation invitations with textures and patterns will set the tone for your celebratory event.
Creating Custom Graduation Invitations
Creating a custom invitation is an easy process with Shutterfly. With our lovely variety of texture and pattern invitation designs, you'll find a style to perfectly match the guest of honor – whether that's you or a loved one! A few delightfully dazzling design options include:
Classic Portrait Graduation Invitations: This simple yet timeless design lets your favorite portrait take center stage and highlights essential party details
Foil-Stamped Graduation Invitations Stamped with real foil accents, this eye-catching style adds an elegant shimmer to your personalized graduation invitations and will make a significant impact
Tri-Fold Graduation Invitations: A tri-fold grad invite design offers plenty of room for photos, event details and more. Whether you want to share the story of your grad's school journey or display a collage of photos from his or her college years, this is a great option for doing so
After selecting your phtoo graduation invitation design, personalize it to match your grad's personality and style. Choose from an array of customization options, including paper type, trim style, colors, fonts and more. Add a special quote or custom message and don't forget to include important details about the event. Then upload one or more photos, depending on your graduation invitation design template. After your graduation festivities have ended, be sure to send coordinating thank you cards to everyone who showed their love and support.
Thoughtful Graduation Gifts
After receiving a graduation invite from a loved one, you'll want to create a custom graduation gift that suits their style. For a milestone occasion such as a graduation, you'll want to get a thoughtful gift for the grad. Shutterfly offers a vast collection of unique DIY graduation gifts, making it easy to find a meaningful gift for any grad. If you need some additional ideas and inspiration, check out our best graduation gift ideas for him and best graduation gift ideas for her.
Related Products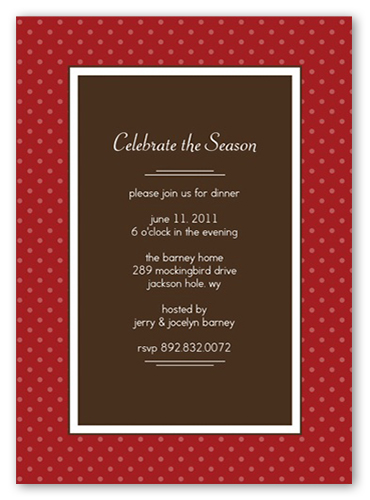 Berry Dots Party Photograph Invitations. An understated, yet elegant invitation for any seasonal celebration. This dark-chocolate colored card is surrounded by a field of cranberry-red polka dots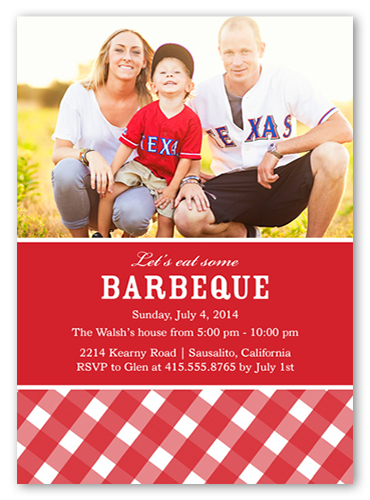 BBQ 5x7 Surprise Party Invitations. The heat is on. A picnic-perfect print adds a jolt of color to this summer barbecue invitation. The party details appear on a bright red background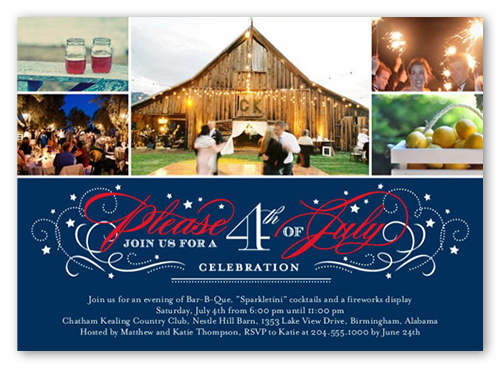 Flourishing Fourth Surprise Party Invitations. Celebrate summer with this stylish summer invitation. Make a splash with your photos and all the event details