White Baptism Invitations
What customers have to say about our Baptism Invitations
January 23, 2019
Adorable!
"Exactly what we were looking for in an invitation for our son's baptism. The paper and print quality was fantastic!"
January 5, 2019
Beautiful quality cards
"I love these cards and have ordered many over the years. The paper is very nice and heavy for both the cards and envelopes."
December 27, 2018
Yippee Skippee!
"Just PERFECT as to what I wanted... Brilliantly depicted. Graciously received..."
December 23, 2018
This website for placing a simple card order is the worst.
"Impossible. All the other reviews that express frustration with using the Shutterfly website are correct. It is worse than frustrating."
December 18, 2018
Turned out great!
"These invites turned out great. I would definitely recommend!"
Pure and Perfect White Baptism Invitations
A baptism is a very special day, and there's no better way to get ready for it than with gorgeous white baptism invitations. We offer a wide selection of designs and customization options so that you can send out invitations that are just as unique as your child.
Radiant White
White is an elegant color that also signifies innocence and purity, which makes it the perfect color to represent not only your newborn child, but also the ceremony he or she is about to experience. These beautiful invitations are simple yet meaningful and offer you the chance to celebrate the upcoming baptism with your family and friends.
Color Coordination
White invitations work well for both baby boys and baby girls, so you don't have to stick with traditional color schemes. If you prefer pink and blue, though, there are some designs that accent the white background with eye-catching pastel colors. If you want, you can add a black and white photograph to maintain a monochromatic feeling, or you can use the white background to emphasize a colorful picture.
Photo Options
We offer a number of different options that allow you to add your own photos to the card. Some designs have space for a single picture that can show off the best image you have. Others have room for two or three images so that you can use multiple perspectives of the baby or even include shots of the entire family. Some minimalist designs have no photo at all, while our upload your own design option lets you add whatever you like to the card.
Make It Your Own
There are a number of other customization options you can take advantage of. Choose between flat and folded cards in a variety of different sizes, or adjust the text on the card. You may choose to print it on our Signature Cardstock or Pearl Shimmer stationary. You can also decide from a wide range of exciting trims for the edges, which include:
Square
Rounded
Ticket
Bracket
Scallop
Get Started
If you're going to host a baptism party soon, then a good invitation is the best way to start the party off right. Consider ordering invitations that complement the theme of the celebration. If you're looking for ideas, we offer a handy baptism party planning guide.
Here at Shutterfly, we want you to be satisfied with every aspect of your purchase, which is why we offer special shipping options, such as rush and next-day delivery. If you're ready to find the perfect card for your special day, feel free to start browsing our selection of white baptism invitations.
Related Products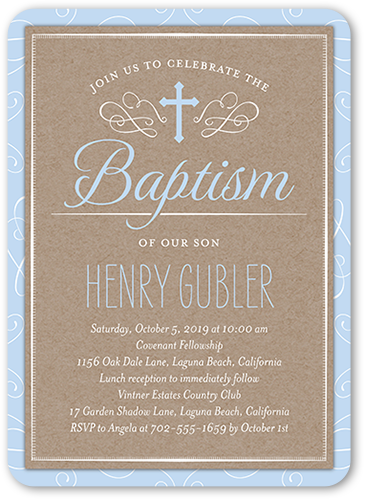 Bordered Purification Boy 5x7 Stationery Card by Blonde Designs. Invite everyone to this memorable and blessed occasion. Personalize this baptism invitation with all the event details.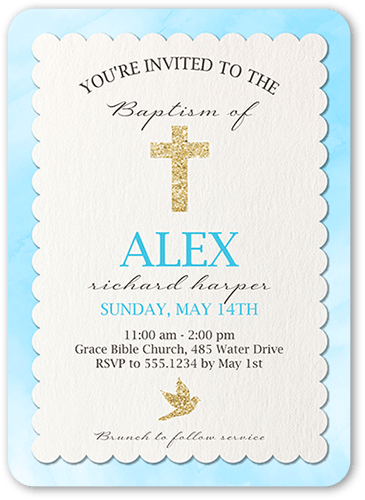 Cross and Dove Boy 5x7 Stationery Card by Petite Lemon. Invite everyone to this memorable and blessed occasion. Personalize this baptism invitation with all the event details.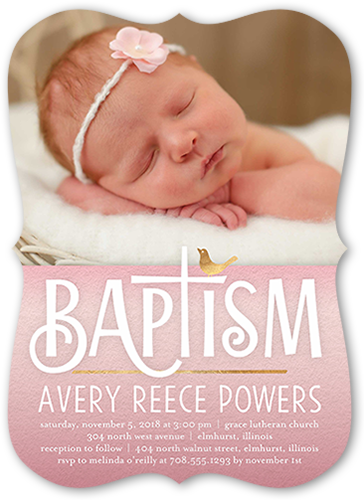 Gradient Christening Girl 5x7 Stationery Card by Float Paperie. Invite everyone to this memorable and blessed occasion. Personalize this baptism invitation with all the event details.