Lace & Patterns Address Labels
What customers have to say about our Address Labels
"VERY CUTE"
January 26, 2019
Delightful!
"I love the delicate design and lavender color."
"Pretty lables"
"Can't wait to use these cute adress lables!"
January 23, 2019
Love these labels!
"Cute labels, easy to read, fun to make. I have bought several different types now and love them all! Great gifts for grads, new babies, newlyweds, housewarming presents...you name it!!"
Lace & Patterns Address Labels
label design you choose from this collection, it will be perfect for adding flair and a personal touch to your stationery. From party invitations and thank you cards to holiday cards and everyday letters, you'll make a stylish impression on your recipients with personalized lace and pattern address labels that are uniquely yours. With Shutterfly, you can customize your return address labels to match your style and personality. Add your name and address to each one of our unique design templates to make address labels that will make your correspondence pop.
Decorate Your Envelopes With Personalized Address Labels
Shutterfly offers a vast collection of custom return address labels. Whether you're sending holiday cards, party invitations, or a regular piece of snail mail, a personalized address label adds an extra special and personal touch to your envelope. Regardless of the type of correspondence you're sending out, our selection of lace and pattern address label designs offers fantastic options. These designs are ideal for a variety of occasions such as:
Holiday: Inspire the holiday spirit from the moment your friend or family member opens their mailbox. Festive address labels featuring snowflakes, Santa Claus, holly and holiday greetings are a great way to enhance your holiday card envelopes.
Birthday: Pair your unique birthday invitations with address labels that suit your personality and style.
Every day: Bring a touch of personality and a chic look to the personalized stationery you send with address labels that are unmistakably your own. These personalized labels also happen to make mailing a breeze if you have many cards to send at once!
Unique Return Address Label Designs
These eye-catching lace and pattern address label designs will add just the right amount of style and personality to your envelopes. Browse our collection to find the design you love, add your name and address, and then customize it to suit your personality and style with our array of options, such as fonts, colors, backgrounds, and borders. Add your name or initials and address to your labels. Choose from our selection of beautiful fonts, available in many different styles and sizes, as well as gorgeous colors to create a one-of-a-kind look. Our address labels are also available with fabulous backgrounds and patterns, such as glittery gold and classic white borders. We also offer a wide selection of solid background colors to match your taste.
Personalize Your Envelopes With Address Labels and More Stationery
Add even more personality and style to your correspondence with Shutterfly's self-inking stamps and stickers. Our personalized stationery items will quickly transform any plain envelope from boring to attention-grabbing. When you dress up your envelopes with these extra little touches, your invitations and any other type of correspondence you send will be sure to delight your recipients! Shutterfly also offers a vast collection of personalized stationery items such as notebooks, monthly calendars, notepads, sticky notes, and more so you can stay organized in style.
Related Products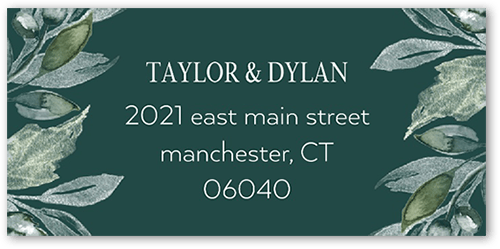 Artfully Adorned Address Label by Lady Jae. Address your envelopes with stylish address labels. Corresponding invitations, gift tags and thank you cards are also available.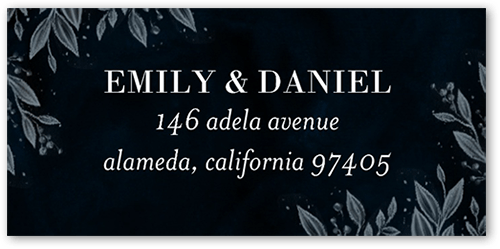 Garland Bliss Address Label by Petite Lemon. Address your envelopes with stylish address labels. Corresponding invitations, gift tags and thank you cards are also available.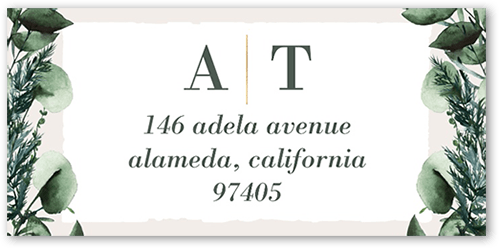 Rehearsal Bough Address Label by Float Paperie. Address your envelopes with stylish address labels. Corresponding invitations, gift tags and thank you cards are also available.