Memorial Sympathy Cards
What customers have to say about our Sympathy Cards
January 20, 2019
Impressive!
"Fantastic collage. Great editing tools and fantastic final product. Sadly, the shipping costs were exhorbitant. Even priority mail is 2/3 less. Too bad. The quality of these cards and envelopes were extraordinary."
January 17, 2019
Meaningful template and easy to modify
"The template was solemn and appropriate."
December 27, 2018
Love creating custom cards
"I really appreciate the opportunity to create a custom pet sympathy card, gave it addresses stamped and mailed all in one fell swoop. I have sent this card twice this year already and recommend it to others."
November 23, 2018
Definitely a must
"I hope I don't have to buy this any time soon, but when I do, this is a must! Beautifully organized, perfect picture quality, and the cardstock material makes these cards well worth the purchase. Unfortunate circumstances, but this made everything just a little easier to deal with."
November 19, 2018
Great product
"They were easy to make and turned out great!"
Send Your Condolences With a Memorial Sympathy Card
After you've lost a loved one, send your condolences to their family with a memorial card by Shutterfly. Losing a loved one is a trying time for anyone. However, sympathy is a powerful sentiment, one that can lift spirits even in times of tragedy. In these difficult periods, help those grieving remember and celebrate the life lost with personalized photo memorial cards. Shutterfly makes it simple to create, print and send beautiful one-of-a-kind sympathy cards, complete with photos, inspirational quotes and tasteful designs. A sympathy card is a wonderful way to send your thoughts and prayers to a family member and to those who are grieving, and is also a keepsake you can give to loved ones that come to a memorial service for the person they have lost. With Shutterfly, you can customize a memorial card or blank cards to honor their life and pay a lasting tribute at a funeral service or to keep and treasure forever. Share bible verses about loss in your cards to grieve through your faith.
Use Memorial Cards for Funerals to Celebrate Life and Family
Shutterfly offers a range of memorial cards for funerals to honor those that you've lost. After the loss of a friend or loved one, families come together to share the memories and stories of the departed through grief, laughter and love. These moments are essential to the healing process and bring families closer together. With the help of Shutterfly, you can create the perfect funeral card memento to brighten the occasion, such as a sympathy card printed on cardstock with photos spanning an entire lifetime. Share the memories and images of a treasured life with every member of the family and remember why that person was special to all of you on your special photo card. You can customize your sympathy card template with an in memoriam message that honors their life. With messages like "In Loving Memory", "Deepest Sympathy", "Celebration of Life", you can make remembrance cards or custom funeral announcements for any type of occasion. Our memorial cards for funerals will live on as a cherished keepsake for many years to come.
Planning for a Memorial Service With Sympathy Cards
There's no shortage of stress in the wake of a loss. Between contacting funeral homes and booking reception halls, all of a sudden you have to coordinate a large event, all while processing a recent passing. Now, you can create and send beautiful remembrance cards that also function as memorial service invitations. Memorial cards and funeral programs from the service will be something you can cherish for years to come. Hand them out to funeral guests that they can treasure as a keepsake. Shutterfly makes it simple to upload photos and drop them into card designs, saving you time and effort. You have enough on your plate as it is during this difficult time. After just a few steps, you will have a high-quality custom sympathy card, memorial card, or celebration of life card from our best sellers.
Thinking of You Cards and Keepsakes
If people close to you have experienced a recent loss, be sure to reach out with a touching sympathy card that not only lifts their spirits, but reminds them you're there for them. In addition to stationery and greeting cards, Shutterfly can help you create inspiring photo books and personalized gifts through which you can celebrate and commemorate lives lived, lost, and loved. After the service, you can create thank you cards to send funeral guests or anyone who sent sympathy gifts.
Related Products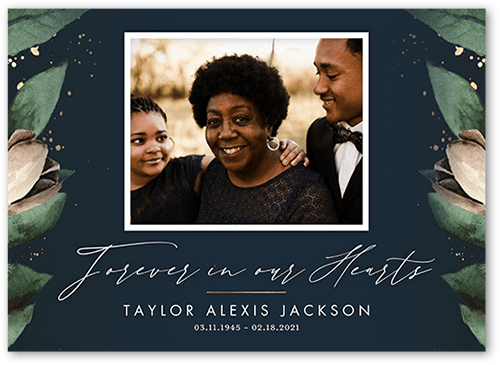 Floral Impression 5x7 Stationery Card by Float Paperie. Send your condolences with a solemn sympathy card. Personalize with a photo and your own message.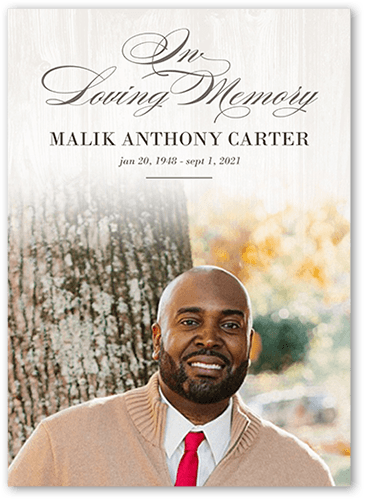 Gentle Remembrance 5x7 Stationery Card by Float Paperie. Send your condolences with a solemn sympathy card. Personalize with a photo and your own message.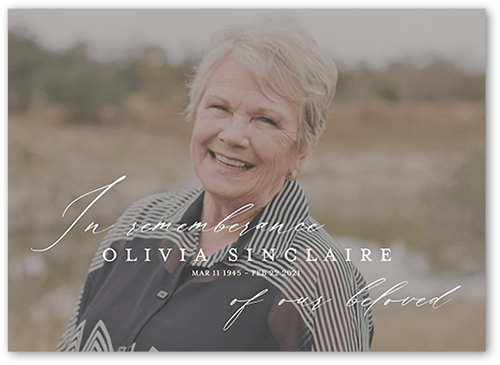 Remembering Our Beloved 5x7 Stationery Card by Float Paperie. Send your condolences with a solemn sympathy card. Personalize with a photo and your own message.