Monogrammed Birth Announcements
What customers have to say about our Birth Announcements
January 25, 2019
A Hit With All the Family!
"We used this card as a birth announcement and thank you card for our baby shower attendees. It's on a nice heavy cardstock, and the print was super clear. With my first order there was a smear on the return address on the back of the envelope, but no big deal. With the first order I also didn't receive the blank envelopes I ordered. The second order everything was perfect. I would highly recommend!"
January 24, 2019
Very nice cards
"Super classy cards"
January 24, 2019
Great buy
"Looks and feels great. Came so quickly and is such great quality!"
January 22, 2019
So sweet
"Easy to create!sweet design"
January 22, 2019
Love this product!!
"I love the simplicity of this birth announcement, it was easy to make and arrived on time!"
Show Off Your Sweet Baby With Monogrammed Birth Announcements
Monogrammed birth announcements are an amazing way to celebrate your new baby. Highlight your baby's name with a monogrammed baby birth announcement that will add a personalized touch to your cards. Monogrammed baby announcement cards make your birth announcement more personal and can be a great way to add a detail that's customized to your baby boy or girl.
Whether you opt for a rustic monogrammed baby announcement card or a modern and trendy birth announcement, you can find the perfect card at Shutterfly. With options available for all different types of parents-to-be, you can create every last detail of your birth announcement to ensure it becomes a special keepsake for years to come.
Monogrammed Birth Announcement Wording Ideas
Birth announcement wording can be tough. You want to get it perfect for your amazing little bundle of joy, but what should you include? You can choose whether to make your baby announcement traditional, religious, funny, informal, and more — so where do you begin?
Birth announcement wording usually includes staples like a sweet introduction, the baby's full name, the parent's names, and the baby's date of birth. Parents often include extra details like the birth location and the baby's weight and length as well.
If you're looking for ideas on how to customize your baby announcement introduction, check out these sweet baby quotes and sayings that will warm your heart. From including a cute quote about your new baby to a funny saying about the nature of parenthood, you can find the perfect quote for your baby announcement to represent how excited you are to tackle this new life journey.
Customize Your Baby Announcement Cards
Shutterfly has countless options to customize your baby announcement cards. You can design the card size, orientation, paper finish, and trim to create the birth announcement of your dreams. You can also upload photos of your baby or your whole family for a sweet keepsake that will surely make it on the mantle of your loved ones for years to come.
Customized birth announcement cards are a special treat for friends and family that they will adore. If you're still in the planning stages of getting ready for your baby, check out these pregnancy announcement cards for some sweet inspiration on how to tell friends and family the big news.
Related Products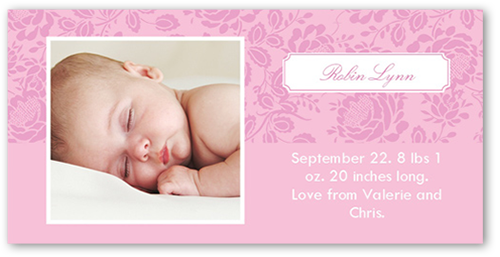 Blossom Rose 4x8 Photo Card by Shutterfly. Floral silhouettes give a feminine accent to this lovely photo card. A nameplate and framed photo keep the layout structured and elegant.Designed in petal pink.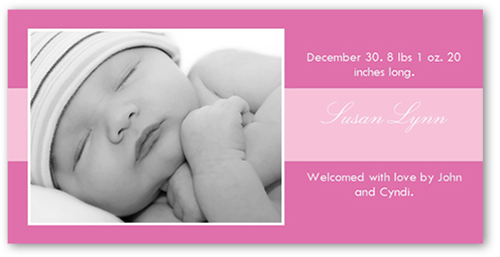 Cookie Rose 4x8 Photo Card by Shutterfly. Capture elegance for any occasion with ornate lettering and a two-tone pink background. Room for one special photograph.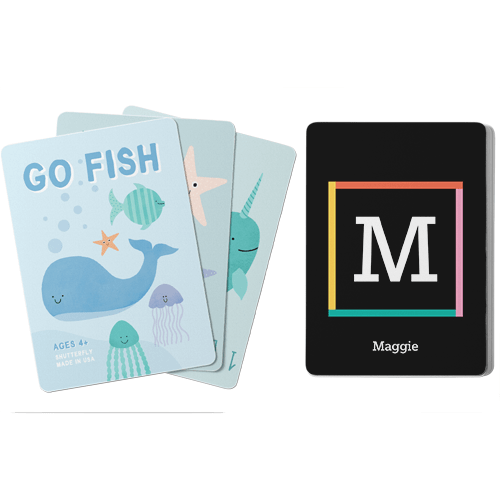 Bright Frame Monogram Card Game by Shutterfly. Make game time extra fun with personalized card games, available in the classic children's games Go Fish and Crazy 8s. The cards can be personalized with photos and text on one side and ...