Monogrammed Note Cards
What customers have to say about our Folded Note Cards
January 26, 2019
These turned out so CUTE!!!
"The card stock is very heavy and makes it a nice writing experience. Quality, thick, great bright colors on the card. This is a great product and a wonderful purchase."
January 21, 2019
Great Quality
"Thank you notes are a nice idea and shutterfly makes it easy. The ability to personalize each side of the card is nice as well. Now its not just some cheesy card but a photo update on how life is going."
January 14, 2019
I love the cards.
"Shutterfly products are excellent! I love them very much."
"I had made and ordered the note cards once before and everyone liked them."
January 12, 2019
Amazing quality!
"Easy to make, edit & personalize these high quality cards! This was actually a reorder - changed a bit this time around after the 1st set were all sent! I Love Shutterfly!"
Create a Monogrammed Note Card
When a little one is born, it's a fantastic occasion. It's also wonderful to make an announcement when something this momentous happens. For that, you'll need a set of beautiful, monogrammed folded note cards to send to all of your excited friends and family.
Your new baby likely received plenty of baby gifts upon his or her arrival, lending considerable ease to the task of caring for a newborn. And yet, contributions and the courteous task of sending thank-you notes. With the changes that come with a newborn in your life, these monogrammed folded note cards will come in handy.
Shutterfly's design studio features templates that make creating your note cards easy, so commemorating the arrival of your new family member will be fun and straightforward. All you'll need is a couple of adorable photos, which should be easy to come by!
Send Stylish, Personalized Thank-You Notes
Monogrammed thank you cards come in handy all year round with so much to be grateful for, and so many people to thank. You may even think of sending yourself one of these cards for creating them! With beautiful templates in a range of styles, you can create truly personalized thank you cards.
Add favorite photos of your family or event to help your recipients hold those memories dear. Adding one, two or three photos to your monogrammed folded note cards will tell a story more clearly where a simpler card may not. The addition of a photo adds a personal touch as no other detail can.
Thank Your Wedding Guests with Monogrammed Folded Note Cards
Now that your big day has come and gone, you'll need to send thank you cards out to all of your generous friends and family. For gifts large and small, it's always a good idea to thank a loved one for their donation to your union. Such a momentous day deserves a stylish, monogrammed folded note card with photos of you and your new spouse.
Choose from a variety of templates that may suit your new family unit. Add your new initial and a couple of favorite snaps, and you'll be well on your way to sending gratitude and memories to your beloved guests.
For all of your monogrammed folded note card needs, choose Shutterfly for a seamless creative experience.
Related Products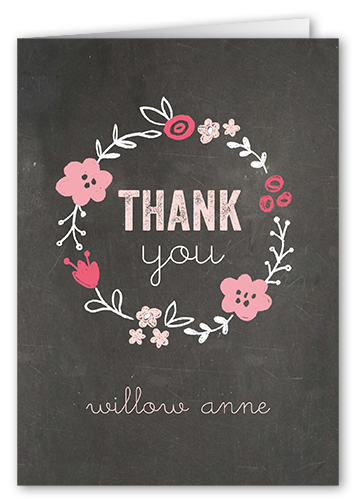 Crafty Collage Girl 3x5 Thank You Cards. Show just how much you appreciate them with this stylish thank you card. Add your favorite photos and a message of thanks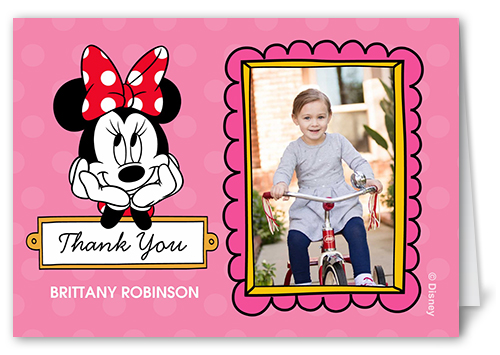 Disney Minnie Mouse Dots 3x5 Folded Card by Yours Truly. Show just how much you appreciate them with this stylish thank you card. Add your favorite photos and a message of thanks.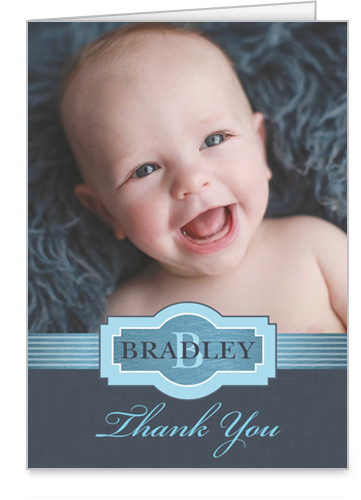 Metallic Chic Boy 3x5 Thank You Cards. Show just how much you appreciate them with this stylish thank you card. Add your favorite photos and a message of thanks