Multi Color Birth Announcements
What customers have to say about our Birth Announcements
January 25, 2019
A Hit With All the Family!
"We used this card as a birth announcement and thank you card for our baby shower attendees. It's on a nice heavy cardstock, and the print was super clear. With my first order there was a smear on the return address on the back of the envelope, but no big deal. With the first order I also didn't receive the blank envelopes I ordered. The second order everything was perfect. I would highly recommend!"
January 24, 2019
Very nice cards
"Super classy cards"
January 24, 2019
Great buy
"Looks and feels great. Came so quickly and is such great quality!"
January 22, 2019
So sweet
"Easy to create!sweet design"
January 22, 2019
Love this product!!
"I love the simplicity of this birth announcement, it was easy to make and arrived on time!"
Perfection and Beauty That Match Your Little One
There are few things more exciting than introducing a new baby to those you love. Whether it's baby number four or the marvelous introduction of your first, we help you capture the moments that are important to you and share them with the world. At Shutterfly, we give you plenty of options to find the perfect multi color birth announcements that you can be proud of.
We know that you only get to do this once per child, and we want you to be proud of the result and feel as if it were personalized just for your little one. Boy or girl, twins or triplets, we have the customized options you need to be proud of what you've created, both in paper and in the flesh.
Custom Options for Every Baby Announcement
At Shutterfly, we take pride in the fact that we can offer you so many different options when it comes to multi color birth announcements. We offer boy, girl and gender-neutral invitations. Our photo collage birth announcement cards are printed on the highest-quality signature or Pearl Shimmer cardstock to ensure that there are no smudges or misprints. Add your favorite professional photo or choose several of your cherished snapshots to include. Preview all our announcements with your own photos before deciding which options are best for you.
We offer different baby shower themes, colors and designs to help you create quickly and easily. Use our services to put your own ideas down on paper or simply upload your photos to one of our predesigned cards to make it easy. If you're looking for ideas and inspiration for how to announce your baby, check out our blog for simple tips on everything from holiday parties to personalized gifts for her and him.
Special Offers and Fast Shipping
At Shutterfly, we don't want to dampen the excitement of your baby's introduction with cards that are expensive and hard to create. Our prices vary to meet the needs of every customer, and we offer different delivery and shipping options to ensure that you get those last-minute cards and announcements when you need them. We'll ship in multiple packages, internationally and right to the store for pickup.
We guarantee your satisfaction 100 percent and aren't done with our job until you are pleased with the results. At Shutterfly, we treat your memories as preciously as if they were our own. Allow us to help you make one of the most important introductions of your life with a wide selection of multi color birth announcements.
Related Products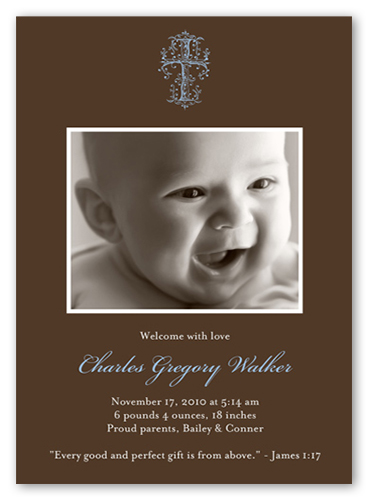 Blessed Cross Blue Birth Announcement 5x7 Stationery Card by Stacy Claire Boyd. What a blessed gift. Introduce your baby boy to the world with a favorite photo below a lovely cross. Add his name and birth details to this elegant ...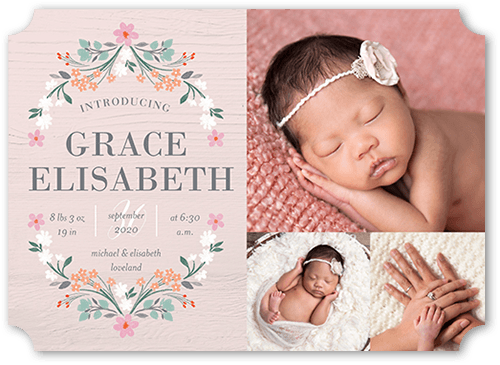 Blossoming Introduction 5x7 Stationery Card by Petite Lemon. Announce your newest arrival with this stylish birth announcement. Add your baby's name, a favorite photo and the news everyone's been waiting for.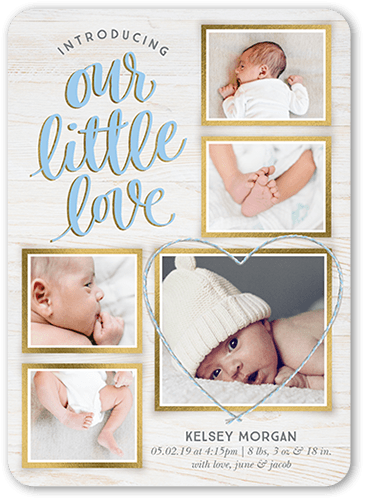 Littlest Love Boy 5x7 Stationery Card by Petite Lemon. Announce your newest arrival with this stylish birth announcement. Add your baby's name, a favorite photo and the news everyone's been waiting for.