Gender Neutral Birth Announcements
What customers have to say about our Birth Announcements
January 25, 2019
A Hit With All the Family!
"We used this card as a birth announcement and thank you card for our baby shower attendees. It's on a nice heavy cardstock, and the print was super clear. With my first order there was a smear on the return address on the back of the envelope, but no big deal. With the first order I also didn't receive the blank envelopes I ordered. The second order everything was perfect. I would highly recommend!"
January 24, 2019
Very nice cards
"Super classy cards"
January 24, 2019
Great buy
"Looks and feels great. Came so quickly and is such great quality!"
January 22, 2019
So sweet
"Easy to create!sweet design"
January 22, 2019
Love this product!!
"I love the simplicity of this birth announcement, it was easy to make and arrived on time!"
Gender Neutral Birth Announcements
Having trouble deciding what to say on your birth announcements? Don't worry, you're not alone. Many new parents find that they know very little about birth announcement etiquette when it comes time to tell their friends and family about their new arrival. Here is some important information about what should be included in all gender-specific and gender neutral birth announcements, as well as some ideas for optional creative wording.
Imperative Information
The following information should appear on every birth announcement so friends and family know the basic details about the occasion:

• Date and time of birth
• Baby's name (if you have decided on a name – if not, you might be interested in checking out our baby name generator!)
• Weight
• Length
• Birth location
• Names of the parents and siblings
In addition to this basic information, you can also include the names of the baby's grandparents as well as the name of the doctor of midwife who delivered the baby. If you have decided to keep a baby blog, you may want to put the URL on the invitations as well.
What You Shouldn't Include
If your birth experience was extra traumatic or extra beautiful, your birth announcement is not the place to share the story. Save this conversation for in-person chats with those closest to you.
Creative Birth Announcement Wording Ideas
Here comes the fun part. Once you have written down all of the imperative information for your announcements, you can then come up with creative ways to write the introductory lines. Some fun ideas include "Our hearts are overflowing with love as we welcome (baby name) to the world" and "Introducing our new little prince/princess… (baby name)". You can also write the announcement from the perspective of one of the baby's siblings.
When you are coming up with introductory wording ideas, keep the design of your announcements in mind. For example, if your cards have a picture of your baby in a basket on the front, you might say something like "Special Delivery…" or "The most perfect gift…"
As icing on the cake, you can even place personalized postage stamps on your invitations to tie everything together and create the perfect, customized touch.
Related Products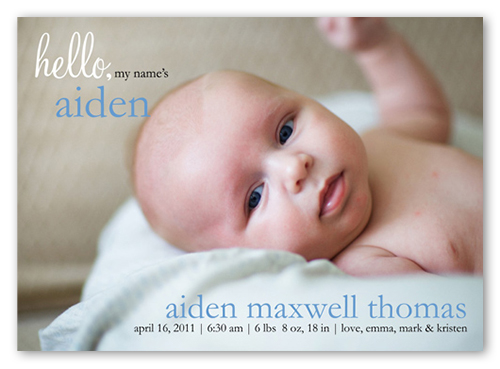 Blue Note Birth Announcement 5x7 Stationery Card by Stacy Claire Boyd. Hello, my name is. Add your baby boy's name and favorite photo to this modern birth announcement to let the world know he is finally here.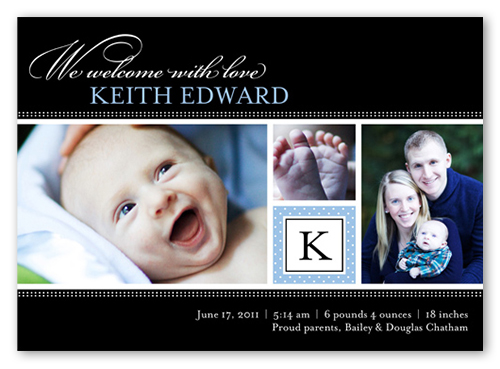 He's Here Birth Announcement 5x7 Stationery Card by Stacy Claire Boyd. Welcome your baby with love in this collage-style boy birth announcement. Add your baby's name and a favorite photo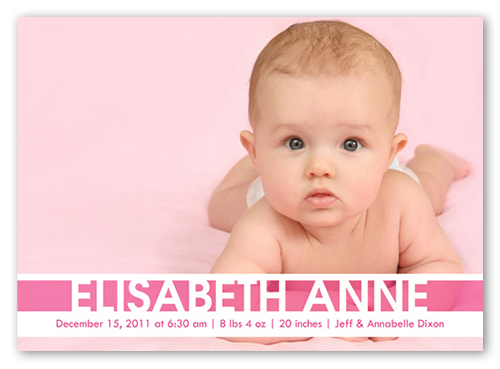 Announcing Baby Girl 5x7 Flat Birth Announcement by Petite Lemon. Announce your newest arrival with this stylish birth announcement. Add your baby's name, a favorite photo and the news everyone's been waiting for.