What customers have to say about our New Year's Cards
January 27, 2019
I highly recommend this card!!
"Absolutely love this card they came out perfect!"
January 23, 2019
good purchase
"Paper is excellent quality as is the envelope. Shipping can be high unless you are ordering a larger number of cards but I only bought one."
January 23, 2019
I will absolutely use this product again.
"The first time I have used Shutterfly for our annual greeting card. Very pleased and will use again."
January 22, 2019
Chinese New Year
"Christmas came too soon. No cards went out. New Year's came and went! Still no cards were sent out. But thanx to Shutterfly, made it for a Chinese Greeting! Beautiful cards front and back with pictures of family sent! Halleluah!!!!!"
January 22, 2019
I looved these cards and they arrived so quickly!
"Shutterfly makes last minute projects easy .. I love these holiday cards and continue to make photo books each month with their app as well as edits on desktop site. I love Shutterfly!"
Pray for All with Religious New Year Cards
Here at Shutterfly, we know everyone celebrates the New Year in their own way. For some of our customers, that means sending religious New Year cards. If you want to make your New Year's message even more meaningful this holiday season, say it with grace and commitment from your religious beliefs. Whether you're aiming to give blessings based on Christian verses, Jewish scripture or another belief, Shutterfly can help you say it right and with a little bit of style and gorgeous premium looks.
Remember the Reason for the Season
During the December holidays, many of us sometimes forget the real reason for the Christmas season. Religious New Year cards can help you tell all your loved ones how much each moment means to you. You can even choose the right blessings based on your favorite verses from the Holy Scripture or a favorite hymn for the season. Sharing good blessings with those you love is easy with our selection of religious offerings. We also know that not everyone wants the one-size-fits-all religious New Year cards.
Another option is to send a New Year card during the Jewish season of new beginnings, Rosh Hashanah. Let all your favorite people know they are in your thoughts with a special greeting during this time. Simply upload your own design and add a few special touches to make it even more meaningful.
Give Everyone Warmth and Love
Another option is to celebrate the Chinese New Year with a greeting card full of luck and prosperity. In the Chinese culture, red is the luckiest color, so you can explore each of the different designs we offer for affordable New Year cards. If you're not planning to celebrate the big event together with your family and friends, you can wish them a prosperous New Year from afar with some of our bright and beautiful designs. We know that your New Year celebration may not necessarily fall on January 1st or during the winter holidays; that's why we offer a complete selection of our designs and products all year long.
Choose a Custom Look Today
All you need to do to get started is dream up your idea. Don't worry if you're not the creative type. We make it easy for anyone to feel like a professional graphic designer with our easy-to-use interactive design assistant. That way, your religious New Year cards will be perfect and ready to send your family and friends luck, love and blessings for 2017 and beyond.
Related Products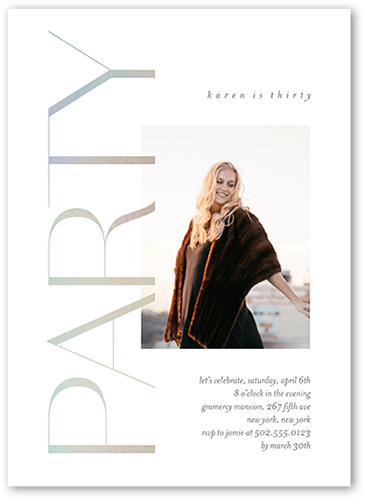 Light Festivity 5x7 Stationery Card by Kelli Hall. Another year older. Another year of fun. Invite all the guests with this stylish birthday invitation. Just add your favorite photos and all the event details.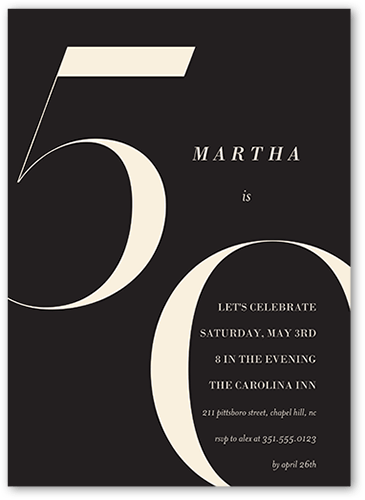 Modern Fifty 5x7 Stationery Card by Kelli Hall. Another year older. Another year of fun. Invite all the guests with this stylish birthday invitation. Just add your favorite photos and all the event details.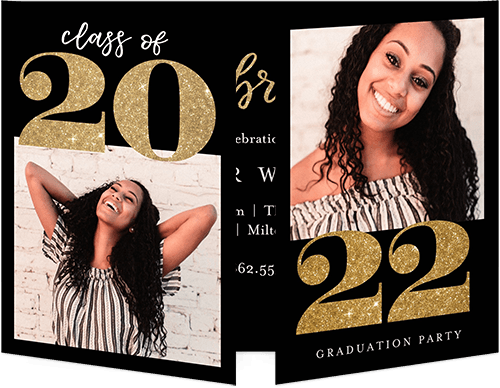 Twinkling Year Gate Fold by Yours Truly. Let your Graduate's story unfold with this unique card that opens up from the middle to reveal your photos. Enjoy more room for photos and text than a standard card.