What customers have to say about our Christmas Cards
January 27, 2019
I highly recommend this card!!
"Absolutely love this card they came out perfect!"
January 23, 2019
good purchase
"Paper is excellent quality as is the envelope. Shipping can be high unless you are ordering a larger number of cards but I only bought one."
January 23, 2019
I will absolutely use this product again.
"The first time I have used Shutterfly for our annual greeting card. Very pleased and will use again."
January 22, 2019
Chinese New Year
"Christmas came too soon. No cards went out. New Year's came and went! Still no cards were sent out. But thanx to Shutterfly, made it for a Chinese Greeting! Beautiful cards front and back with pictures of family sent! Halleluah!!!!!"
January 22, 2019
I looved these cards and they arrived so quickly!
"Shutterfly makes last minute projects easy .. I love these holiday cards and continue to make photo books each month with their app as well as edits on desktop site. I love Shutterfly!"
Pet Christmas Cards
The holidays are a great time to send season's greetings with a personal touch to your friends and family. Instead of settling for generic cards, choose to customize your Christmas cards with family portraits featuring your pet. Gather everyone —including your furry friends! — together for a cozy portrait in front of the fireplace, decorating the tree with personalized Christmas ornaments, or lifting the littlest one to slip tree toppers into place. Your friends and family will love a personalized Christmas card featuring your cats, dogs, and other household pets. From animals wearing Santa hats to photos of your little ones cuddling with their favorite four-legged friend, a pet Christmas card is a fun way to add the ho-ho-ho to your holidays!
Celebrate Furry Friends With Pet Christmas Cards
For many people, Christmas is the perfect time to share beautiful pictures of cats, dogs, and other special pets. Include your favorite animal friends on this year's Merry Christmas messages. Pet Christmas cards are whimsical and sweet; they are sure to brighten up everyone's day. Make your holiday extra jolly this winter season with custom Christmas cards designed to fit your style and personality. If you're an animal-lover, a pet holiday card is the perfect way to say season's greetings to your closest friends and family.
Whether you're making a dog Christmas card or one showcasing your favorite pictures of your cat, there are so many ways to decorate a Happy Pawlidays greeting card. Browse through Shutterfly's templates and choose a card design that stands out to you. Customize the trim, cardstock, and the number of photos you want to feature. Then, you can add a custom holiday holiday greeting from the family and the family pet. Send your loved ones a special Happy Howlidays or Meowy Christmas message with a custom Christmas card designed by you.
Taking Pet Photos for Your Custom Christmas Card
Taking portraits of a dog or cat requires a gentle touch – and often at least one helpful friend. Getting great candid pictures of pets is usually easy; most pet owners have smartphones or other tablet devices that take great pictures in seconds. However, the photos that look best on pet Christmas cards are usually taken with a high-resolution camera with excellent lighting. These extra touches separate snapshots from portraits. For even better results, consider working with a professional pet photographer. Whether you choose to hire a photographer or to work with a friend, these are a few tips that you should keep in mind when trying to capture a great picture of cats of dogs for pet Christmas cards:
Choose a time of day when your pet will be relaxed.
Have a few small treats handy to encourage cooperation.
Do not drag animals into an unfamiliar setting or into awkward positions; they look happiest and most natural when they are relaxing in familiar environments.
Consider photographic montages instead of group photos. Getting multiple animals to hold still and pose can be all but impossible. Pose animals individually and then combine the images into a single photo using editing software.
Related Products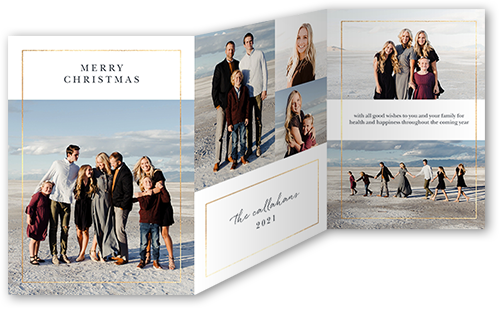 Delicately Framed 5x7 Tri-Fold Stationery Card by Yours Truly. Send a Christmas card friends and family will love. Add your own greeting and everyone's names. There's room for more photos and wishes on the back, too.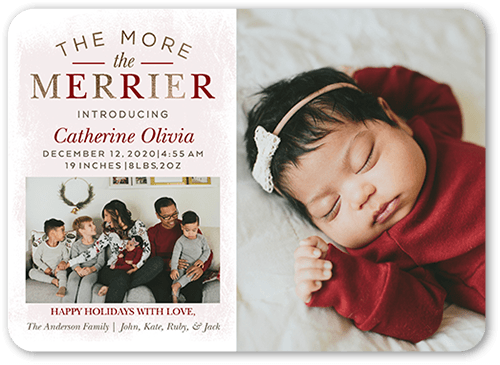 Merry Life 5x7 Stationery Card by Sarah Hawkins Designs. Send a Christmas card friends and family will love. Add your own greeting and everyone's names. There's room for more photos and wishes on the back, too.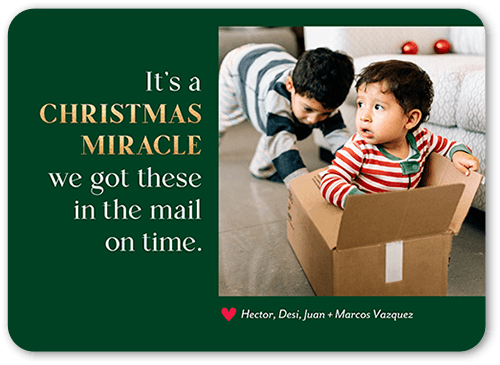 Christmas Miracle 5x7 Stationery Card by Jill Smith. Send a Christmas card friends and family will love. Add your own greeting and everyone's names. There's room for more photos and wishes on the back, too.