What customers have to say about our Christmas Cards
January 27, 2019
I highly recommend this card!!
"Absolutely love this card they came out perfect!"
January 23, 2019
good purchase
"Paper is excellent quality as is the envelope. Shipping can be high unless you are ordering a larger number of cards but I only bought one."
January 23, 2019
I will absolutely use this product again.
"The first time I have used Shutterfly for our annual greeting card. Very pleased and will use again."
January 22, 2019
Chinese New Year
"Christmas came too soon. No cards went out. New Year's came and went! Still no cards were sent out. But thanx to Shutterfly, made it for a Chinese Greeting! Beautiful cards front and back with pictures of family sent! Halleluah!!!!!"
January 22, 2019
I looved these cards and they arrived so quickly!
"Shutterfly makes last minute projects easy .. I love these holiday cards and continue to make photo books each month with their app as well as edits on desktop site. I love Shutterfly!"
Pet Christmas Cards
The holiday and Christmas season is all about connecting with friends, family, and, yes, those eternally lovable cats and dogs in one's life. This year, share your adoration for your pets with with those in your circle with customizable photo Christmas cards that show off your dog, cat, bird, or lizard in full color. From dogs wearing Santa hats to photos of your children cuddling with their favorite four-legged friend, a pet Christmas card is a fun way to add some ho-ho-ho to your holidays.
Dog Christmas Cards
Whether you have a bounding newfoundland, a black lab, a rescue mutt, a hound dog, or dachshund (known affectionately, of course, as a "sausage dog" or "weiner dog"), they are sure to share this particular attribute: being photo-ready. You've no doubt collected dozens of amusing dog pictures over the past year, or maybe you have a casual or professional shoot in mind for your pup. No matter your approach, it's a snap to turn your winning dog photos into unique dog Christmas cards with Shutterfly. Simply choose a colorful template with a playful, inviting greeting like "Unleash the Joy" or "Peace, Love, and Belly Rubs," upload your pics, and customize away. As a dedicated dog mom or dog dad, you'll likely (along with your sons or daughters) want to appear alongside your dog, but if you'd like to feature your pup on his or her own, that's great, too.
Cat Christmas Cards
Oh, the possibilities when it comes to designing cat-themed holiday or Christmas cards. Cats—whether persians, siamese, maine coons, or domestic long hairs—not only bring it in the personality department, the camera simply loves them. Thumb through your photos to find one or even a handful of 'em and create a cute cat Christmas card that will charm even the curmudgeons in your family. If you happen to have a meme-worthy cat (even the grumpy kind), good for you. Make a card even LOL cats would be envious of and customize it with a funny or playful saying. Browse through our design templates (one clever greeting reads "We Wish You A Meowy Christmas") to find creative photo card ideas galore. When you're done, the phrase sharing the spirit of the season will never be the same.
Photo Tips for Your Pet-Themed Christmas Card
Getting great candid pictures of pets with mobile phones is usually easy. However, photos can look even better if they're taken with a high-resolution camera with excellent lighting. These extra touches separate snapshots from card-ready portraits. For even better results, consider working with a professional pet photographer. Whatever your approach, we have a few tips for creating great pet pictures for Christmas cards:
Choose a time of day when your pet will be relaxed.
Have a few small treats handy to encourage cooperation.
Do not drag animals into an unfamiliar setting or into awkward positions; they look happiest and most natural when they are relaxing in familiar environments.
Consider going with a photo collage layout on your pet-themed Christmas card instead of one featuring a big group photo. Getting multiple animals to hold still and pose can be all but impossible. Instead, pose animals individually and then add them to a template that accommodates a number of photos, whether 5, 6, 7, or more.
Related Products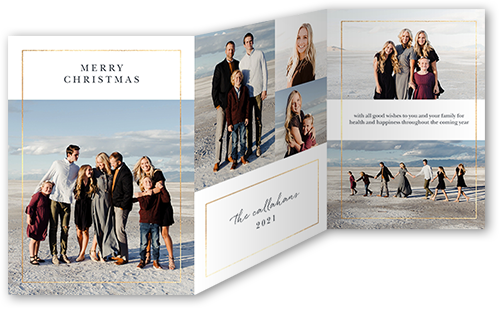 Delicately Framed 5x7 Tri-Fold Stationery Card by Yours Truly. Send a Christmas card friends and family will love. Add your own greeting and everyone's names. There's room for more photos and wishes on the back, too.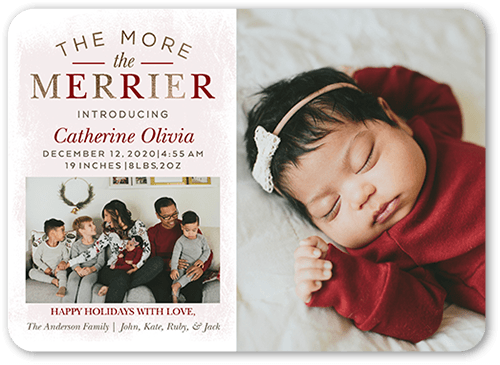 Merry Life 5x7 Stationery Card by Sarah Hawkins Designs. Send a Christmas card friends and family will love. Add your own greeting and everyone's names. There's room for more photos and wishes on the back, too.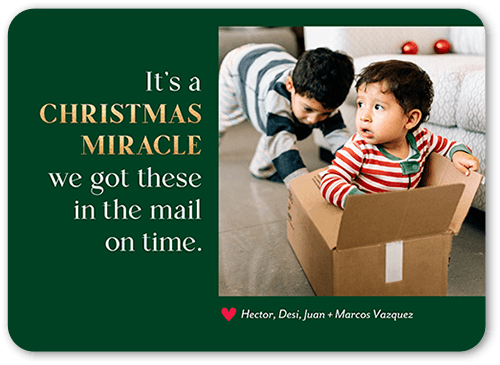 Christmas Miracle 5x7 Stationery Card by Jill Smith. Send a Christmas card friends and family will love. Add your own greeting and everyone's names. There's room for more photos and wishes on the back, too.