What customers have to say about our Birth Announcements
January 25, 2019
A Hit With All the Family!
"We used this card as a birth announcement and thank you card for our baby shower attendees. It's on a nice heavy cardstock, and the print was super clear. With my first order there was a smear on the return address on the back of the envelope, but no big deal. With the first order I also didn't receive the blank envelopes I ordered. The second order everything was perfect. I would highly recommend!"
January 24, 2019
Very nice cards
"Super classy cards"
January 24, 2019
Great buy
"Looks and feels great. Came so quickly and is such great quality!"
January 22, 2019
So sweet
"Easy to create!sweet design"
January 22, 2019
Love this product!!
"I love the simplicity of this birth announcement, it was easy to make and arrived on time!"
Cuteness Overload Guaranteed With Pink Birth Announcements
Did you know that in the early 1900s, pink was considered a color for boys? The times have certainly changed, and at Shutterfly, we are happy to offer scores of baby girl birth announcements that are a celebration of all things pink and girly. Our options include a variety of pink shades, from the lightest pastel to the hottest of the hue.
Every one of our templates is the perfect backdrop for photos of the newest addition – or additions – to your family. So let's embrace the traditional color choice and learn how you can customize the pink birth announcements for your bundle of joy.
Photo Parade
You might have a maternity photo or a solo photo of your little princess that will make the perfect centerpiece for a collage birth announcement, or you could have a handful of shots you can't narrow down. That's OK. We have templates for both situations, plus all types of formats that will help you showcase your snapshots. In fact, you might want to choose our 5x7 birth announcements, to increase the visibility of all the photos.
Plenty of Themes
Our variety of themes for pink birth announcements is where we really shine – literally. We have 20 templates that include foil accents or pearl shimmer cardstock. You know your bundle of joy is more precious than gold, but that doesn't mean you can't have gold on her announcements! The sparkle on these cards attests to their quality as a keepsake for years to come. Other themes you can select from are textures and patterns, florals and monograms.
Text Options
One of the main features on our pink birth announcements is the slot for your daughter's name. Most parents choose to include a first and middle name, though there is room for customization. Choose a flowing, feminine typeface or stately serif font, whichever better fits your daughter's personality.
Some of our designs even make her name look as if it is displayed on a marquee! After that, you can add her birth date and time, her length, her weight or whatever info you choose. If you want to just include the parents' names and siblings' names, that's cool, too.
Craft Your Announcement Today
Your baby's birth announcement should be as unique as she is. Using any of our Shutterfly templates, you can create a declaration of joy in minutes that showcases the new addition to your family. And it's all done in the beautiful color girls have loved for a century: pink.
Related Products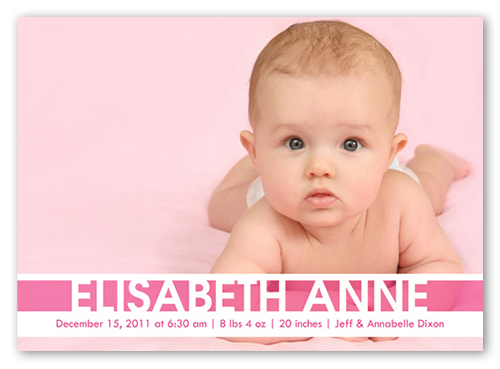 Announcing Baby Girl 5x7 Flat Birth Announcement by Petite Lemon. Announce your newest arrival with this stylish birth announcement. Add your baby's name, a favorite photo and the news everyone's been waiting for.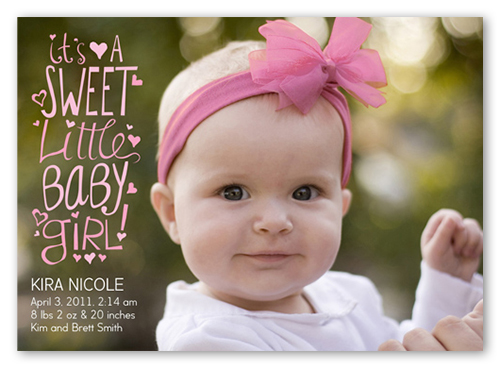 Sweet Scribbles Girl Flat Birth Announcement Card by Petite Lemon. Announce your newest arrival with this stylish girl birth announcement. Add your baby's name and favorite photos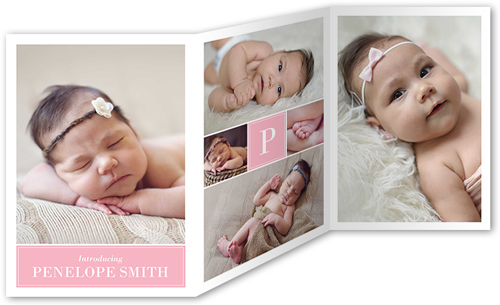 Cherished Moments 5x7 Tri-Fold Girl Birth Announcement Cards. Announce your newest arrival with this stylish girl birth announcement. Add your baby's name and favorite photo