What customers have to say about our Address Labels
"VERY CUTE"
January 26, 2019
Delightful!
"I love the delicate design and lavender color."
"Pretty lables"
"Can't wait to use these cute adress lables!"
January 23, 2019
Love these labels!
"Cute labels, easy to read, fun to make. I have bought several different types now and love them all! Great gifts for grads, new babies, newlyweds, housewarming presents...you name it!!"
Red Address Labels
Sending cards in the mail is becoming a lost art, and you're not alone if you aren't sure how to fill out an envelope properly. Whether you're preparing to invite friends to a birthday party, sending a thank-you card for a job interview or mailing invitations for your wedding, here are a few things you should know about how to address an envelope.
Start With Your Info
Your name and address should always appear in the top left corner of the back of the envelope. You can save time and effort by using a convenient address label instead of writing the information by hand. Choose labels that attract attention, such as red address labels. Bright colors catch the eye and help the recipient immediately see who sent the card or letter.
Label the Recipient's Info
The name and address of the recipient should be listed halfway from the top of the envelope and slightly to the right-hand-side. Start by writing down the recipient's first and last name. Adding a prefix such as "Mr." is appropriate for formal letters. Immediately below the name, write the recipient's full address (including street address, city, state and zip code or postal code). If you are sending your letter to someone located outside of the country, include the country abbreviation as well.
Know When to Use Special Abbreviations
Abbreviations such as "Attn:" (attention) and "c/o" (care of) should be used when sending professional correspondence, and should be listed directly below the recipient's name. Using the "c/o" abbreviation is the better option if you don't know the address of the intended recipient and are sending your letter to one of the recipient's good friends or family members. When the recipient sees the abbreviation "c/o" followed by another person's name, they will know you are entrusting them to deliver the letter to the correct person.
Practically everyone will have the experience of sending mail at some point in their lifetime. Although sending a letter or card in the mail may seem foreign to you at first, after a few times you will become more comfortable with the process.
Related Products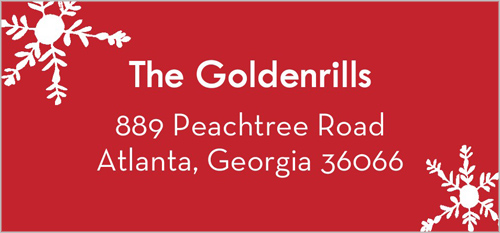 Falling Snow Frames Christmas Address Labels. Address your envelopes with stylish address labels. Corresponding invitations, gift tags and thank you cards are also available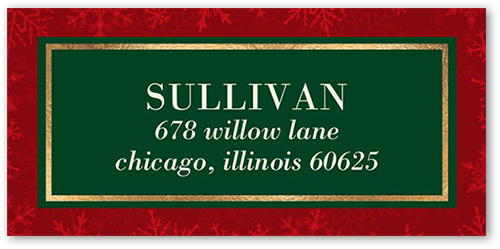 Family Overlay Flurries Christmas Address Labels. Address your envelopes with stylish address labels. Corresponding invitations, gift tags and thank you cards are also available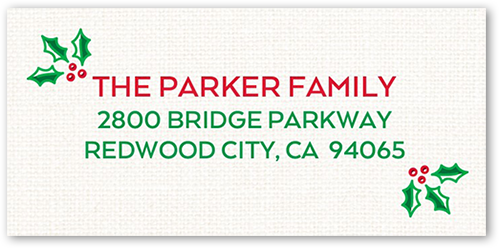 Simple Merry Berry Christmas Address Labels. Address your envelopes with stylish address labels. Corresponding invitations, gift tags and thank you cards are also available