What customers have to say about our Christmas Cards
January 27, 2019
I highly recommend this card!!
"Absolutely love this card they came out perfect!"
January 23, 2019
good purchase
"Paper is excellent quality as is the envelope. Shipping can be high unless you are ordering a larger number of cards but I only bought one."
January 23, 2019
I will absolutely use this product again.
"The first time I have used Shutterfly for our annual greeting card. Very pleased and will use again."
January 22, 2019
Chinese New Year
"Christmas came too soon. No cards went out. New Year's came and went! Still no cards were sent out. But thanx to Shutterfly, made it for a Chinese Greeting! Beautiful cards front and back with pictures of family sent! Halleluah!!!!!"
January 22, 2019
I looved these cards and they arrived so quickly!
"Shutterfly makes last minute projects easy .. I love these holiday cards and continue to make photo books each month with their app as well as edits on desktop site. I love Shutterfly!"
Red Christmas Cards
Nothing says "Merry Christmas" like red Christmas cards. This quintessential color represents some of the best things the season brings, including holly with red berries, poinsettias and red stockings hung by the fireplace. The vibrancy contrasts against the grey and white of the winter months, adding a giant splash of color that can liven any space. Many children and adults alike love peppermint candy canes, as well as cookies with red frosting or red sugar sprinkled on top.
Personalizing Your Cards
Christmas cards evoke this holiday spirit. When you send red-themed cards to your friends and family, they'll no doubt display them proudly as a complement to their Christmas decorations. With Shutterfly, you can personalize your cards to make them even more special. They come in many different styles, including single images, multiple images, and Spanish language options. Your personally designed red foil Christmas card can feature a picture of yourself or your family, along with a unique greeting. In addition to the standard cards, Shutterfly also offers card ornaments in different shapes for decorating the tree. Personalized cards are becoming increasingly popular, and for this reason, they aren't very expensive. Ordering your holiday box set online can be just as easy as picking up a standard set at a store, but with more options to make them represent your one-of-a-kind family.
Other Red-Themed Treasures
Shutterfly's red theme isn't limited to Christmas. You can also purchase playing cards, business cards, and Christmas address labels both for Christmas and for more general correspondence in red. After the holidays are over, you can send red thank you cards for all the wonderful gifts you and your family received. Thank you cards are an excellent way to honor someone's thoughtfulness, and this time-honored tradition is beginning to fall by the wayside. By taking the extra step to thank someone for their generous gift, you're acknowledging their sacrifice and showing how much you care.
Related Products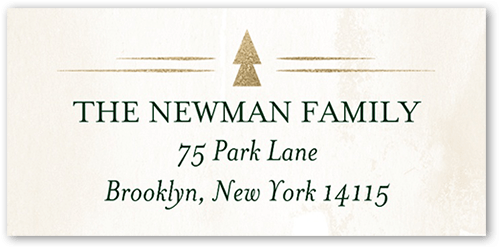 Art Deco Festivity Address Label by Éclair Paper Company. Address your envelopes with stylish address labels. Corresponding invitations, gift tags and thank you cards are also available.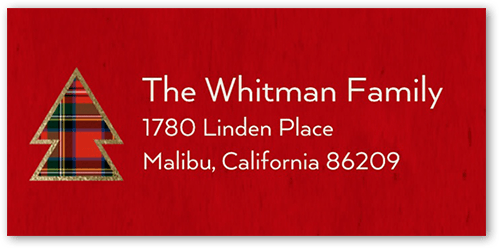 Shining Plaid Tree Address Label by Éclair Paper Company. Address your envelopes with stylish address labels. Corresponding invitations, gift tags and thank you cards are also available.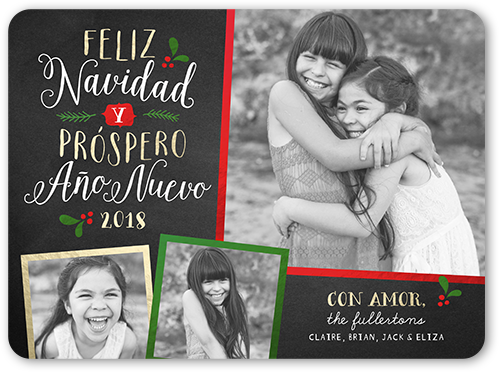 Acebos De Navidad Tarjetas De Navidad. Share holiday memories con familia y amigos by adding a special personalized message to your customized tarjeta de Navidad – including all Spanish letras and acentos. It's the perfect regalito for everyone on your ...