What customers have to say about our Holiday Cards
January 27, 2019
I highly recommend this card!!
"Absolutely love this card they came out perfect!"
January 23, 2019
good purchase
"Paper is excellent quality as is the envelope. Shipping can be high unless you are ordering a larger number of cards but I only bought one."
January 23, 2019
I will absolutely use this product again.
"The first time I have used Shutterfly for our annual greeting card. Very pleased and will use again."
January 22, 2019
Chinese New Year
"Christmas came too soon. No cards went out. New Year's came and went! Still no cards were sent out. But thanx to Shutterfly, made it for a Chinese Greeting! Beautiful cards front and back with pictures of family sent! Halleluah!!!!!"
January 22, 2019
I looved these cards and they arrived so quickly!
"Shutterfly makes last minute projects easy .. I love these holiday cards and continue to make photo books each month with their app as well as edits on desktop site. I love Shutterfly!"
Red Holiday Cards
There are few colors that suggest the winter holidays more than red. Anciently associated with royalty and power, this hue is both warm and rich, evoking a sense of comfort and adding that cozy touch to your personalized cards. Personalized holiday cards are the perfect choice when you want your notes to be noticed, so design a few today and make your statement this year. Whether you live in a climate with snow or not, white is the perfect tone to use as an accent for fonts, graphics or backgrounds.
Add Red Accessories for the Perfect Holiday Snapshot
Getting those perfect family snapshots for your cards begins with coordinating wardrobe choices for the whole family, even the pets that will be included in the photo. Consider using red as your accent tone and pair it with black, grey, cream or white for a pop of color. These classic hue combinations are timeless, elegant and perfect for both formal and informal settings. A red sweater vest, scarf or hair bow adds a touch of color and makes the whole scene cheerier. For a more dramatic effect, use red in layers. Crimson leggings, jackets and boots are the perfect way to say "holiday."
Gifts for Family and Friends
Once the cards are in the mail, it's time to get serious about finishing that shopping list. If you are looking for the perfect gift for that special someone in your life, consider a customizable wall calendar or photo jewelry. In a short time, you can design a personalized gift that expresses just how much you care.
Need something a little more masculine? Use a snapshot or two to create custom phone case or desktop plaque. That special guy, be it dad or sweetheart, will be sure to remember your thoughtfulness each time he answers a call or arrives at the office. With the shopping finished and the cards delivered, it's time to settle in and enjoy spending time with your family this holiday season.
Related Products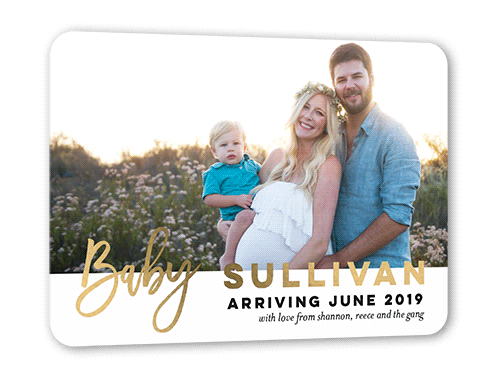 Arriving Soon 5x7 Raised Foil Card by Float Paperie. Share your exciting news with this cheerful pregnancy announcement. Let others know your little one is on the way with a happy baby belly, your favorite picture and an expected arrival ...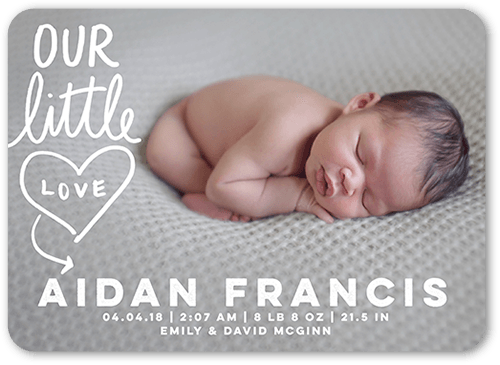 Petite Love 5x7 Stationery Card by Blonde Designs. Announce your newest arrival with this stylish birth announcement. Add your baby's name, a favorite photo and the news everyone's been waiting for.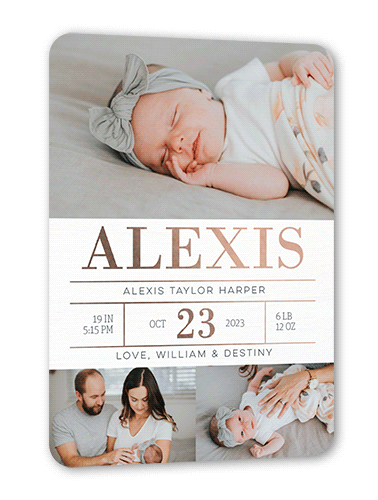 Radiant Stats 5x7 Card by Petite Lemon. Announce your newest arrival with this stylish birth announcement. Add your baby's name, a favorite photo and the news everyone's been waiting for.