What customers have to say about our Christmas Cards
January 27, 2019
I highly recommend this card!!
"Absolutely love this card they came out perfect!"
January 23, 2019
good purchase
"Paper is excellent quality as is the envelope. Shipping can be high unless you are ordering a larger number of cards but I only bought one."
January 23, 2019
I will absolutely use this product again.
"The first time I have used Shutterfly for our annual greeting card. Very pleased and will use again."
January 22, 2019
Chinese New Year
"Christmas came too soon. No cards went out. New Year's came and went! Still no cards were sent out. But thanx to Shutterfly, made it for a Chinese Greeting! Beautiful cards front and back with pictures of family sent! Halleluah!!!!!"
January 22, 2019
I looved these cards and they arrived so quickly!
"Shutterfly makes last minute projects easy .. I love these holiday cards and continue to make photo books each month with their app as well as edits on desktop site. I love Shutterfly!"
Red Foil Christmas Cards
The iconic shade of deep, vibrant red has always been associated with the Christmas holidays. Despite the bitter cold temperatures and the lack of varied plant life during the holiday season, various pops of red persist. Bright red poinsettias and the crimson colors of red holly in wreaths welcoming guests inside keep the tradition of red in Christmas. If you're looking for a design that combines both the standard coloring of the season with something a little more modern, Shutterfly has some options. You can go beyond the basic design of a red option and make it prettier with red foil Christmas cards. Then, your holiday joy can be felt many miles away in the form of a beautiful card.
Tis the Season
A card that puts the rich jewel tones of Christmas red front and center is one that conveys a message of hope and well wishes. Choosing a red themed Christmas card to customize can be a great way to get in the holiday spirit. You can even try to incorporate red into your photo shoot if you prefer the look of a photo holiday card. For a family picture that greets everyone on your Christmas card list, try coordinating your outfits with the same shade of red.
Don't go overboard with everyone decked out in crimson from head to toe. Instead, personalize it and use small pops of scarlet accessories to bring it all together. For example, scarves, hats, gloves or shoes can give it a subtle look. You can upgrade your card's wow factor by choosing Christmas cards with red foil accents. These take this rosy color to the next level and make it even more magical for the season.
Making it Bright
A bright holiday greeting in red is the best way to tell all of your favorite friends and family members to have a wonderful Christmas. Even when the snow outside reaches its peak, the warmth of Christmas red is sure to bring happiness and festive thoughts to everyone.
Related Products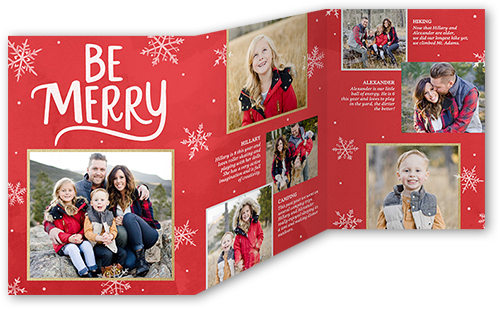 Be Merry Flurries 5x7 Tri Fold Christmas Cards. Enjoy this festive season by sending Charming Christmas cards, friend and family will love. Personalize it with photos and wishes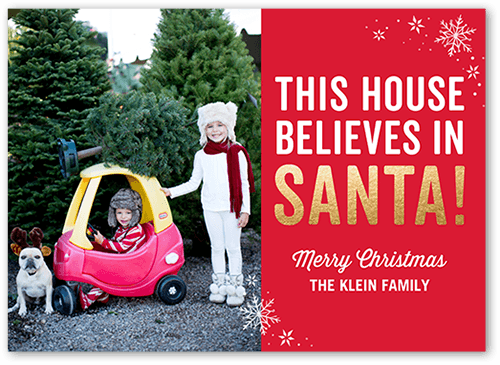 Believe in Santa 5x7 Stationery Card by jillgo. Send a Christmas card friends and family will love. Add your own greeting and everyone's names. There's room for more photos and wishes on the back, too.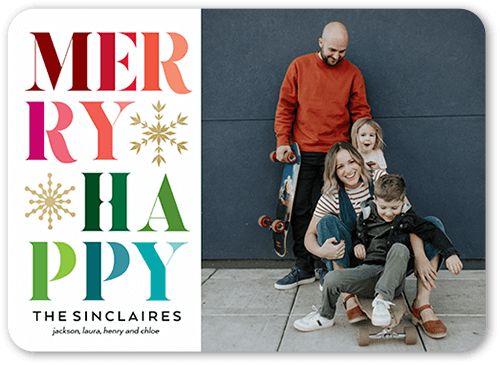 Colorful Statement 5x7 Personalized Foil Card by Poppy Studio. Send a Christmas card friends and family will love. Add your own greeting and everyone's names. There's room for more photos and wishes on the back, too.