What customers have to say about our RSVP Cards
January 11, 2019
Almost Perfect
"Very similar response to the invitations we got. Love the style. There were three lines on the left that can't be removed. We truly had no use for them since we are having a buffet style course. So I had to get a bit creative. I used them as bullet points or spot to do check marks. So with that I love that we made our RSVP cards more unique and people will remember them (hopefully)."
November 21, 2018
So, so beautiful
"These were simple, clear, and elegant and when I needed to re-order in a rush due to my error Shutterfly's customer service was amazing and so helpful. The pearl shimmer paper is definitely a worthwhile investment by the way. The subtle shimmer added an extra touch of fancy to such a simple item."
November 17, 2018
I would definitely buy again.
"I love the way my wedding invitations, RSVP cards, and wedding shower invitations turned out. The quality was amazing. I would highly recommend shutterfly to anyone!!@"
"absolutely beautiful."
October 28, 2018
Beautiful RSVP cards
"These came in on time and looked beautiful! They were thick and I loved the silver foil. Return and recipient addressing came out great and they looked amazing with the matching invitations."
Wedding RSVP Card Wording & Etiquette
Mail wedding RSVP cards along with your wedding invitations so your guests can let you know if they are able to make it to your big day. The "RSVP" on your wedding RSVP cards stands for "répondez, s'il vous plaît," which is French for "please reply." Sending RSVP cards along with your wedding invitation suite is an easy way to know which of the people on your guest list are able to make it, and make wedding planning a much easier task. If you're confused about more than just the name of your wedding response cards, we'll help guide you through the essentials of RSVP card etiquette. You can customize everything from your wedding invites and save the dates to your wedding RSVP cards with Shutterfly, whether you design beautiful watercolor cards, choose greenery embellishments, or opt for something more traditional and elegant. From shimmer cards to wedding RSVP cards that are modern, you can design the perfect wedding stationery for your big day.
Custom Wedding RSVP Card Wording Ideas
As with all aspects of your wedding stationery, the level of formality you choose to use in your RSVP cards is entirely up to you. If you favor a more traditional tone, formal wording will complement your style. If you prefer to be more relaxed and modern, informal wording may be a better choice for you. You might also want to include places for wedding guests to fill in song requests, their meal selections, the number of people attending, and any plus ones. Also include important information on your reply cards, like if the event is adults-only or where they can find your wedding website for more info.
Here are a few examples of popular wedding RSVP card wording:
"Kindly reply by…"
"Please respond by…"
"The favor of your reply is requested before…"
"RSVP before…"
Here are a few ideas for wording the response options on your wedding RSVP cards, listed from formal to informal:
"Accepts with pleasure / Declines with regret"
"Joyfully accepts / Regretfully declines"
"Accepts / Declines"
"Accepts / Regrets"
"Will attend / Unable to attend"
"Will be there / Sadly cannot attend"
"Yes / No"
"Will see you there / Will be there in spirit"
Choosing a Date for Your Wedding RSVP Cards
Another important factor to consider when creating your wedding response cards is your deadline for RSVPs. In general, you'll likely need to ask that responses be returned 2-3 weeks in advance of the wedding date to give you enough time to plan accordingly. With these wording ideas and etiquette tips, it'll be easy to write and send your wedding invitations and response cards on time. Once that's taken care of, it's all about planning the final details and finishing touches on your big day. Determining factors will include:
When your caterer or venue needs a final headcount. Most will request a final count one week in advance, but this number varies.
When you mailed your invitations, most couples send wedding invitations 6-8 weeks before the big day (or earlier for destination weddings). You want to allow your guests ample time—preferably about four weeks—to make a decision and send their replies before the deadline.
Follow-up time. Some of your guests may not reply to their RSVP cards. Sometimes this is due to forgetting about the deadline, misplacing their invitation, or not realizing a response is required unless they can't come. In any case, you should allow some time after the RSVP-by date (about a week or so) to individually contact non-responders.
Related Products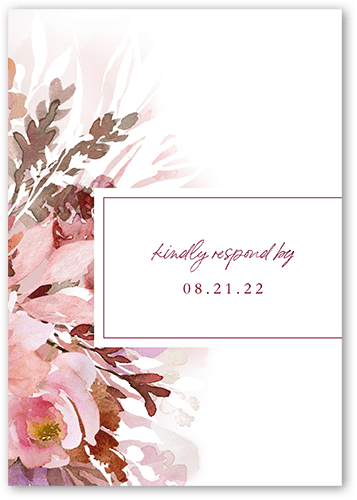 Botanical Burst RSVP Card by Lady Jae. Request the favor of their reply with a stylish response card designed to match your wedding invitations.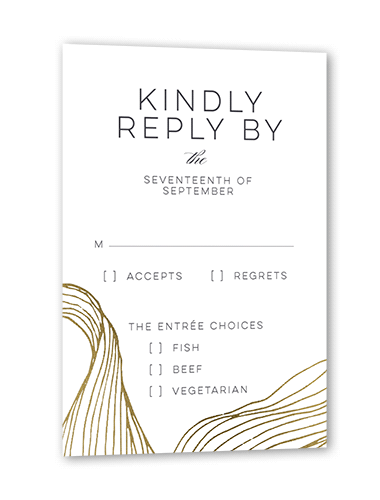 Glimmering Wisp RSVP Card by East Six. Request the favor of their reply with a stylish response card designed to match your wedding invitations.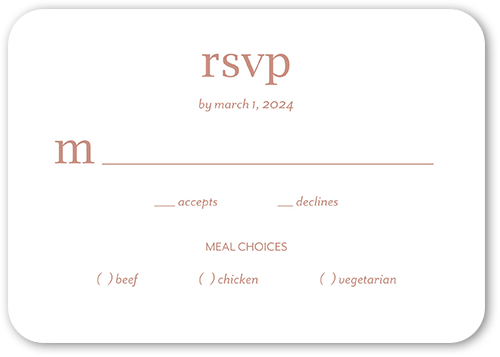 Simple And Forever RSVP Card by Magnolia Press. Request the favor of their reply with a stylish response card designed to match your wedding invitations.