What customers have to say about our Address Labels
"VERY CUTE"
January 26, 2019
Delightful!
"I love the delicate design and lavender color."
"Pretty lables"
"Can't wait to use these cute adress lables!"
January 23, 2019
Love these labels!
"Cute labels, easy to read, fun to make. I have bought several different types now and love them all! Great gifts for grads, new babies, newlyweds, housewarming presents...you name it!!"
Show Your Personality with Rustic Address Labels
Rustic address labels are the perfect way to show off your personality when sending out mail. No matter the reason for your mail, your friends and family will surely love receiving custom rustic address labels. With options ranging from wreath rustic address labels to wood barn address labels, Shutterfly has options for you to design the rustic address labels of your dreams. Get your creative juices flowing and create address stickers that your friends and family will adore with options to design the color, text, and more of your personalized address labels.
How to Design Customized Address Labels
When designing your address labels, the first thing to consider is how you want to put down your name. While it might seem simple, you can personalize your address labels to show your full name, nickname, family name, and more. You can also customize the font on your address labels to the size and style that you desire. If you're designing a custom address label for the whole family, you can choose whether to refer to yourselves by just your last name or a cute phrase such as "The Smith Family" or "The Smith Bunch". You can also decide whether you want your custom address label to include any designs. If it's nearing the holiday season, rustic holly address labels are a great way to show your holiday cheer and warm the hearts of your friends and family with your annual holiday cards.
Personalized Address Labels Make for a Customized Touch
From engagement celebrations to retirement parties, rustic address stickers are the perfect way to customize your greeting cards and show your personality. If you plan to send out many cards at once, using return address labels can save you time (and save your hand from hurting) while ensuring you never make a typo on your mailing addresses. No matter the celebration, your friends and family will adore receiving sweet rustic address labels from you, just as much as they'll appreciate the thoughtful card that comes with it. Create the rustic address labels of your dreams to show off your personality and style at Shutterfly today.
Related Products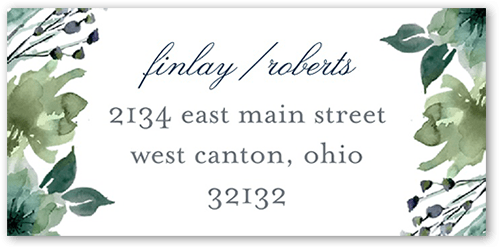 Abstract Bouquet Wedding Address Label. Address your envelopes with stylish address labels. Corresponding invitations, gift tags and thank you cards are also available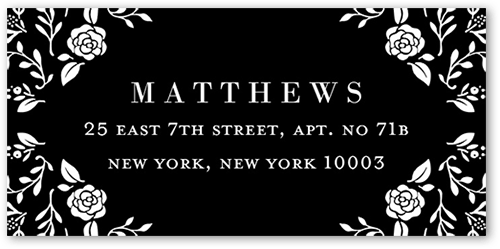 illuminated Bough Wedding Address Label. Address your envelopes with stylish address labels. Corresponding invitations, gift tags and thank you cards are also available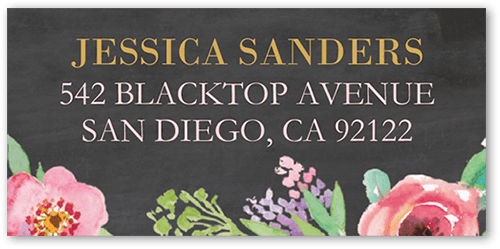 Ladylike Blossoms Wedding Address Label. Address your envelopes with stylish address labels. Corresponding invitations, gift tags and thank you cards are also available