What customers have to say about our Thank You Cards
January 27, 2019
Grateful for my thank you cards
"I ordered these cards to give out with my closing gifts to my buyers and I am so glad that I did. The quality is amazing and the print was perfect. Can't wait to use them!"
"Love the size, love the card stock, love how our photo fit so nicely."
January 27, 2019
Love these cards.
"Shutterfly always does a great job."
"Once again, Iove my end result from Shutterfly. The people love their personalized cards too."
January 26, 2019
These turned out so CUTE!!!
"The card stock is very heavy and makes it a nice writing experience. Quality, thick, great bright colors on the card. This is a great product and a wonderful purchase."
Rustic Thank You Cards that Suit Your Style
Saying thank you in a genuine and honest way is an important follow-up to a variety of occasions, from graduations and weddings to baby showers and birthday parties. After a rustic-style wedding or another event, why not show your gratitude in a rustic-themed way?
Rustic thank you cards from Shutterfly offer stunning and versatile style in a variety of beautiful designs. Say thank you with rustic stationery that complements your style perfectly.
When to Send Thank You Cards
There are no shortage of reasons to send a thank you card, but here are just a few of the events where you absolutely should:
Weddings: Dozens or even hundreds of people joined you to celebrate your marriage and shower you with gifts. Show them gratitude in return with a rustic thank you card that expresses your deepest appreciation and joy.
Graduations: After your graduation, be sure to thank everyone who joined you in celebrating or sent gifts from afar.
Birthday Parties: For birthday parties or other parties where you received gifts from your friends and family, be sure to send thank you cards. Did your little one just celebrate their birthday? This is a great opportunity to teach your child about the importance of saying thanks—older kids can even write the messages on their own.
Baby Showers: Thank your loved ones for their gifts, love, support, and words of wisdom after your baby shower.
Tips for Writing Your Rustic Thank You Card
Keep these 3 easy tips in mind when you start to write your thank you cards:
Be specific. Avoid generic phrases and try to be as specific as possible—what exactly are your thankful for and why? For kids' parties or graduations, one great idea is to mention the gift by name or say how you plan to spend any monetary gifts.
Hand-write your message. A handwritten thank you note has more heart than a typed one and comes across as more genuine.
Don't wait too long. A good rule of thumb is to begin working on your thank you cards within 2 days of the event and send them out within about 4-6 weeks. For weddings, 6-12 weeks is acceptable, since you likely have a honeymoon to enjoy and a higher volume of cards to write.
With these tips and ideas, you'll find that creating the perfect rustic thank you card is a breeze.
Related Products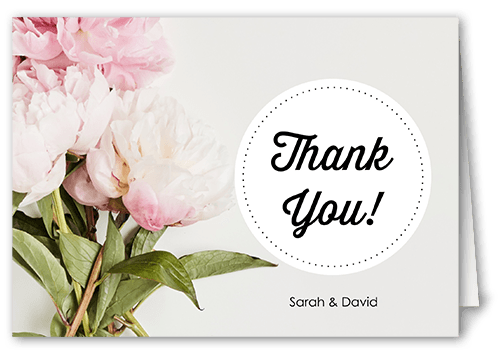 Delightful Bouquet 3x5 Folded Card by David's Bridal. Because they deserve it. Give them a personalized thank you card to express your gratitude.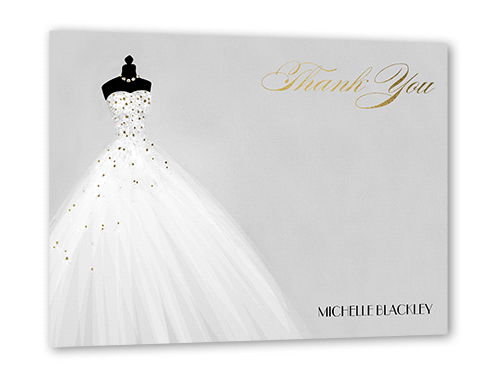 Exquisite Bride 3x5 Folded Wedding Thank You Card. Show just how much you appreciate them with this stylish thank you card. Add your favorite photos and a message of thanks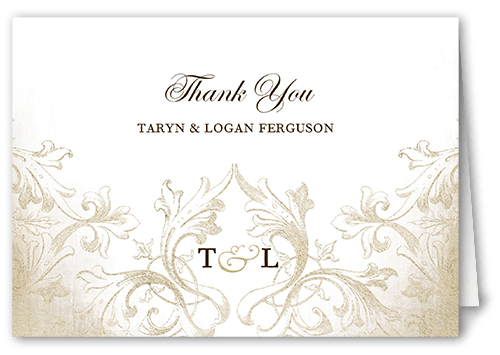 Faded Scroll 3x5 Folded Wedding Thank You Card. Show just how much you appreciate them with this stylish thank you card. Add your favorite photos and a message of thanks