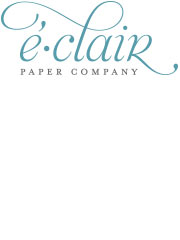 Founded by Sarah Hawkins, Éclair Paper Company stationery features gorgeous holiday designs, invitations, announcements and personal stationery. The name Eclair is derived from Sarah's twin daughters' middle names: "E" for "Elizabeth" and "C" for "Claire." Éclair Paper Company designs are defined as classic with an unexpected twist and are inspired by fashion, nature, typography and even kids' toys. If you're in need of eye-catching invitations, announcements, holiday greetings or everyday personalized stationery, you'll find designs you love in our Éclair Paper Company collection. No matter what design or type of stationery you choose, it's sure to leave a lasting impression.

Classic Éclair Paper Company Stationery Designs
To see the full collection of Éclair Paper Company stationery you need, take a look at the corresponding categories below. Browse the designs, and once you've found your favorite template, customize it by adding your own personalized touch. A few of the different ways you can add your own style and personality to your Éclair Paper Company stationery are:


Upload Photos: Add your favorite pictures to your card to make it even more personal. You can select one special photo to be the main aspect of your design or create a collage with a selection of favorite photos.
Trim: Choose from our stylish trim options, including traditional square, rounded corners, ticket and scallop-edge designs.
Cardstock: Depending on the template you've selected, you may have the option to choose our premium-quality Standard Smooth Cardstock, Signature Smooth Cardstock or our Pearl Shimmer Cardstock, which adds a beautiful shine to your stationery.
Colors: We offer a gorgeous array of colors in our custom color palette, enabling you to choose hues you love.
Font: Display your greetings in font styles and sizes that best reflect your design aesthetic.
Your loved ones will feel truly special when they receive Éclair Paper Company holiday cards, invitations, announcements, thank you cards or just a personal card that has a one-of-a-kind design featuring your favorite photos and customized message.


Create Stylish Éclair Paper Company Envelopes
Once you've designed your personalized stationery, be sure to enhance your envelopes to create an overall professional and cohesive look. Our personalized address labels and custom stickers are a lovely way to dress up your envelopes and add a simple yet effective flair, ensuring your envelopes get noticed when they arrive in the mail. Receiving a greeting card is an event for anyone you choose to send one to.