Folded Note Cards
What customers have to say about our Folded Note Cards
January 26, 2019
These turned out so CUTE!!!
"The card stock is very heavy and makes it a nice writing experience. Quality, thick, great bright colors on the card. This is a great product and a wonderful purchase."
January 21, 2019
Great Quality
"Thank you notes are a nice idea and shutterfly makes it easy. The ability to personalize each side of the card is nice as well. Now its not just some cheesy card but a photo update on how life is going."
January 14, 2019
I love the cards.
"Shutterfly products are excellent! I love them very much."
"I had made and ordered the note cards once before and everyone liked them."
January 12, 2019
Amazing quality!
"Easy to make, edit & personalize these high quality cards! This was actually a reorder - changed a bit this time around after the 1st set were all sent! I Love Shutterfly!"
Folded Note Cards
It's always a great idea to have personalized folded note cards on hand for anytime you want to send a note to a friend or family member. Whenever you want to send a letter of thanks or a simple note to let them know you're thinking of them, doing so on a stylish note card from Shutterfly will deliver your thoughtful message in an extra special way.
At Shutterfly, you can choose from a variety of folded note cards on premium cardstock that you can easily customize to suit your personality and style. Whether for a special occasion or everyday use, custom folded note cards will delight your recipients and make them feel cared for. You can personalize your note cards even more by uploading a favorite photo and special message to make unique greeting cards, thank you cards and more.
Send Thoughtful Greetings with Folded Note Cards
Need to send out notes of gratitude following a special occasion such as a wedding, birthday, holiday or graduation? You can say thank you in style with a personalized folded note card from Shutterfly. Simply browse our collection and then choose your favorite from our array of templates. Whether you choose to include a favorite photo on your card design, a non-photo design or upload your own unique design, your note cards will be one-of-a-kind.
Don't forget to add a message on the inside that expresses your sentiments of thanks or anything else you'd like to express to your recipients. Your loved ones will cherish your personalized note cards and are sure to be impressed with your customized design.
Stationery Add-On Items for Folded Note Cards
After putting so much thought and care into designing the perfect folded note cards, it makes sense to add a personal touch to the envelopes they'll be sent in too! Personalize one-of-a-kind address labels for a professional, polished look that your recipients will love. To add an unexpected surprise, send a personalized gift along with your folded note card to make it extra special!
For additional stationery items, along with our personalized folded note cards, Shutterfly features a variety of designs for personalized business cards, notepads, custom stickers, journals and more, enabling you to design a truly unique stationery collection. If you're looking for stationery designed specifically for certain events, you can also make your own birth announcements, baby shower invitations, birthday cards, wedding announcements and more.
Related Products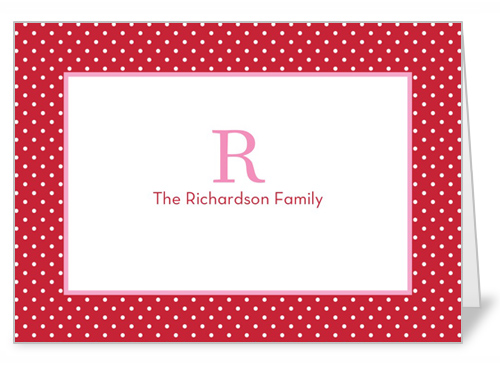 Peppermint Pink 3x5 Print Notecards. Thank everyone this holiday with a peppermint-pink monogram of your family's initial on this charming thank you card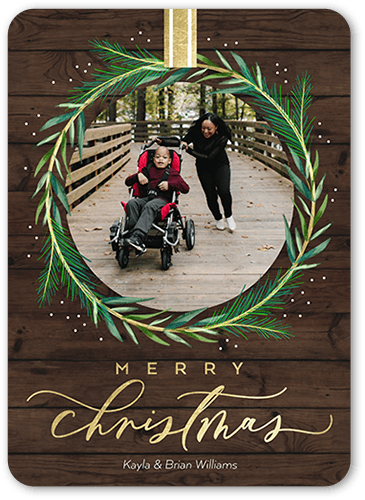 Wreathed in Joy 6x8 Stationery Card by Stacy Claire Boyd. Send a holiday card friends and family will love. Add your own greeting and everyone's names. There's room for more photos and wishes on the back, too.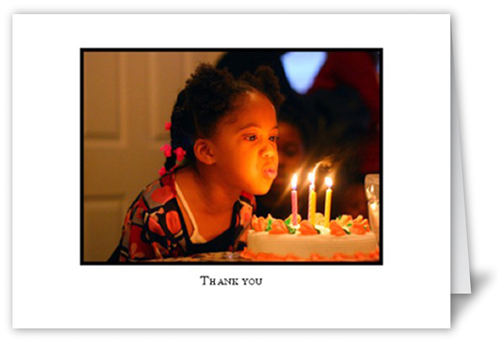 Classic White 5x7 Thank You Cards. Express your appreciation with this classic thank you greeting card. Add up to 9 pictures on the front cover, enter text if you'd like, and place photos on the inside panels as well