Simple Birth Announcements | Baby Announcement Cards
What customers have to say about our Birth Announcements
January 25, 2019
A Hit With All the Family!
"We used this card as a birth announcement and thank you card for our baby shower attendees. It's on a nice heavy cardstock, and the print was super clear. With my first order there was a smear on the return address on the back of the envelope, but no big deal. With the first order I also didn't receive the blank envelopes I ordered. The second order everything was perfect. I would highly recommend!"
January 24, 2019
Very nice cards
"Super classy cards"
January 24, 2019
Great buy
"Looks and feels great. Came so quickly and is such great quality!"
January 22, 2019
So sweet
"Easy to create!sweet design"
January 22, 2019
Love this product!!
"I love the simplicity of this birth announcement, it was easy to make and arrived on time!"
Personalize Your Simple Birth Announcements
Your newborn is here and it's time to send a simple birth announcement to let the world know about your new addition. A simple birth announcement card from Shutterfly is a great way to go. Your baby birth announcement card doesn't have to be fancy, but your welcome baby card design can be unique. Personalized birth announcements should include basic information like the parents' names, the baby's name, the baby's birth date, the baby's gender, the baby's weight and length as well as the place and time. However, feel free to toss out the template if the mood strikes you. You're the parent; you make the rules! With plenty of cute designs and baby announcement templates, even a simple card will be well received. Your family and friends will be delighted when they receive a one-of-a-kind simple birth announcement from you.
When to Send Your Simple Birth Announcements
When your new baby is born, it's time to share the big news. Be sure to send out your custom birth announcements as soon as possible. If it takes you a little longer, don't worry. Etiquette says you have up to six months to send your simple birth announcements out. It doesn't matter if yours doesn't arrive right away. Everyone will understand that you've had your hands full with the new arrival. Typically, baby announcement cards contain a baby photo on quality cardstock complete with decorative watercolors or pastels. Modern birth announcements can be simple or trendy, but sending a photo birth announcement as the finished product should be your goal.
Birth Announcements and More Baby Stationery
Baby announcement cards are a perfect way for family members and loved ones that do not use social media to receive special baby photo keepsakes of your newborn. Parents who have simple birth announcement cards printed and mailed will save themselves a lot of time and money when the baby arrives. Shutterfly also offers plenty of great quality photo cards and baby cards stationery including baby shower invitations, baby thank you cards, and baby 1st birthday invitations. If there was ever an announcement worth celebrating and letting the whole world know, it's the birth of your new baby.
Related Products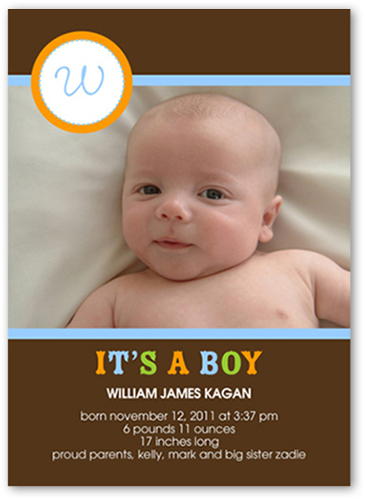 It's A Boy 5x7 Photo Card by Shutterfly. It's a boy. Let the world know it with a favorite photo and a sweet monogram initial. Colorful fonts make a statement above birth details in this modern baby announcement.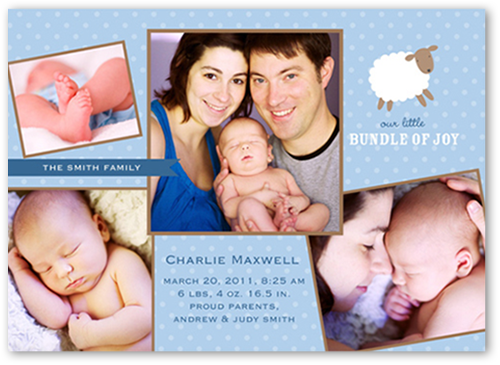 Little Lamb Blue 5x7 Photo Card by Shutterfly. Welcome your little lamb with four favorite photos surrounding his birth details in this adorable baby announcement. There's room for your family name on a navy blue ribbon.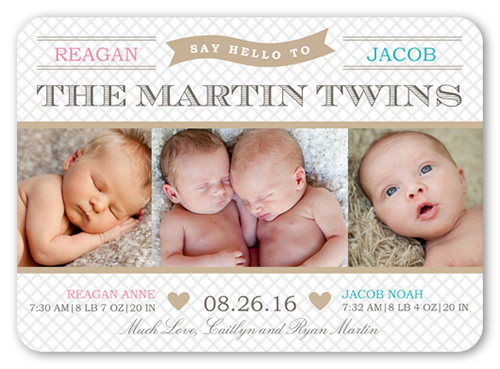 Welcome Moment Twins 5x7 Birth Announcement Cards.Announce your newest arrival with this stylish birth announcement. Add your baby name, a photo with the news everyone waiting for