What customers have to say about our Thank You Cards
January 27, 2019
Grateful for my thank you cards
"I ordered these cards to give out with my closing gifts to my buyers and I am so glad that I did. The quality is amazing and the print was perfect. Can't wait to use them!"
"Love the size, love the card stock, love how our photo fit so nicely."
January 27, 2019
Love these cards.
"Shutterfly always does a great job."
"Once again, Iove my end result from Shutterfly. The people love their personalized cards too."
January 26, 2019
These turned out so CUTE!!!
"The card stock is very heavy and makes it a nice writing experience. Quality, thick, great bright colors on the card. This is a great product and a wonderful purchase."
Simple Thank You Cards that Say it All
When it comes to saying thank you, sometimes a simple yet genuine show of gratitude is the best way to go. With these simple thank you cards from Shutterfly, you can let your words do the talking. Show your thanks for the love, support, well-wishes, and gifts with stylish and straightforward cards that will help your gratitude shine through.
Reasons to Send a Thank You Card
There are endless reasons to say thank you to friends, loved ones, and guests. Here are just a few of the most common occasions for which you might want to send thank you cards:
Weddings: Of course, you should send wedding thank you cards to your guests after the big day, but don't forget about thanking your family and friends for celebrating at your bridal shower, bachelor or bachelorette party and other events leading up to tying the knot.
Parties: Birthdays, engagement parties, anniversary celebrations and more should be finished up with thoughtful thank you cards.
Baby Showers: Thank your loved ones for joining you at your baby shower. Didn't have a shower? You should still show your gratitude by sending thank you notes to anyone who gave you a baby gift or even someone who simply shared a bit of parenting wisdom.
Graduations: High school graduations are one of the most important times to send thank you cards. With so many friends, family members and even distant relatives extending their congratulations, love, and gifts, it's a great reason to send a simple, genuine thank you note.
Thank You Card Etiquette
Even if you're sending a simple thank you card, you'll want to keep these simple tips in mind when writing your message:
Be specific. Avoid just writing a generic message like "Thanks for coming!" While that can certainly be a part of your message, make sure to be specific and direct each message to its particular recipient. Explain what you're thankful for and why. For instance, thank Aunt Martha for baking her famous rhubarb pie for your open house, and let her know you plan to use her generous monetary gift for your college savings.
Hand-write it. A handwritten thank you note is much more personal and genuine than a typed one. By handwriting your thank you cards, they'll certainly have a much deeper impact and express your appreciation much more accurately. Just be sure to write carefully and use legible print!
Don't wait too long. Try to send your thank you cards as soon as possible after the event or occasion has ended. If you can, start writing them within a few days. As a general rule of thumb, make sure your guests receive their cards within 4-6 weeks, but preferably sooner. (Note: For weddings, you have a little more leeway since you may be going on your honeymoon and you probably have a large volume of cards to write.) See more: Wedding Thank You Wording and Etiquette
Related Products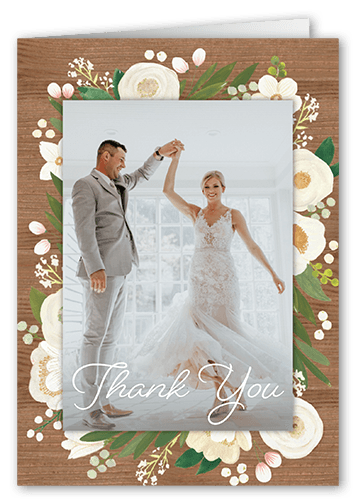 Elegant Bouquet 3x5 Folded Card by Petite Lemon. Because they deserve it. Give them a personalized thank you card to express your gratitude.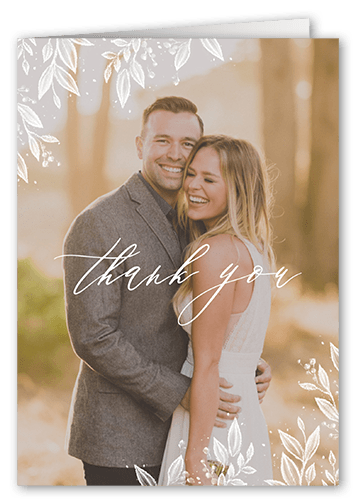 Garland Bliss 3x5 Folded Card by Petite Lemon. Because they deserve it. Give them a personalized thank you card to express your gratitude.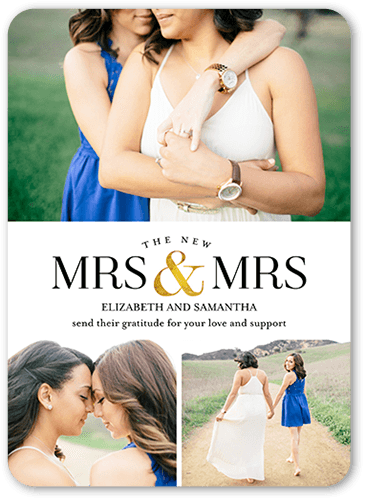 Gratefully Together Mrs 5x7 Stationery Card by Magnolia Press. Because they deserve it. Give them a personalized thank you card to express your gratitude.