Snowflakes Christmas Invitations
What customers have to say about our Christmas Invitations
January 23, 2019
good purchase
"Paper is excellent quality as is the envelope. Shipping can be high unless you are ordering a larger number of cards but I only bought one."
January 22, 2019
Chinese New Year
"Christmas came too soon. No cards went out. New Year's came and went! Still no cards were sent out. But thanx to Shutterfly, made it for a Chinese Greeting! Beautiful cards front and back with pictures of family sent! Halleluah!!!!!"
January 22, 2019
Cool Invite
"Cool design. Nice quality card. Much nicer than the cards with photos."
January 15, 2019
I have so much fun using my pictures on products.
"I have so much fun making unique gifts with my pictures. It makes me feel professional when I am very much an amateur."
January 14, 2019
Outstanding customer service
"The customer service agent who helped me with order 003086838129-9000112 was extremely helpful. I had problems making a Christmas card and she solved all of them. The Card was perfect with her changes. She was very kind and patient. I had an unavoidable interruption while we were working together and she assured me that she would wait on the phone until I could continue. She was committed to help me in every way she could. This was a unique customer service experience! Please thank her for me."
Snowflakes Christmas Invitations
Many party planners choose a theme in order to make their decision process a little easier. Whether you're planning a wedding, baby shower or holiday party, a theme may help you pick out décor and food. For example, if your holiday party's theme is red and green, it will be easy to choose between a purple centerpiece and something that is red. You want all the pieces of your party to match the theme. For this reason, it may be a good idea to choose a theme before picking out your invitations. If you decide you want to throw a 'winter wonderland' party, these snowflakes Christmas invitations may help you set the tone.
Creating a Winter Wonderland
Once you have the invitations picked out and designed, what can you do to create your winter wonderland? You may want to start with the decorations. Cutting out paper snowflakes could be an easy and kid-friendly way to start decorating for your party. If you want to have a more grown-up air, you could order glass prints of snowy scenes. Whatever you do, you should think white. Get white table clothes, napkins, cups, plates, streamers and balloons to really send home the winter wonderland theme.
After the decorations have been figured out, you need to make sure there will be food and drink for your guests to enjoy. A Christmas party does not need to have a full meal. You can let your guests know that there will only be snacks by including a 'light snacks provided' line on your snowflakes Christmas invitations. What kind of light snacks should you offer? Think eggnog, sugar cookies, meat and cheese platters, tartlets, and cheese puffs. Your food doesn't have to be all white, but if you're feeling creative it can be.
Pick a Theme
No matter what theme you pick for your party, be sure to customize your own ugly sweater Christmas party invitations, postage stamps, envelopes and address labels. Shutterfly has a wide range of invitations for any type of event.
Related Products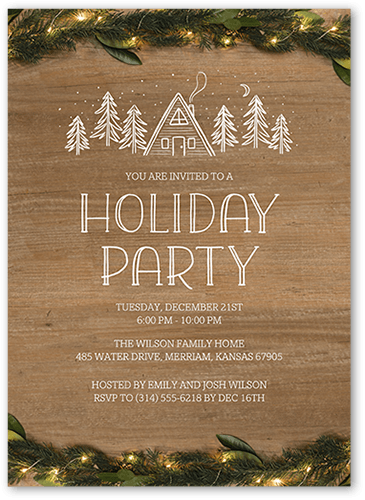 Cozy Wood Carving 5x7 Stationery Card by Petite Lemon. Invite everyone to a holiday party with this stylish holiday invitation. Just add the event details.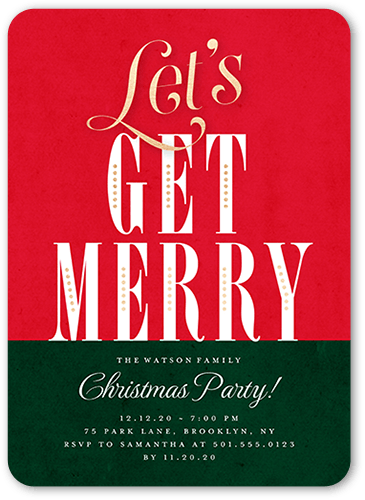 Lets Get Merry 5x7 Stationery Card by elk design. Invite everyone to a holiday party with this stylish holiday invitation. Just add the event details.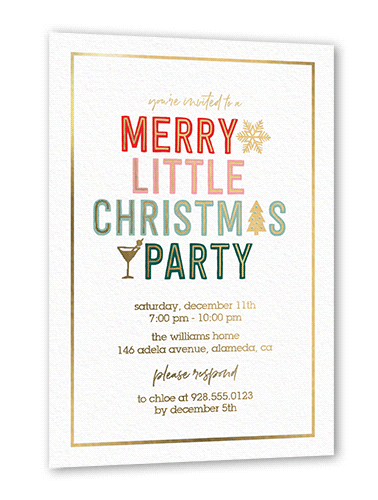 Little Merry 5x7 Personalized Foil Card by Petite Lemon. Instantly convey the style of your soiree with a luxe holiday party invitation. Adding event details is quick and easy, plus you can customize touches for a look that's unique to ...