What customers have to say about our Stickers
January 24, 2019
Turned out Great!
"I had made some labels with my various forms of contact info. I decided that if the print was diagonal, it would show up larger. So I wrote out the info on several lines, then turned that into a .jpeg format. I was happy to find that the print was centered perfectly & no print ran outside or off the labels, and was very clear to read."
January 23, 2019
Just what I wanted
"Very good quality and came earlier than expected. Love them! Good price too."
January 23, 2019
Cute stickers
"Stickers of my kitty. Fun for teens."
January 14, 2019
Just Lovely!
"A nice elegant look. Customization is convenient However, I did not receive my free new user items. Please make sure my account is secure. I am a good customer and there are some recent errors that have never been experienced before. Thank you."
January 14, 2019
Beautiful
"These stickers are so nice but only the sale price makes them affordable."
Custom Gift Tags for Christmas, Halloween, Valentine's Day, and More
Gift giving is of course about more than the gift itself. It's also about anticipation, surprise, and the thought and care that goes into it. To make your gifts, for Christmas, Mother's Day, Father's Day, Valentine's Day, Easter, or Christmas extra special, add customized photo gift tags to your wrapped presents and watch your loved ones' amazement at your thoughtfulness and creativity. And remember, personalized, printable gift tags from Shutterfly make gifts for any occasion—including birthdays, anniversaries, baby showers, weddings, teacher recognition, end of school year, graduation—extraordinary. What's more, these stickers are great for sealing envelopes and attaching to cards, letters, invitations, folders, journals, or school projects.
Make From Santa Gift Tag Stickers for Christmas
Holiday gift tags are a special source of joy for gift givers and receivers. You might make a Christmas gift tag to put on all of your gifts, one for each recipient, or even one for each individual gift. Choose a Christmas or holiday-themed template that excites you or upload your design. Then add a photo of you, your family, kids, dogs, cats, or anything else and further customize your gift tag to make it unique. You might be looking for a gift tag that says Happy Holidays or Merry Christmas or that features your first name, your recipient's name, or your family name. You might also want your personalized gift tag to feature a to and from line, so you can scribble in the recipients one by one. Alternately, you might want a holiday season sticker featuring snowflakes, a nutcracker, a wreath, a Christmas tree, a snowman, Santa, reindeer, a monogram, or the words naughty or nice. Whatever the case, you'll design a DIY, printable Xmas gift tag that rings in the Christmas cheer even before your presents are opened. If you're playing Secret Santa or participating in a White Elephant gift exchange—in your home, at school, at work, or in your community—custom gift tags can add a special charm and help you maintain secrecy.
Personalized Gift Tags for Halloween, Easter, and Valentine's Day
Making custom gift tags can be both easy and as much fun as giving them. Get crafty in picking out the perfect picture, choosing the right template and message, and customizing the color scheme and other elements to create a sticker unique to you. Sometimes simply juxtaposing a picture with a message can produce unexpected results. For instance, try a few family photos with the word Boo on your Halloween gift tag. Make a spicy, DIY Valentine's Day gift tag. Create your own Easter gift tag with clipart or images from our Art Library—a curated collection of photos and art available for use in any Shutterfly project. You can likewise make your own creative gift tags, in silver, red, black and white, pink, or any color for New Years, Hanukkah, Mother's Day, Father's Day, or a holiday of your choice.
Printable Gift Tags for Weddings, Baby Showers, and Bridal Showers
If weddings are all about the details, customized gift tags give you the opportunity to add a personal touch and heartfelt, creative dimension to your wedding gifts and wedding favors alike. As wedding favors, these stickers create a cohesiveness to your guests' experience and let you brandish your thank you gifts and keepsakes with monograms or even a special message from the happy couple. Browse our stylish templates to find inspiration, ideas, and examples for your wedding favor gift tags. Similarly, our gift tags designed for wedding presents are a must-see. Give your son, daughter, brother, sister, co-worker, or best friend an extraordinary wedding gift with a delightful, uncommon gift tag.
Related Products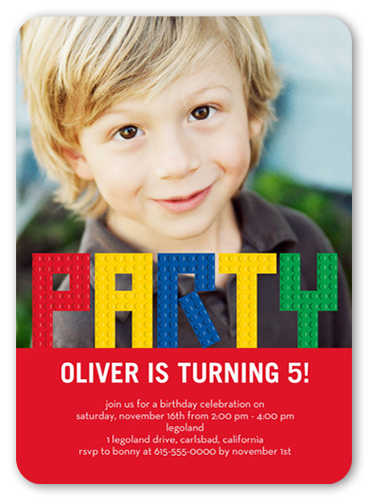 Lego Party 5x7 Boy Birthday Invitations. Invite all the guests with this stylish birthday invitation. Just add your favorite photos and all the event details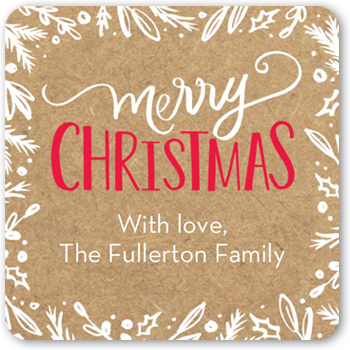 Festive Gratitude Custom Stickers. Sealed with a smile. These stickers are a great way to add a personalized touch to your greetings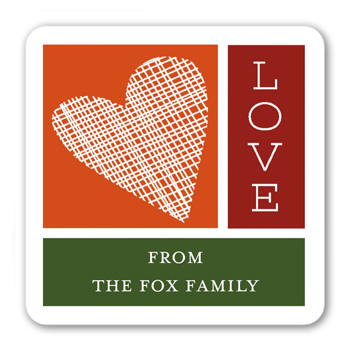 Light Heart Custom Stickers. Sealed with a smile. These stickers are a great way to add a personalized touch to your greetings