Texture + Patterns Birth Announcements
What customers have to say about our Birth Announcements
January 25, 2019
A Hit With All the Family!
"We used this card as a birth announcement and thank you card for our baby shower attendees. It's on a nice heavy cardstock, and the print was super clear. With my first order there was a smear on the return address on the back of the envelope, but no big deal. With the first order I also didn't receive the blank envelopes I ordered. The second order everything was perfect. I would highly recommend!"
January 24, 2019
Very nice cards
"Super classy cards"
January 24, 2019
Great buy
"Looks and feels great. Came so quickly and is such great quality!"
January 22, 2019
So sweet
"Easy to create!sweet design"
January 22, 2019
Love this product!!
"I love the simplicity of this birth announcement, it was easy to make and arrived on time!"
Show Off Your Bundle of Joy with Texture + Patterns Birth Announcements
With the joys of becoming a new parent comes the excitement of sharing your baby with the world. Texture + pattern birth announcements are a perfect way to show off your bundle of joy. Whether you want an interesting textured baby announcement or a fun patterned birth announcement, you can find a charming card that will warm your loved one's hearts. From rustic birth announcements to whimsical baby announcement cards, you can create a card that has all the makings of being personalized just for you. To make things easier, Shutterfly has options for you to discover your perfect personalized birth announcement designed with unique textures and patterns.
Personalize Your Texture + Patterns Baby Announcements
A birth announcement card is something you want to get perfect for your precious new baby. At Shutterfly, you can customize the size, shape, orientation, paper finish, and trim of your baby announcements. No matter the design you choose, you can customize it to your liking to create a card that really shows your personality. The great thing about baby announcements is that you can really make it your own and customize it to fit your little one. Regardless of what you decide, your friends and family will adore the personalized birth announcement.
Whether you're having a baby girl or baby boy, you can customize your birth announcement cards to fit the gender or that perfectly displays their already adorable personalities. Use one or a few baby photos to create a stunning photo birth announcement that shows your new bundle of joy to your friend and family. You can even proudly display your new arrival's name by choosing a card design with a monogram. No matter which way you decide to design your baby cards, your announcements will have a professional look, quality, and finish that will wow your recipients. If you're announcing that you're expecting, consider sending loved ones personalized pregnancy announcement cards, and follow up with custom baby shower invitations when you're closer to the due date.
Texture + Patterns Birth Announcement Wording Ideas
Figuring out your birth announcement wording can be difficult — what should you include, and what can be left off? How do you format it? Many parents choose to include basic information on their birth announcements such as the baby's name, date of birth, and the parent's names. Other ideas of what to include on your baby birth announcements are the baby's length and weight and the location of the birth. A popular option is to start your birth announcement out with a sweet introduction, whether it be a personal anecdote, funny inside joke, or meaningful quote. No matter what you choose, Shutterfly gives you the options to create a perfect personalized texture + patterns photo baby announcement. No matter where you are in your journey to becoming a new parent, it's important to remember to prioritize yourself. Regardless of the baby birth announcement style or design you choose, pick an option that you love — your friends and family will love it too.
Related Products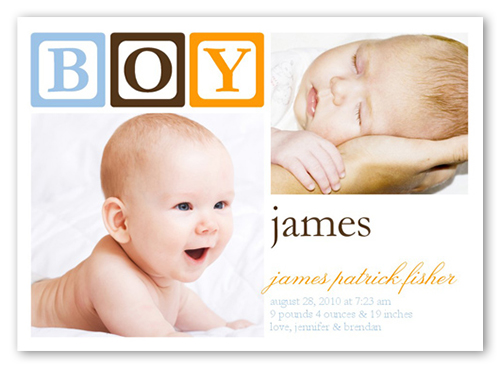 Baby Blocks Boy Birth Announcement 5x7 Stationery Card by Stacy Claire Boyd. It's a boy! Spell out your announcement with vintage alphabet building blocks. This stylish birth announcement has room for two of your most precious photos.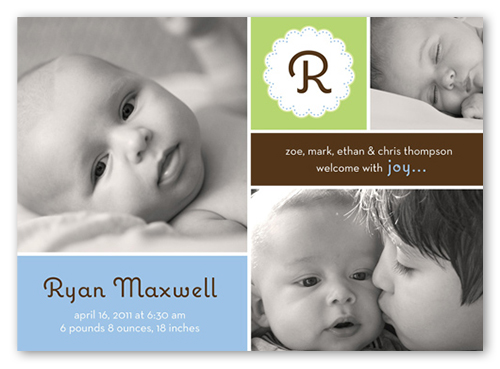 Happy Baby Boy Birth Announcement 5x7 Stationery Card by Stacy Claire Boyd. It's a happy baby boy. Show off photos of your newest arrival surrounded by his name and initial in whimsical fonts designed in chic hues of mint, sky ...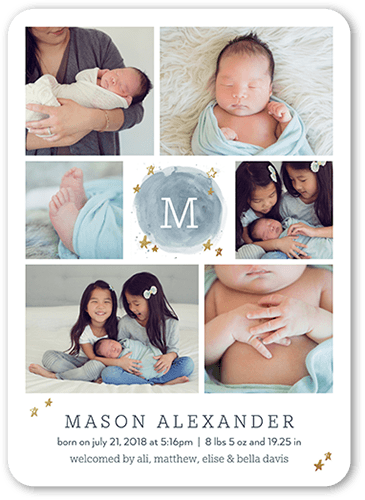 Astral Arrival Boy 5x7 Stationery Card by Yours Truly. Announce your newest arrival with this stylish birth announcement. Add your baby's name, a favorite photo and the news everyone's been waiting for.