Trifold Birth Announcements
What customers have to say about our Birth Announcements
January 25, 2019
A Hit With All the Family!
"We used this card as a birth announcement and thank you card for our baby shower attendees. It's on a nice heavy cardstock, and the print was super clear. With my first order there was a smear on the return address on the back of the envelope, but no big deal. With the first order I also didn't receive the blank envelopes I ordered. The second order everything was perfect. I would highly recommend!"
January 24, 2019
Very nice cards
"Super classy cards"
January 24, 2019
Great buy
"Looks and feels great. Came so quickly and is such great quality!"
January 22, 2019
So sweet
"Easy to create!sweet design"
January 22, 2019
Love this product!!
"I love the simplicity of this birth announcement, it was easy to make and arrived on time!"
Trifold Birth Announcements
Finding the right way to tell everyone about your little bundle of joy means choosing the pictures that show your friends and family the best sides of the newest member of your family. It also means finding the layout that fits the right number of pictures to do just that, with the attitude that shows just how happy the day is for all of you. Choosing the right medium to do this with is also an important consideration, and there are a variety of ways to narrow things down.
Weighing Cost
When picking out the right announcement between card styles like flat birth announcements cards and keepsakes like magnets, cost considerations can be a real limitation, but when it comes down to it, the cost differences between media or sizes of announcement cards are mostly to scale with their print quality and longevity. That means that if cost is a consideration for you, then take it into account, but if it isn't a big factor, then the look and feel of the layout and your photo choices become the most important thing, because the cost is mostly related to the durability and quality of the card.
Quality and Purpose
Looking at the quality of print, all birth announcements use the same high fidelity methods, so the materials and the size of the photos drive the level of detail and the vibrancy/longevity of the print. This means that your best choices are going to be either white or pearl cardstock. To get the opportunity to show off more photos while retaining the detail that really makes them pop, look toward larger layouts like the folding or trifold options, so that way the individual pictures in the collage are a healthy size.
Last but not least, keep in mind how your loved ones are likely to remember your announcement. If you have a lot of scrapbookers, then trifold announcements provide dynamic layouts that preserve well in books, and so do flat cards. On the other hand, folding and trifold birth announcements stand up and look great, making them easy to display.
Related Products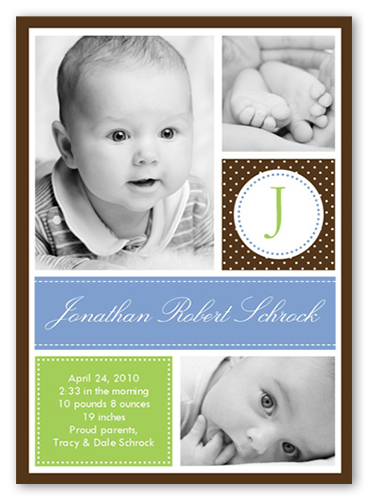 Baby Chic Blue Birth Announcement 5x7 Stationery Card by Stacy Claire Boyd. There may be too many precious moments to choose just one. Our birth announcement photo collage layout lets you feature three favorite pictures.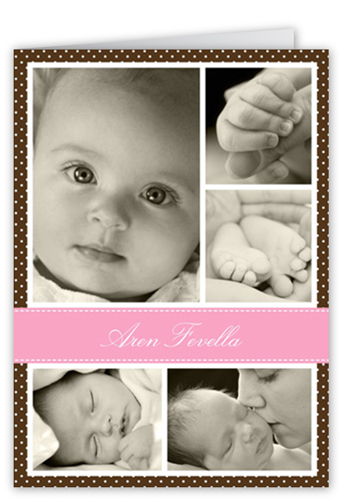 Chic Screen Pink 5x7 Greeting Card by Stacy Claire Boyd. Create a collage of your daughter's first moments. Featuring a dotted brown frame and pastel-pink band, this baby announcement is sure to melt hearts.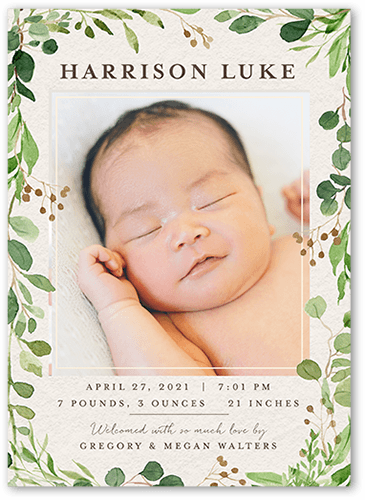 Botanical Baby 5x7 Stationery Card by Yours Truly. Announce your newest arrival with this stylish birth announcement. Add your baby's name, a favorite photo and the news everyone's been waiting for.