What customers have to say about our Holiday Cards
January 27, 2019
I highly recommend this card!!
"Absolutely love this card they came out perfect!"
January 23, 2019
good purchase
"Paper is excellent quality as is the envelope. Shipping can be high unless you are ordering a larger number of cards but I only bought one."
January 23, 2019
I will absolutely use this product again.
"The first time I have used Shutterfly for our annual greeting card. Very pleased and will use again."
January 22, 2019
Chinese New Year
"Christmas came too soon. No cards went out. New Year's came and went! Still no cards were sent out. But thanx to Shutterfly, made it for a Chinese Greeting! Beautiful cards front and back with pictures of family sent! Halleluah!!!!!"
January 22, 2019
I looved these cards and they arrived so quickly!
"Shutterfly makes last minute projects easy .. I love these holiday cards and continue to make photo books each month with their app as well as edits on desktop site. I love Shutterfly!"
Trifold Holiday Cards
Create a Holiday Collage
If you have a series of photos that you want to incorporate on your holiday card this year, you may need a little more room than the traditional flat card offers. Trifold holiday cards are a great way to extend the season's greetings and truly show how much Christmas spirit your family has.
Shutterfly allows people to customize a bracket holiday card that expresses how joyous you want everyone's holiday season to be. Those who have large families can personalize everyone's favorite shots in an attractive red holiday card. With Shutterfly, you can mix and match your favorite photos, in different sizes and shapes with the extended canvas of a trifold card.
More Display Options
When you receive a trifold holiday card in the mail, its three dimensional design invites you to proudly display it. On top of the fireplace, you can show off these gorgeous cards and include your own version as a centerpiece display. You can easily enhance your own holiday decorating theme around your choice of design for this year's Christmas cards.
If you don't have any ideas, be inspired by some of the creative design themes for holiday cards. Transform your living room into a snow-themed setting. Start your décor with your holiday card, front and center, in the winter wonderland theme. You can use your family's favorite pictures of fun in the snow, and add magical décor in hues of silver, white and blue to match the festive quality of the card.
Bring the Spirit of the Season
When you make your holiday visits throughout the season, get a greater sense of pride when you see your trifold design being featured in your relative's holiday decor. Whether it's placed along the mantle or used as a unique table decoration, you can give a little bit more with this year's season's greetings when you choose cards that are a specially designed to impress.
Related Products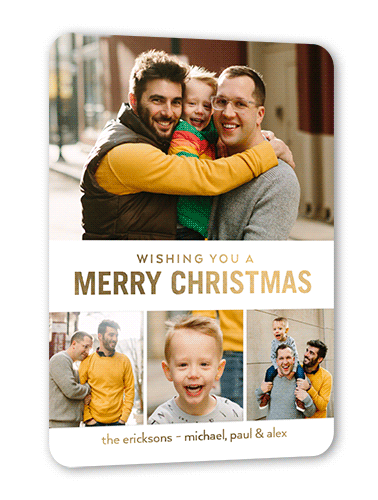 Bold Sentiment 5x7 Personalized Foil Card by Yours Truly. Send a Christmas card friends and family will love. Add your own greeting and everyone's names. There's room for more photos and wishes on the back, too.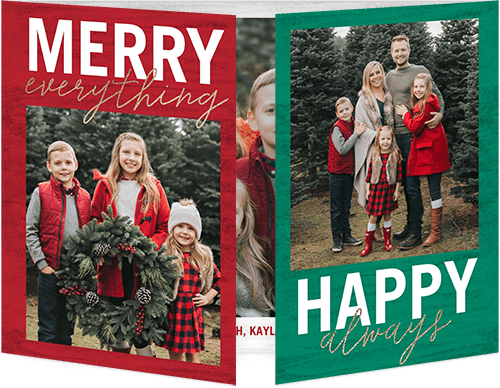 Completely Merry 5x7 Gate Fold Card by Éclair Paper Company. Let your story unfold with this unique card that opens up from the middle to reveal your photos like a present. Enjoy more room for photos and text than a ...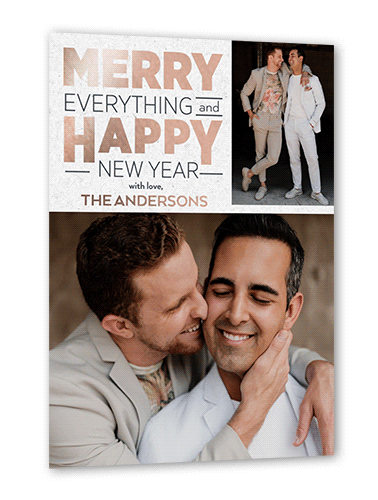 Everything Merry 5x7 Personalized Foil Card by Éclair Paper Company. Send a Christmas card friends and family will love. Add your own greeting and everyone's names. There's room for more photos and wishes on the back, too.