Unique Typography Address Labels
What customers have to say about our Address Labels
"VERY CUTE"
January 26, 2019
Delightful!
"I love the delicate design and lavender color."
"Pretty lables"
"Can't wait to use these cute adress lables!"
January 23, 2019
Love these labels!
"Cute labels, easy to read, fun to make. I have bought several different types now and love them all! Great gifts for grads, new babies, newlyweds, housewarming presents...you name it!!"
Unique Typography Address Labels
Unique typography address labels add a unique touch to invitations, announcements, thank you cards, and other correspondence. You'll love Shutterfly's address labels featuring the distinctive typography feature that adds elegance to every envelope. Not only will these address labels make an impression with their catchy designs, but they will save you tons of time: just stick them on your envelopes and forget the hassle of having to handwrite your return address on each one!
Unique Address Labels for Every Occasion
Making custom address labels is quick and easy with Shutterfly. Browse our collection of unique address labels to find the perfect style for your occasion. Our lovely typography address labels can be used for a variety of correspondence, from holiday cards and thank you cards to birthday invitations and much more. Choose from our wide range of themes, including:
Neutral: Address labels with simple backgrounds and straightforward type are ideal when you want a neutral, classic style. Select your favorite font and personalize with your name and address for a one-of-a-kind label.
For Her: Address labels with delicate watercolors and chic patterns are perfect when you want a feminine look and feel adorning your envelopes.
Holiday: Our stylish holiday address labels will save you plenty of time during the holiday season and can be designed to coordinate with your holiday cards. These address labels are the ideal addition to all your holiday correspondence.
Texture & Patterns: Want to add some color to your letters? Our unique address labels have many colors and patterns to choose from and are sure to make your envelopes pop.
Address labels are a great way to save time, get organized, and express your personal style. Shutterfly's personalized address labels will give your letters and cards a polished look and just the right amount of flair.
Dress Up Your Envelopes More
When you're done designing your address labels, check out our custom stickers to add even more style to your envelopes. You'll love how convenient it is to make your envelopes stand out in the mail. When shopping with us, be sure to check for the best promos and deals so you can save on your purchase!
Related Products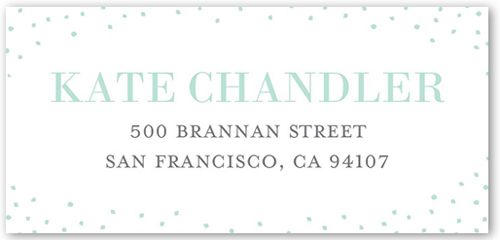 Dreamy Wedding Address Label. Address your envelopes with stylish address labels. Corresponding invitations, gift tags and thank you cards are also available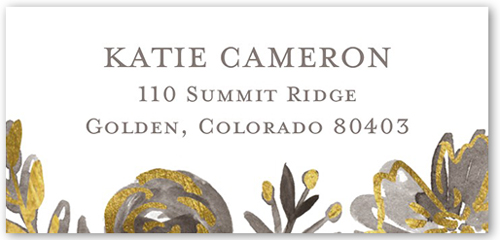 Precious Blooms Wedding Address Label. Address your envelopes with stylish address labels. Corresponding invitations, gift tags and thank you cards are also available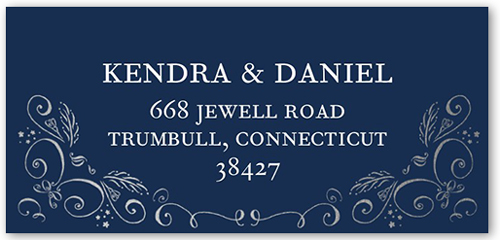 Whimsical Scrolls Wedding Address Label. Address your envelopes with stylish address labels. Corresponding invitations, gift tags and thank you cards are also available