What customers have to say about our Wedding Thank You Cards
January 27, 2019
Grateful for my thank you cards
"I ordered these cards to give out with my closing gifts to my buyers and I am so glad that I did. The quality is amazing and the print was perfect. Can't wait to use them!"
January 27, 2019
Love these cards.
"Shutterfly always does a great job."
January 26, 2019
Love these to send to friends.
"These are so personal. It really makes for a nice way to say hello and thank you in a personal way."
January 26, 2019
Special cards for special occasions
"Such beautiful personalized cards for any occasion."
January 26, 2019
I would buy more they were perfect
"These are nice"
Share Your Thanks with Photo Wedding Thank You Cards
We all know that it's important to say "thank you"—and there's no time when it's more appropriate than after your wedding. Once the cake has been eaten and the confetti has been cleaned up, it's time to express your gratitude for everyone who supported you. Our photo wedding thank you cards are the perfect way to show your appreciation.
Your Loved Ones
A wedding might be all about the happy couple, but it wouldn't be much of a celebration without the love, help, and support of all their friends and family. Sending out thank you cards is a time-honored tradition that helps keep relationships strong and starts the marriage off on the right foot. Generally, thank you notes should be sent within one to three months after the wedding, but it never hurts to send them sooner rather than later.
The Mailing List
Who should receive a thank you note? When in doubt, send them to more people rather than less. Everyone who sent you a wedding present should definitely be included, since failing to thank someone for a gift can be very impolite. However, you might also consider sending cards to everyone who attended the wedding, especially if they had to make significant sacrifices in order to be there (such as traveling a great distance).
You may want to send a special thank you to those who contributed to the wedding in unique ways; for example, if your parents helped fund the wedding or your friend's band provided live music, then they deserve acknowledgement. Don't forget the bridesmaids and groomsmen, either!
Make It Your Own
Every wedding is a unique reflection of the couple's personalities, and the thank you cards should be too. Make the cards unique by adding your own photos—maybe you want a shot of you and your spouse enjoying each other's company, or maybe you want a picture straight from the ceremony. After you pick out your pictures, you can make use of our other customization options. Depending on the card, you might decide to add glitter, foil, or other embellishments. You can also adjust:
The color palette
The type of paper it's printed on
The trim around the edges
The card size
Of course, every card should have a special message for the recipient—we've got some great ideas to help you write these notes.
Get Going
No matter how you decide to embellish your cards, your guests will be impressed by their beautiful design and touched by your thoughtfulness. Browse our selection of wedding thank you cards to get started today.
Related Products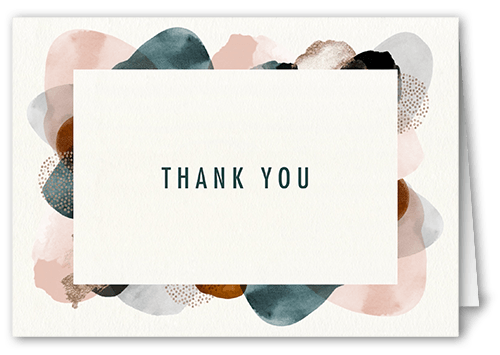 Colorful Daubs 3x5 Folded Card by Float Paperie. Show just how much you appreciate them with this stylish thank you card. Add your favorite photos and a message of thanks.
Deco Type 3x5 Folded Card by Kelli Hall. Show just how much you appreciate them with this stylish thank you card. Add your favorite photos and a message of thanks.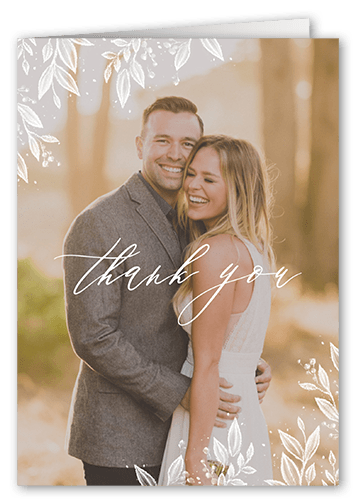 Garland Bliss 3x5 Folded Card by Petite Lemon. Because they deserve it. Give them a personalized thank you card to express your gratitude.