Rustic Engagement Party Invitations
What customers have to say about our Engagement Party Invitations
January 22, 2019
Personalized Card Bliss
"Great quality card made from personal photo and personalized captions. Sometimes a store bought card doesn't capture the sentiment you're trying to portray. This is a fantastic option to create your own!"
January 12, 2019
Shutterfly products always look great!
"If you love one of your photos, turn it into a card! Whether it's a Thank you card, a sympathy card, a birthday card or any other kind of card, it'll turn out great!"
January 10, 2019
It exceeded my expectations
"Great, professional results"
"quick and easy. Great pricing."
January 5, 2019
Beautiful quality cards
"I love these cards and have ordered many over the years. The paper is very nice and heavy for both the cards and envelopes."
Rustic Engagement Party Invitations
Design one-of-a-kind rustic engagement party invitations with Shutterfly. If you're planning on celebrating your recent engagement with family members and friends, let them know about your upcoming event with engagement party invitations that match what your wedding theme will be. If you're having a rustic-style wedding, Shutterfly's rustic engagement party invitations will be perfect for you. With our engagement party invitation templates, you can customize your cards to fit your style and personality. We feature a lovely array of designs, enabling you to design engagement party invitations that will wow your invitees and get them excited to celebrate this special time with you and your future spouse.
Rustic Engagement Party Invitation Designs
Shutterfly's collection of rustic engagement party invitations will add elegance, romance and style to your wedding plans. If you love all things rustic, you're going to love this collection of invitation designs! With brown and wooden backgrounds to match the theme, you'll have no trouble creating custom engagement party invites with a rustic look and feel. And you'll especially enjoy how simple it is to customize these invitations to further match your theme, as well as your personality and style. To add even more personalization to your engagement party invitations and deliver a delightful surprise to your recipients, upload a special engagement photo as the main aspect of your design.
Create Personalized Engagement Party Invitations
Browse the various rustic engagement party invitation designs in this collection. Once you've selected your favorite, choose your customization options, including colors, font styles, and sizes and more. If you're including a photo on your invitation, upload it to your design template. To complete your invitation, add a custom message and include all the important details guests need to know about your event, such as the date, time, location and dress code. See our post about important information to include on party invitations to make sure you don't forget any significant details. For design tips and inspiration, see our how to make a photo card guide. Your guests will be excited to receive this special piece of personalized snail mail made completely by you.
Stationery Accessories for Your Engagement Party Invites
To ensure your personalized engagement party invitations get noticed when they're delivered, dress up the envelopes they'll be sent in. Shutterfly makes it extra easy to add personality and style to the envelopes with custom address labels, self-inking rubber stamps, and stickers. These little add-on items are a simple yet extremely effective way to have your invitations make a statement before they're even opened! For more wedding cards and stationery, complete your wedding planning with custom wedding invitations, save the date cards, RSVP cards, and more.
Related Products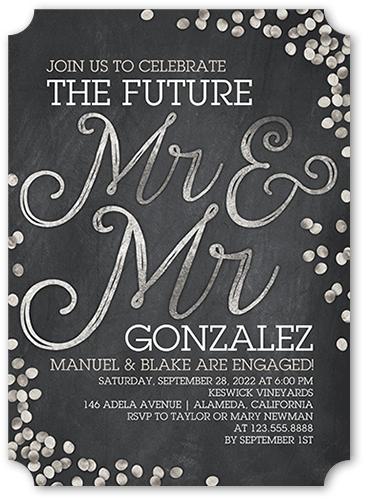 Dazzling Future Mr 5x7 Stationery Card by Sarah Hawkins. Say "yes" to sophisticated engagement invitations to honor the newly engaged couple.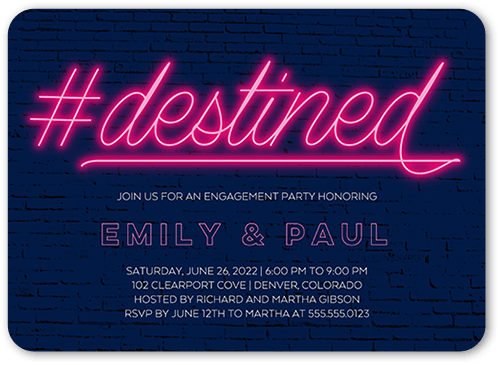 Destined 5x7 Stationery Card by Éclair Paper Company. Say "yes" to sophisticated engagement invitations to honor the newly engaged couple.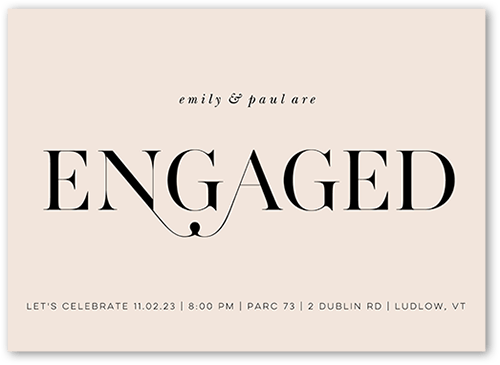 Linked Commitment 5x7 Stationery Card by Kelli Hall. Say "yes" to sophisticated engagement invitations to honor the newly engaged couple.