Tropical Bachelorette Party Invitations
What customers have to say about our Bachelorette Party Invitations
January 22, 2019
Personalized Card Bliss
"Great quality card made from personal photo and personalized captions. Sometimes a store bought card doesn't capture the sentiment you're trying to portray. This is a fantastic option to create your own!"
January 12, 2019
Shutterfly products always look great!
"If you love one of your photos, turn it into a card! Whether it's a Thank you card, a sympathy card, a birthday card or any other kind of card, it'll turn out great!"
January 10, 2019
It exceeded my expectations
"Great, professional results"
"quick and easy. Great pricing."
January 5, 2019
Beautiful quality cards
"I love these cards and have ordered many over the years. The paper is very nice and heavy for both the cards and envelopes."
Celebrate the Bride With Bachelorette Party Invitations
As part of the bridal party, you have the honor of planning a bachelorette party for the bride-to-be. A bachelorette party is a pre-wedding bash all about celebrating her last days before she says "I do." For some brides this is a girls night on the town or a relaxing spa day, while other brides might prefer a getaway trip to somewhere tropical. Whatever she prefers, get the celebration started by sending the perfect bachelorette party invitations so guests can mark their calendars and get excited for the big event.
Tropical Bachelorette Party Invitations for a Destination Event
Start planning your weekend of fun with Shutterfly's collection of tropical bachelorette party invites. If you're planning a poolside getaway or relaxing trip to Palm Springs, look for tropical motifs like margarita glasses and palm tress. You'll want to personalize your card with bright colors so the other bridesmaids and guests know the vibe of the party is tropical as soon as they first glance at the invite. To make her bachelorette invites perfect, follow our guide on How to Make Personalized Cards.
Create Custom Bachelorette Party Invitations
With Shutterfly, it's easy to create the perfect tropical bachelorette party invitations. Customize your cards to fit the bride's personal style or the theme of the event with our bachelorette party invitation template and design options. Add a picture of the bride-to-be and a special message to create unique photo cards that gets everyone excited for her last fling before the ring. For inspiration on what to include on your card, follow our guide on Bachelorette Party Invitation Wording and Templates.
More Stationery to Celebrate the Future Bride
The bachelorette weekend isn't the only way to celebrate your loved one's upcoming wedding. Whether you're planning our own wedding events or are in the process of putting together the ultimate celebration for the lady of the hour, it's easy to create custom wedding stationery with Shutterfly. Create custom cards to invite loved ones to your engagement party, bridal shower, rehearsal dinner, and more. Shutterfly also offers a range of wedding response cards so your guests can RSVP in style.
Related Products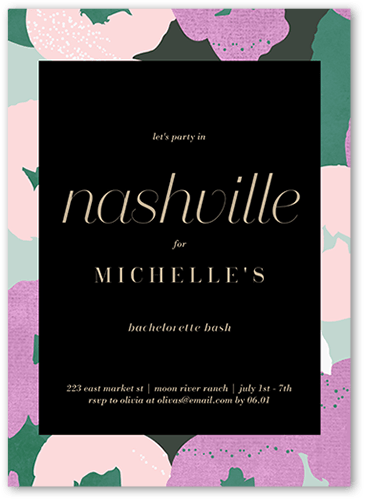 Party Destination 5x7 Stationery Card by Kelli Hall. Ready to party? Invite all the girls to a fabulous fete with bachelorette party invitations.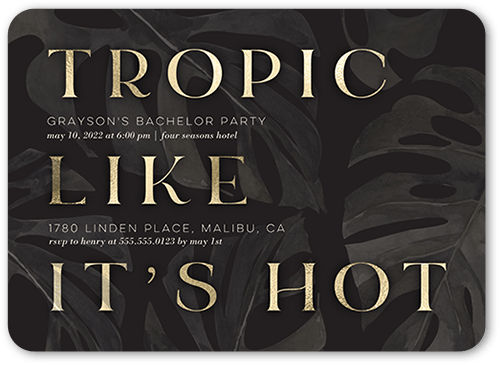 Elegant Tropic 5x7 Stationery Card by Float Paperie. Ready to party? Invite all the girls to a fabulous fete with Bachelor Party Invitations.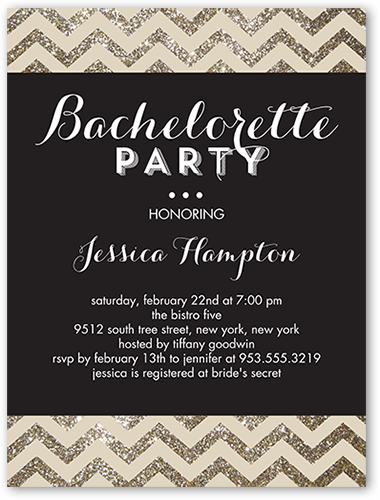 Sweet Shimmer 4x5 Stationery Card by Coloring Cricket. Ready to party? Invite all the girls to a fabulous fete with bachelorette party invitations.