What customers have to say about our Wedding Thank You Cards
January 27, 2019
Grateful for my thank you cards
"I ordered these cards to give out with my closing gifts to my buyers and I am so glad that I did. The quality is amazing and the print was perfect. Can't wait to use them!"
January 27, 2019
Love these cards.
"Shutterfly always does a great job."
January 26, 2019
Love these to send to friends.
"These are so personal. It really makes for a nice way to say hello and thank you in a personal way."
January 26, 2019
Special cards for special occasions
"Such beautiful personalized cards for any occasion."
January 26, 2019
I would buy more they were perfect
"These are nice"
Share the Love with Wedding Thank You Cards
Your wedding day was full to the brim with everything you could have hoped for: romance, fun, joy and the company and generosity of the people you love most. Once your big day has come and gone and you're still reeling from the bliss and excitement of it all, it's important to show your gratitude to the guests who made your wedding special. Say thank you to your loved ones—and show off your favorite wedding photos, too—with personalized wedding thank you cards from The Wedding Shop by Shutterfly.
Coordinating Thank You Notes
It's easy to find the perfect card for saying thanks in a special way. Select a handful of favorite designs and compare side-by-side, or see your photos in every design with just a few clicks. Our extensive collection of thank you cards features a variety of chic options for your wedding. Choose from dozens of unique, stylish designs that coordinate perfectly with your invitations for a complete wedding stationery set.
Whether you prefer a classic look with an elegant calligraphy and a black-and-white design, or a more whimsical card with floral illustrations and a rustic look, we have the perfect option to suit your style. Our foil-stamped designs offer stunning, shimmering accents to make your thank you cards truly one-of-a-kind. If you're feeling creative, you can even upload your own design.
Customized Details
Each wedding thank you card is customizable down to its tiniest details. Start by choosing your preferred layout and adding your favorite wedding photos to the design. Personalize the colors, fonts, text colors and other details until your card looks just the way you want it. Don't forget about the back of your thank you card, which you can customize with unique background colors, additional photos and optional messages for your recipients. Then, choose between our classic Signature Cardstock and luxurious Pearl Shimmer Cardstock, and pick your favorite trim style from several elegant options.
Once you've personalized the front and back of your cards, choose from optional additions to add instant flair. If you'd like, you can select from colorful envelopes and slip-in liners in a variety of colors and patterns to infuse extra personality into your wedding stationery.
Wedding Stationery Accessories
To make the most of your wedding thank you cards, dress up your envelopes with chic accessories. Add a professional touch with a custom self-inking rubber stamp. Incorporate a dash of fun with personalized address labels and whimsical wedding stickers. These stylish additions will instantly elevate your wedding stationery and bring smiles to your loved ones' faces.
You can also give your thank you cards a bigger impact by including a few prints of your favorite wedding photos in the envelope. There's no doubt you plan to order prints of all the special moments and beautiful shots from your wedding, so including some in your thank you cards is a great way to give your dearest friends and family members a keepsake of the big day.
Related Products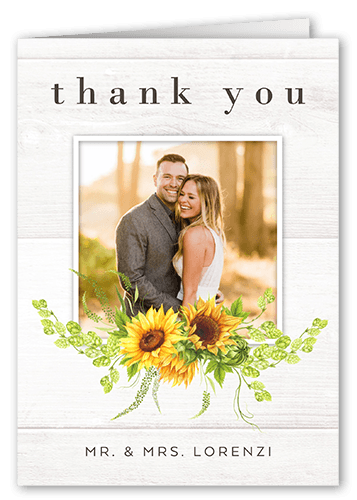 Bright Sunflower 3x5 Folded Card by Yours Truly. Because they deserve it. Give them a personalized thank you card to express your gratitude.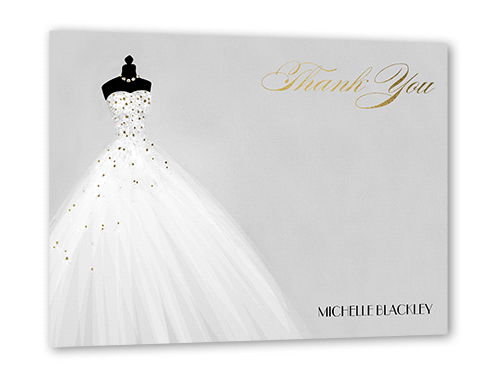 Exquisite Bride 3x5 Folded Wedding Thank You Card. Show just how much you appreciate them with this stylish thank you card. Add your favorite photos and a message of thanks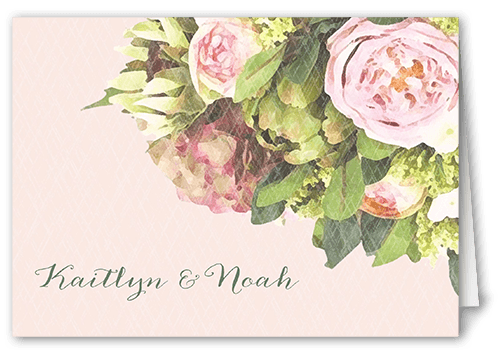 Flowering Affection 3x5 Wedding Thank You Card. Show just how much you appreciate them with this stylish thank you card. Add your favorite photos and a message of thanks