Whimsical Birth Announcements
What customers have to say about our Birth Announcements
January 25, 2019
A Hit With All the Family!
"We used this card as a birth announcement and thank you card for our baby shower attendees. It's on a nice heavy cardstock, and the print was super clear. With my first order there was a smear on the return address on the back of the envelope, but no big deal. With the first order I also didn't receive the blank envelopes I ordered. The second order everything was perfect. I would highly recommend!"
January 24, 2019
Very nice cards
"Super classy cards"
January 24, 2019
Great buy
"Looks and feels great. Came so quickly and is such great quality!"
January 22, 2019
So sweet
"Easy to create!sweet design"
January 22, 2019
Love this product!!
"I love the simplicity of this birth announcement, it was easy to make and arrived on time!"
Wonderful News Deserves Beautiful Stationery
Upon the arrival of your new baby, you're undoubtedly bursting with pride and excitement. Of course, you'll want to share the news with the world. At Shutterfly, we share your exuberance. Let us help you celebrate the wonderful occasion with our full selection of classic, contemporary and whimsical birth announcements, tailored to suit any personality.
Our Materials, Your Individual Touch
Here at Shutterfly, we take pride in offering premium customized stationery at an affordable rate. We try to give our customers free reign when it comes to uploading photos, modifying templates and personalizing messages. Whether you wish to build your project from scratch or choose from our wide selection of pre-designed templates, we're confident you'll find a look that suits your style.
From color to thickness, our premium paper is unmatched in quality and versatility. Select photo paper birth announcements for your project to print those adorable baby photos in crystal-clear resolution, or opt for white birth announcements to create truly whimsical birth announcements. Be sure to check out our featured options, which include foil-stamped design elements such as shimmering snowflakes or glistening foliage.
Though you are welcome to upload your own design, we offer a huge assortment of fun and inspirational templates from brand name designers, including
Petite Lemon
Yours Truly
Éclair Paper Company
Blonde Designs
Berry Berry Sweet
A Personal Message Sent With Love
Whether you send classic or whimsical birth announcements, you'll want to invest some time in making your cards special. Our designs allow for personalized messages, letting you share your individuality with the world. When wording your new baby announcement, find a voice that conveys your personality and expresses the love and joy you feel during this momentous occasion. However, don't forget to include the important stuff, such as
The baby's name
The names of the parents
The birthdate and weight
The rest is up to you. Many new parents choose to offer an encouraging word or an adorable message, exuding pride and love for their bundle of joy. Whatever the message is, make it your own; don't shy away from your personality and creativity.
Creativity Simplified
Your next Shutterfly project is waiting for you. From start to finish, we make it simple to upload, personalize and ship your design. Inspired holiday greeting cards and whimsical birth announcements are but a small part of what we have to offer. You can also express your style through our one-of-a-kind home décor items, personalized gifts and photo albums. The possibilities are endless so long as you have a story to tell and people to share it with.
Related Products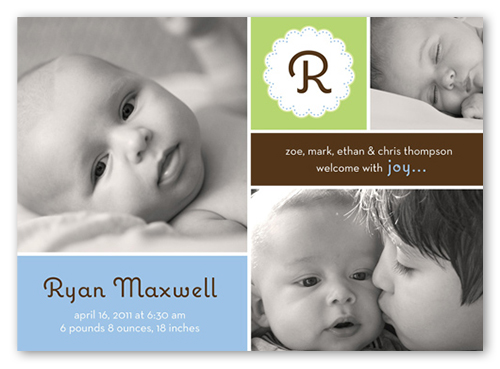 Happy Baby Boy Birth Announcement 5x7 Stationery Card by Stacy Claire Boyd. It's a happy baby boy. Show off photos of your newest arrival surrounded by his name and initial in whimsical fonts designed in chic hues of mint, sky ...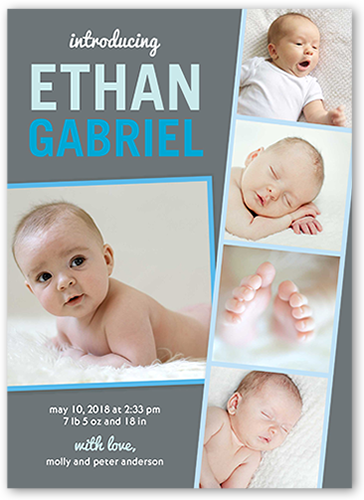 Filmstrip Fun Boy 5x7 Birth Announcement Card. Announce your newest arrival with this stylish birth announcement. Add your baby name, a photo with the news everyone waiting for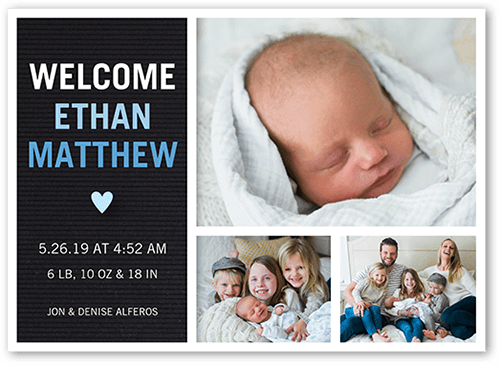 Lettered Welcome Boy 5x7 Stationery Card by Yours Truly. Announce your newest arrival with this stylish birth announcement. Add your baby's name, a favorite photo and the news everyone's been waiting for.