Whimsy Christmas Invitations
What customers have to say about our Christmas Invitations
January 23, 2019
good purchase
"Paper is excellent quality as is the envelope. Shipping can be high unless you are ordering a larger number of cards but I only bought one."
January 22, 2019
Chinese New Year
"Christmas came too soon. No cards went out. New Year's came and went! Still no cards were sent out. But thanx to Shutterfly, made it for a Chinese Greeting! Beautiful cards front and back with pictures of family sent! Halleluah!!!!!"
January 22, 2019
Cool Invite
"Cool design. Nice quality card. Much nicer than the cards with photos."
January 15, 2019
I have so much fun using my pictures on products.
"I have so much fun making unique gifts with my pictures. It makes me feel professional when I am very much an amateur."
January 14, 2019
Outstanding customer service
"The customer service agent who helped me with order 003086838129-9000112 was extremely helpful. I had problems making a Christmas card and she solved all of them. The Card was perfect with her changes. She was very kind and patient. I had an unavoidable interruption while we were working together and she assured me that she would wait on the phone until I could continue. She was committed to help me in every way she could. This was a unique customer service experience! Please thank her for me."
Whimsy Christmas Invitations
If you're looking for Christmas invitations with a bit of whimsy, you'll love the lighthearted designs in this collection from Shutterfly. Your recipients will be impressed with an eye-catching invitation that beautifully showcases your holiday photos. Our invitations are printed with the standard of care you've come to know and expect from Shutterfly, so they're guaranteed to be beautiful when they arrive. Give guests a glimpse of the whimsy and joy they'll experience at your Christmas celebration when you send personalized invitations with a unique whimsical design.
Design Your Christmas Invitations
Our whimsical Christmas invitations are printed on quality cardstock and feature a variety of customization options. Some whimsical Christmas invitation designs have room on the back to include additional party details and to upload a favorite photo. Once you've selected your invitation design, make them even more your own by adding a personalized message and designing it to suit your personality and holiday style. Our invitations can easily be customized with your choice of various design options, such as: professional high-quality cardstock, trim design, card size, font style and, of course, your favorite images. Below are some seasonal design ideas to get you inspired:
Photos: Whether you highlight a single special picture or create a collage of your favorite memories from the past year, your family photos will stand out on your Christmas invitations.
Trim Styles: Give your Christmas invitations an extra touch of style with elegant trim designs such as bracket, scallop, ticket and rounded corners.
Colors: Make your Christmas invitations stand out when you select your favorite hues from the multiple merry colors in our custom color palette.
Fonts: Find the perfect script for expressing your Christmas message and providing all of the important details about your celebration.
No matter which design and customization options you choose, your holiday invitations will be unique to you, and your recipients will look forward to attending your festive gathering.
Whimsical Holiday Envelopes
To personalize your Christmas invites even further and present an elegant, cohesive overall festive package, check out the coordinating address labels and custom stickers we have available. When you send custom Christmas invitations, you'll deliver joy to your loved ones and they'll be excited to celebrate the season with you. During December, the dates for parties are limited, so get your invites out early before calendars are as full as a Christmas morning stocking.
Related Products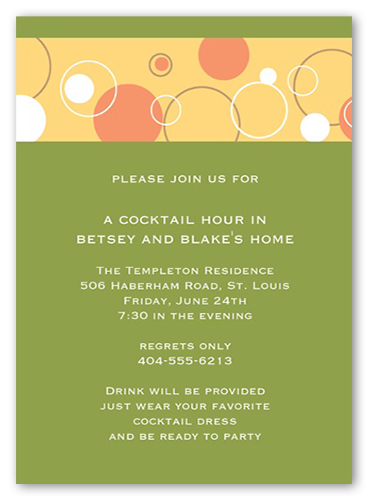 Bubbly Apple 5x7 Photograph Invitations. This invitation features modern bubbles in suspended animation. In peach, cinnamon, and buttercream against an apple green background, this invitation is delicious for all occasions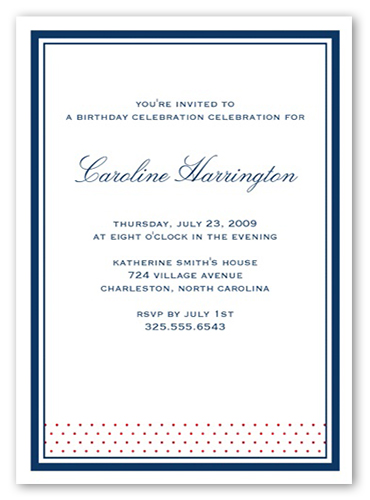 Monterey Blue 5x7 All Occasion Invitations. With clean navy lines and pretty red polka dotted accents, this invitation has the charm of a seaside hamlet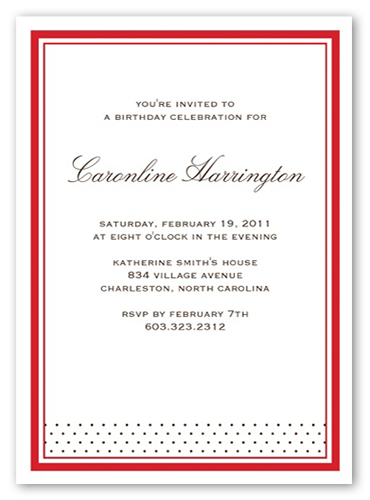 Sausalito Red 5x7 Special Occasion Invitations. With crisp apple-red borders and pretty black polka dotted accents, this invitation has a certain French pastry shop charm