Whimsical Note Cards
What customers have to say about our Folded Note Cards
January 26, 2019
These turned out so CUTE!!!
"The card stock is very heavy and makes it a nice writing experience. Quality, thick, great bright colors on the card. This is a great product and a wonderful purchase."
January 21, 2019
Great Quality
"Thank you notes are a nice idea and shutterfly makes it easy. The ability to personalize each side of the card is nice as well. Now its not just some cheesy card but a photo update on how life is going."
January 14, 2019
I love the cards.
"Shutterfly products are excellent! I love them very much."
"I had made and ordered the note cards once before and everyone liked them."
January 12, 2019
Amazing quality!
"Easy to make, edit & personalize these high quality cards! This was actually a reorder - changed a bit this time around after the 1st set were all sent! I Love Shutterfly!"
Turn Anything into Whimsy
What makes a scene whimsical? Usually, it's a single element that's out of place or odd. Like a seashell hanging from a Christmas tree or wearing goulashes in the desert. Whimsy is a unique sight and can add a lot to the notes you send. For some ideas on creating whimsical note cards, look no further than right below.
Using Whimsical Photos
You can plan for your note cards by staging a whimsical shot you'd like to use. There are already two examples above, but you want more, right? How about adding painted rocks to a basket of Easter eggs or setting up an optical illusion where chairs seem to be stuck to the wall or ceiling? If you are going to use these white note cards after a wedding, plan on using some free photo props to stage your whimsical photo.
Adding Whimsy to Ordinary Photos
You don't have to plan your whimsy in advance; sometimes the best whimsy is spontaneously adding something to an existing idea or photo. You can make these extra elements a part of your whimsical note card project with some drag and drop magic, or design and print stickers to add later. Coordinate your stationary by uploading your design to a holiday sticker.
Turn Around a Turn of Phrase
Whimsy doesn't have to be visual; you can also spell it out in words. If you are making cards to keep on your desk for little notes from time to time, why not try something ironic? Their phrases are perfect for eye rolls and laughs:
The sooner you fall behind, the more time you have for catching up.
Plan today to be spontaneous tomorrow.
Always be proud of how modest you are.
Once you've found your whimsy, you're just about done. Shutterfly's tools are easy to use and let you create something unique and personal. Why not give it a try now?
Related Products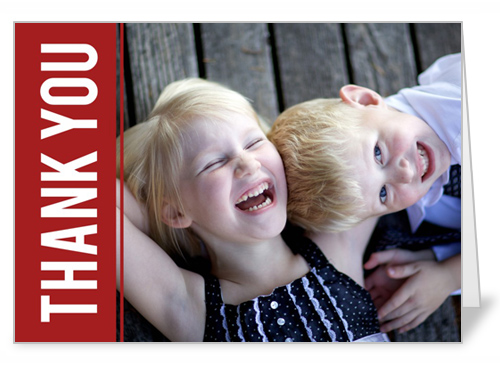 Pictures In Red 3x5 Custom Note Cards. Show your appreciation with a Christmas thank you card personalized with your photos and message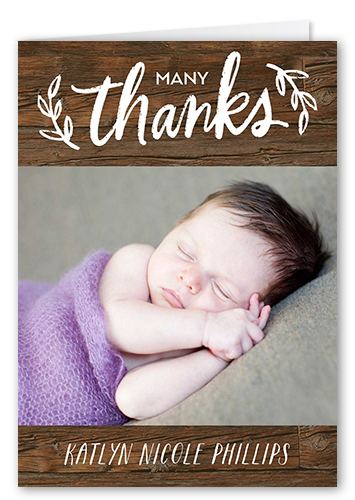 Young Purification 3x5 Folded Card by Stacy Claire Boyd. Show just how much you appreciate them with this stylish thank you card. Add your favorite photos and a message of thanks.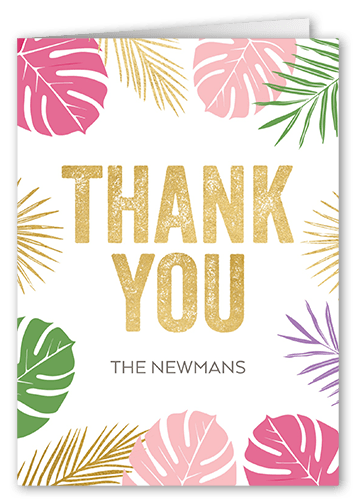 Sunshine Soiree 3x5 Folded Card by Blonde Designs. Show just how much you appreciate them with this stylish thank you card. Add your favorite photos and a message of thanks.